Father

Mother&nbsp

Birth/Baptism&nbsp


Marriage

Children
Charles Greenway (1794-1845)


Mary Gould&nbsp

Nov 12, 1818, Holy Trinity, Coventry[1]
Samuel ARCHER
,
5

December 1841, Walmer, Kent
[
2]
Emma ARCHER (1842-1911) married Felice Pobar, 1858, Strathfillan (Vic)
[John] Arthur ARCHER (1848 - 1931
Frederick Samuel ARCHER (1850 - 1931)
Line of Descent to Peter Byrnes:
Mary Gould Greenaway
(Great Great Grandmother)
The city of Coventry, in Warwickshire, in the first quarter of the 19th century, was an important manufacturing centre noted for its watchmaking and textile industries, in particular fin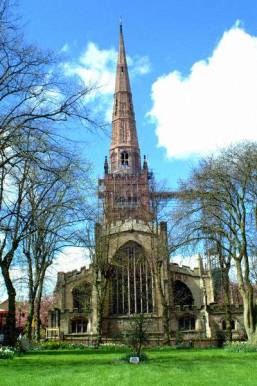 e ribbons and laces. Although the city walls and many of the old gates were long gone, it was still surrounded by common land controlled by the freemen of the city. An Act of Parliament was required to enclose this land; only a very brave politician would move to curtail his voters' grazing rights, with the result that building was restricted to a well-defined area.
By 1829 more than 29,000 people lived within a two-and-a-half mile circuit. Cottages were built in what had been the gardens of larger houses, forming enclosed courts of up to fifteen small, crowded dwellings with only one entrance from the street.
Ribbon manufacturers, slaughterhouses, shops, hotels, warehouses, public buildings and stables were built right up to the walls of Holy Trinity church (right),[2] where Mary Greenaway was baptised on November 12, 1818.
Mary was born into a working class artisan family – both her parents and generations before them, worked in the silk trade of Coventry, as ribbon weavers[3]. Mary's grandfather James Greenaway is recorded in an index of master weavers in 1797, when his eldest son James, Mary's uncle, was apprenticed to him.[4] The tradition of the Greenway/Greenaway family of incorporating the wife's maiden name as the middle name of subsequent children is a good clue to which children belong to which family, as the surname is a very common one among the silk trade workers in Coventry.
Mary's parents had married in 1815, at Chilvers Coton, an area now integrated into the Coventry suburb of Nuneaton. In later years in Australia, Mary's family always listed her name as "Mary Gold Greenaway" – the middle name probably a clerical corruption of "Gould", her mother's maiden name. Mary was one of six children born to Charles Bird Greenway and Mary Gould, while Charles himself was one of eight born to the master weaver James Greenway and his wife, Mary Bird.
The surviving documentation in which Mary is then mentioned are her children's birth, marriage and death certificates, and her husband's death certificate. Her husband Samuel also came from a Warwickshire family, in his case, though, not from the silk industry. Samuel, like his father, was an Army man, and at the time of his marriage to Mary, was a sergeant in the 12th (Infantry) Regiment.
So far, Mary's own death certificate has not been located, but she died in the 1850s in Mauritius, when Samuel was stationed there with his regiment, as she did not accompany him and their surviving children when they made a new life in Australia. Her youngest son Frederick, who was born in Mauritius in 1849, says after his mother's death when he was eight, his father took him, his brother John (known by his second name Arthur) and sister Emma to Australia. Frederick's time scale is a little out here - Those dates would put Mary's death in 1857, by which time Samuel and the children had been in Australia for a year. However. presumably Mary died only a very short time before her family set sail to Australia, in 1856.
As well as those three children, Mary and Samuel had three others, two boys and a girl, who died in childhood.[5]
(Back in Warwickshire, as Mary was starting her years in Mauritius, her father, Charles Bird Greenway had succumbed to a particularly virulent bronchitis attack, and died at the comparatively young age of 51. At the time of his death in 1845, Charles and his wife were living in Much Park Street, Coventry. After Charles' death, his widow continued to work in the silk industry, but by 1851, she was living in Union Street with her daughter Sarah, son John, and two grandchildren.[6])
---
[1] IGI, Batch no 041921
[2]England,Marriages, 1538-1973, Salt Lake City, Utah, FamilySearch, 2013, FHL Film Number, 1866577, Ref ID: item 4 p 136.
( this record was located for me by an English researcher, Judith Le Sage)
[3] 1851 Census of Warwickshire, and the death certificate of Charles Greenway
[4] Joan Lane (ed), Coventry Apprentices and their Masters 1781-1806, Dugdale Society, Shakespeare Centre, Stratford upon-Avon, Warwickshire, 1983, p46.
[5] Samuel Archer's death certificate
[6] UK 1851; PRO REF HO/107/2067; Folio 358, Page 10, FHL Film 0087330.