On his marriage certificate, Felice listed his occupation as a gold digger, with his usual place of residence Peters' Diggings (10 kilometres south east of St. Arnaud, now a general farming district). The family's long trek north to Queensland in 1860 is said to have been precipitated by events that occurred during the Eureka Rebellion, but there is no confirmation of this. Indeed the fact that Felice was able to continue his prospecting in the five years following Eureka, detracts from the claim.

He was mining at Peters' Diggings in 1858 when he met his bride to be Emma Archer, the 16 year old daughter of a soldier-turned-shepherd on the property, Strathfillan. The diggings were named after David Peters, the lessee of Strathfillan station.

Gold had been found on Strathfillan late in 1857, at a time when the field at Stawell was in full swing, inducing miners from Stawell to head for the new field at Peters. Four miners extracted about 100 ounces of gold in four months, apparently a good enough result for the growth of a small township, or rather, "a big one of calico tents".[7] Peters was described as a "poor man's diggings" where small quantities of gold were relatively easily obtained (as opposed to one needing big syndicates and finance to extract it) and "everybody got a little of the precious stuff".[8] Life for the miners would have been hard, but hardly dull. According to the memories of old timers recorded some years later:

Dancing saloons were very much in evidence, and of a Saturday many of the miners 'cleaned up' after dinner, and then cleaned themselves, preparatory to visiting the saloons in the evening. Very often the boys got 'cleaned out' of all their coin, but as a rule, things were very orderly.

Not always so orderly, however... Only a decade later, a resident of a rival larger goldfield, nearby St. Arnaud's, recalled that in the "early days" (the period Felice was at Peters')

When the Peters' men came to St. Arnaud, we fought like old boots, smote them hip and thigh.... And when we went to Peters', they did likewise.[9]

And another commentator recorded that "what rivalry there was between the two existed only at a social level"

When the rush to Peters was at its height, large numbers of miners from there used to come into St. Arnaud on a Saturday night and the evening that began in convivial comradeship frequently ended in a pitched battle in the main street of St. Arnaud - Peters' men on one side and St. Arnaud men on the other.[10]

In the years after the peak of the Peters' Diggings rush, the settlement boasted a brewery and three hotels (at this time, there was a population of only 500 - possibly the hotels were small ones!).

After Peters' Diggings, the 26 year old Felice made at least one more move before heading north to Queensland. Felice took his young bride 100 kilometres south to another gold field, at Ararat, where their first child, a boy also called Felice, was born in 1859. How long they stayed there isn't known - presumably not long, because by early 1862, the family had arrived in southern Queenland, after a journey which would have taken several months by dray and cart. In Queensland, Felice worked as a labourer on a property, Jinghi Jinghi, west of Dalby, where his name was anglicised to Phillip. There, his second child, a daughter later known as Grace was born in March, 1862.

Jinghi Jinghi adjoined the famous Darling Downs property, Jimbour, which, less than 20 years earlier in 1844, saw the start of Ludwig Leichhardt's successful journey overland to Port Essington (near the present-day site of Darwin). Leichhardt's journal described the country, which four years later was to be taken up as the Jinghi Jinghi station, as "plains without trees, richly grassed, of a black soil".[11] Jimbour and Jinghi Jinghi were the largest properties in the area at the time, each of about 300,000 acres (125,000 hectares).

At the time of the arrival of the Pobar family, the lessee of the license to depasture stock on Jinghi Jinghi was W B Tooth, but the lease must not have been too profitable, for during the 10 year period up to 1865, the land saw the lease change hands no less than five times. Part of the Jinghi Jinghi property was excised from the station for the township of Jandowae, and later, large areas were thrown open to selectors of 640 and 320 acre blocks.[12]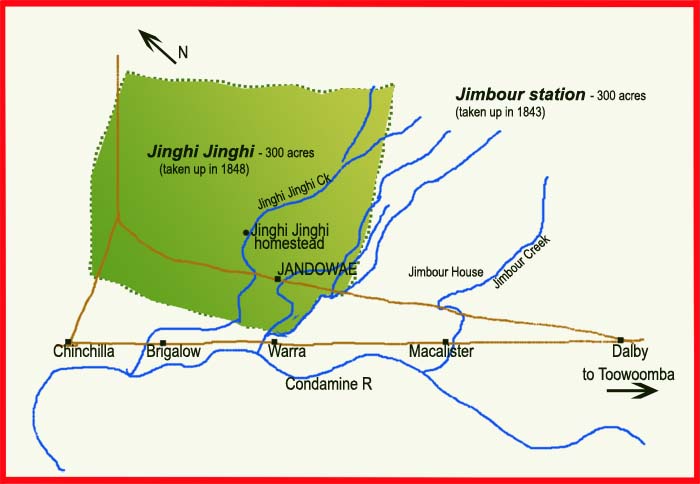 The property Jinghi Jinghi, west of Dalby, where Grace Pobar was born. Felice was working there as a labourer at the time of her birth, after leaving the Victorian goldfields
Ruthven Street, Toowoomba's main street, around 1890
Felice and Emma went on to have another six children and settled permanently on the outskirts of the main Darling Downs centre of Toowoomba. At this stage, Felice's name took another twist, with "Felix" becoming common usage.
Felice became a farmer, as noted on his naturalisation records on September 20, 1869. The family later developed a retail outlet, with his eldest son Felice/Felix opening a butcher shop in Gowrie Street, Toowoomba in the 1880s. This venture came at a time before refrigeration, when meat was hung on display outside the store to catch the customer's eye ( below).
Felice Pobar (jnr), on the right, outside the Gowrie Street butcher's store. His family lived in rooms behind the shop
(Photo courtesy David Pobar)
It was the start of a butcher shop group, which at one stage had as many as five stores in Toowoomba, and continued for nearly 100 years.[13]
After Emma died in 1911, Felice is said to have distributed his assets to some of his children - an action that led to some dissension in the family.