On the England, young Tom earned a reputation as something of a troublemaker. Even before the voyage started, he injured his arm in an incident with another prisoner on the vessel taking them from the wharf out to the England.
Once landed in Sydney, his record did not improve. At one stage, he was sentenced to an extra six months in irons for robbery, and on another occasion, one month on the treadmill for insolence. In between these and other transgressions, Tom was held for nine months at Hyde Park Barracks (a wing of which still exists as a convict museum near St. Mary's Cathedral in Sydney), until the robbery that led to his stint in irons on a road gang.
(above) The treadmill at Hyde Park Barracks in Sydney – a secondary punishment for recalcitrant convicts. Eighteen- year-old Tom was sentenced to one month working the treadmill for the crime of insolence. The treadmill has been described by a writer of that time as "a very useful piece of machinery for the purpose of correcting the tarnished morals of Botany Bay" 14a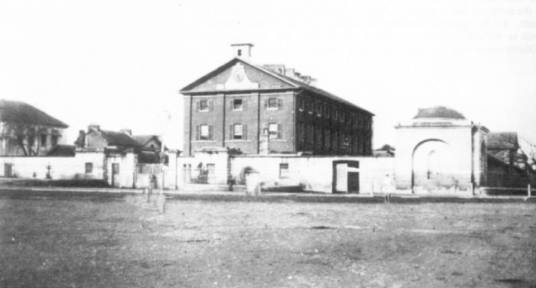 (above) Hyde Park Barracks, designed by convict architect, Francis Greenway, where Thomas was held before he was assigned to the Hawkesbury area.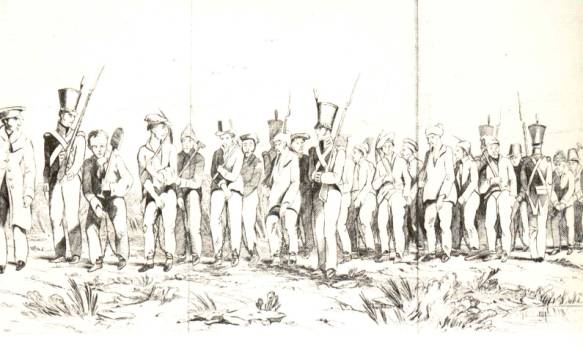 A road gang in the bush near Sydney, c1838, shows convicts with 'a pinched and sallow look', according to historian Robert Hughes in his book, The Fatal Shore. Thomas was sent to one such road gang in 1836.
Picture: National Library of Australia, Canberra
When his term on the road gang was up, he was assigned to a farm belonging to the Fleming family on the river flats at Wilberforce in the Macdonald Valley, near Wiseman's Ferry northwest of Sydney. In 1837, the younger Fleming sons had branched out to establish their own properties in the northwest of the state. In those early years, many of the families from the Macdonald Valley developed pastoral links with the area north of Tamworth, and it was not uncommon for new settlers along the Gwydir River and to the west to have come from the Hawkesbury.
Twenty two-year-old John Fleming and his older brother Joseph took up a run, known as Mungie Bundie, on the Gwydir river, 20 kilometres east of Moree, and Thomas Berryman was sent there as a hut keeper. It was in this capacity he was questioned about John Fleming's involvement in the notorious Myall Creek massacre in April 1838[14b]. According to Roger Millis, in his book Waterloo Creek, Berryman's "equivocation and dissembling made [another witness] look like a model of candour. He was nothing if not loyal to his absent master".[15]
A more kindly interpretation is given by another historian:
The evidence of Thomas Berryman, Fleming's hutkeeper, reveals a man humble and ignorant, always receiving visitors – "I believe all the stockmen about are in the habit of calling here" – remembering exactly how they came and went because these were central events in his life, but ignoring or forgetting everything else.[16]
Seven of the white men involved in the massacre of a group of aborigines were hanged, but Fleming escaped. According to Millis,
"The ringleader of the exercise …. lived his life out to the full without ever have to face the music. The £50 reward for John Fleming was never lifted, but the man-hunt for him was soon quietly abandoned. By 1840 he felt so sure of himself as to get publicly married, giving his place of residence as 'Macdonald River', where he had apparently been hiding out with sections of his spreading clan. In due course, he emerged completely to claim his place in the sun, and for 24 years was a warden of St. Johns Church at Wilberforce before dying a pillar of respectability in 1894 at the age of 78, the blood of Myall Creek long washed from his hands by piety."[17]
While still a convict, Thomas met Catherine ("Kitty") Stewart, a young woman who came out from Ireland as a child. Kitty's mother had petitioned the Irish authorities to be allowed to join her husband, a convict assigned to a farm in the Macdonald Valley, less than a kilometre from the Fleming family property where Tom worked. Kitty and Tom were married by special permission in 1844 in a small, now-vanished Catholic Chapel at Leet's Vale, near Wiseman's Ferry, northwest of Sydney.
Kitty and Tom had 10 children, two before Thomas officially gained his freedom.[18] In the 1850s, the Berrymans moved northwards to territory familiar to Tom through his assignment to the Flemings, this time to the Bundarra area, west of Armidale, where the family settled.
(left) Winscomb, a property near Bundarra, where Thomas is thought to have worked in the 1850s
In 1859, in a petition filed with the Legislative Assembly, Thomas was listed as a freehold land-owner at Winscombe, Bundarra. Winscombe is a large pastoral property, some 15 kilometres south of Bundarra, and it's believed that Thomas may have worked on the property before settling on a selection nearby. Alternatively, the Winscombe property may have given its name to the general area. In records such as his children's baptism and birth certificates, Thomas was variously described as a stockkeeper, labourer, and farmer.
He died of a 'sudden disease of the heart' (although there had been speculation in the family there was something untoward with his death, as he was reputed to be carrying a large sum of money which wasn't accounted for, at the time[19]) at Torryburn, near Armidale, in 1872 aged 54, and was buried in Bundarra cemetery.