In 1860, James set out to follow Patrick south, a move encouraged by his older brother, who sponsored him and his brother William on the Fitzjames. [Their sister, Mary Ann was also supposed to migrate, but stayed on in England, married and died there]. James' occupation is noted on his immigration papers as 'labourer'. (The spelling GAFFNEY was used in records of the immigrant ship). James, William and later Daniel and Bernard all settled near Patrick in the Bundarra area. According to Post Office directories of the time, Patrick, James and Daniel all worked as shepherds for a period.
James met, and married in 1868, Margaret Berryman, the Australian-born 19-year-old daughter of an English convict and a free Irish girl (her mother was herself the daughter of an Irish convict). The Marriage certificate was very vague on details, but the ceremony was carried out in Bundarra "according to the Rites of the Church of Rome", probably in a sawn timber building completed in the village in 1862. The pastoral needs of Bundarra's Catholic population were catered for by a travelling priest, Father J Davis, who conducted services and visited homes in the Upper Gwydir area before a resident priest was appointed in 1881. One local history of the area notes that before 1881, Father Davis used to extract teeth for his parishioners, but during his absence, sufferers had to rely on the local blacksmith.[11]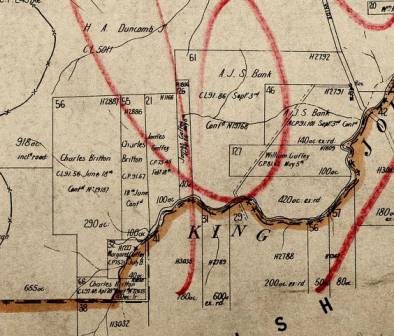 An 1880s map showing ownership of land south of Bundarra. James Gaffey's two selections on the northern side of King John's Creek is just to the left of centre, that of his brother William further to the east, while his daughter Margaret also had a smaller selection in her name (a square selection crossing the Creek, just southwest of James' holding).
All the Gaffey selections, totalling 280 acres, had frontage to King John's Creek, a tributary of the Gwydir River, which runs northwards through Bundarra.
James' first-born child, a girl Mary Ann, born in May 1870, died just over two years later from "accidental burning"[12]. James and Margaret went on to have another nine children, including Thomas in 1883. James' children took up many and varied occupations, including farming, butcher shops and hotels. [His daughter Alice and her husband John Twoomey owned several hotels including Tattersalls Hotel at Hillgrove (east of Armidale), the Imperial Hotel at Quirindi and the Prince of Wales Hotel in Newcastle (c1923), while
another two daughters owned hotels at Inverell and Hillgrove [13].
James' eldest daughter Margaret married into the Baldwin family. Her father-in-law, William Baldwin, had earlier achieved some notoriety when, as the village blacksmith (it's not known if he was the one who also doubled as the emergency dentist!) made a special set of horse shoes for a horse belonging to the outlaw Thunderbolt.
They were made with rivets in the heels, so that when Thunderbolt wanted to come to town for provisions, an extra section of iron could be joined in at the back of the shoe, making it a complete oval. This scheme was devised to confuse the trackers employed by the police. One of these shoes is in Smith's Museum at Tingha.[14]
In 1875, James had acquired, by conditional purchase, at least 140 acres of land, which he sold 10 years later to a grazier neighbour for £210.[15] In 1885, he was also recorded as holding 800 acres at Black Mountain, with three horses, five cattle, and 460 sheep.[16]
The Gaffey area of northern New South Wales

In the mid 1880s, James and his by now large family, moved on to a property at Ironbark Creek, further to the west at Barraba, south of Bingara. There they stayed until the turn of the new century, when, pulling up their roots once again, they moved for a final time to Howell, a mining village south of Inverell.
This village had already suffered one boom-and-bust before James and his family arrived there around 1900, and big changes had already taken place to establish a stannite mine employing 150 men. No trace remains today of Howell, established originally under the name of Bora Creek, which sprang up to support the mining of silver, lead, copper and zinc at the Conrad Mine. The small village grew into a "roisterous little town".[17]
The stannite mine at Howell

Despite his having owned or occupied parcels of land at Black Mountain, Bundarra, and Bingara, James became a general labourer at Howell, and since the main source of employment in the area from 1900 onwards was at the stannite mine, it's probable James worked at the mine before going on the old age pension.

One of James' daughters, Elva, married Raymond Skippen, the son of a local businessman, Nat Skippen. Nat Skippen owned Howell's big two-storey hotel, where Raymond worked as a barman. Nat Skippen also had an interest in the Conrad Mine, and given the possibility of some insider knowledge, it's not too surprising that he sold the hotel in the year before the mine went into liquidation.

Considering that nothing exists there today (2000), it's hard to believe that 100 years earlier, Howell boasted two general stores, two butchers' shops, two bakers' shops, cafés, barbers, a blacksmith and its own local newspaper. After the collapse of the mine, the tiny village dwindled, with most residents (and, in many cases. their weatherboard houses) moving onto the more resilient town of Tingha, 20 kilometres away. However, James and his family stayed on in Howell.

James suffered a cerebral haemorrhage in April 1917 and died three days later in Inverell hospital. He had outlived all his brothers: the original pioneer Patrick dying first in 1901. It appears Bernard had moved to Sydney, where the death of a Bernard Gaffey is recorded at

the Gladesville Hospital for the Insane in 1910. William, apparently inebriated at the time, drowned in 1913 in the Gwydir River, which flows through Bundarra. Daniel also stayed on in the New England, dying at Bundarra the year before James.
The surveyed town of Howell, with cobbled streets, and houses for 1500 people, can barely be found now (2002)– only the occasional garden shrub and fruit tree, pile and brick and rubbish heap remain as reminders of Inverell's "Broken Hill".[18]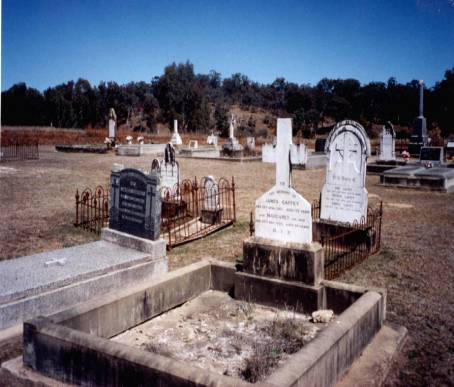 (right) The Gaffey family graves at the cemetery at Bundarra in northern New South Wales