Joan Gaffey had an early setback in life - when she was only six, her mother Stella died; this was a loss Joan felt bitterly for the rest of her life.
She was born at Waverley Private Hospital in Bondi in 1921, the eldest of three children. The family's secure domestic existence, living in a duplex next door to Joan's grandmother, was brought to an abrupt end in 1928 when her mother succumbed a kidney disease.
Joan's father, Tom Gaffey, then a tram conductor, took his three children (all aged six or under) from their home in Philip Street, Bondi, to stay with some of his own relations in the New England area of New South Wales. Their time in the region included staying with an aunt and uncle who ran a hotel at Tingha, a tiny, tin-mining town west of Armidale.
Life with the extended family didn't work out and in January 1930, Joan and her brother Reg were sent to St. Patrick's orphanage in Armidale run by the Sisters of Mercy, where they stayed for nearly a year.[i] During that time, Joan remembers her aunt, Emily West, who lived in Armidale, visiting the orphanage and distributing lollies to the children.
The orphanage at Armidale where Joan and her brother Reg were sent in 1930. In 1998, the imposing building was converted to upmarket apartments.
In December 1930, their father took them out of the orphanage and back to Sydney, where Joan and her sister Eve were boarded at St. Joseph's convent at Hunters Hill.
When their father remarried in 1932, the children returned to live with him and his new wife and the children from her first marriage, at 5 Gladesville Road, Hunter's Hill.
An adolescent Joan found living with her father and stepmother difficult. After leaving school at 15 somewhat against her wishes, Joan started work as a sales girl at Mark Foy's large department store in the centre of Sydney, later moving to office work at Joe Gardiner's, and as a shop assistant at Anthony Hordern's.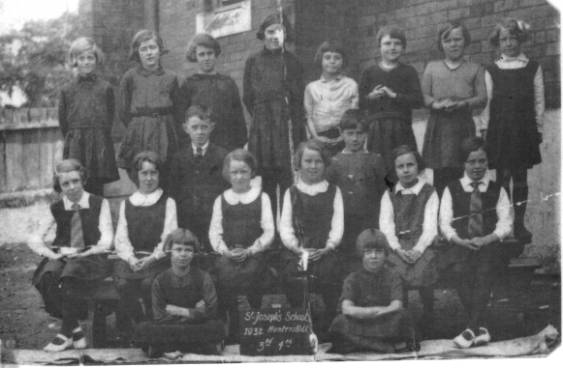 Joan (middle row at left) and Eve (same row, at right) are the only two pupils in 3rd/4th class at St. Joseph's school, Hunter Hill in 1932, wearing ties.
Perhaps the fact they were boarders at the school at the time had something to do with their uniform compliance.
Joan [standing] with her Aunts Gertrude [left] and Florence Williams, 1938, Carrington Road, Randwick
To relieve the atmosphere at home, she went to live with her aunt, Gertrude Williams, at Randwick. Aunt Gertrude, her mother's elder sister, also cared for her own mother, and her mother's sister Margaret (Hyde). Gertrude was a talented dressmaker, and Joan was often commissioned to pick up lay-bys of fabric for her while in the City.
During the early years of World War 11, when fear of a possible Japanese invasion was at its height, Joan's uncle Arthur (the ALP member of State Parliament for Ryde and Georges River) decided Sydney was not the place for his mother and bought a house in the Blue Mountains, at Leura, where Joan and Aunt Gertrude also went for some months before returning to Sydney. While at Leura, Joan worked in the office of a local timber merchant
Joan was still living with her aunt, and working in the office of Joe Gardiner's shoe store in the Hayrmarket area when Peter Byrnes, then a 19-year-old student from Queensland at Sydney University, came to board there.
Accommodation was very difficult to find during World War II in Sydney – after their wedding, Joan and Peter boarded at 57 Darley Road, Randwick, next-door to Joan's grandmother and her cousin's family, the McInerneys. Then, a few months later, they rented one room and the use of a kitchen, at Beverly Hills in Sydney's south. While they were living here, their first two children were born in St. Margaret's at Darlinghurst.
1 Norfolk Avenue, Beverley Hills, Sydney, where Joan and Peter rented a spare back bedroom – the only accommodation they could find in war-time Sydney
.
Soon after the birth of their second child in March 1945, the young family moved to Valley Heights in the Blue Mountains.
At Valley Heights, the cottage was primitive - no electricity, with 'an airconditioned bathroom', as Joan described the shack with holes in the galvanised iron walls. Joan said she lived in fear of the snakes in the surrounding bush during the summer, and when Peter suggested that she take the children to live with his parents at Ipswich in Queensland, she agreed.
In 1946 Joan and the two children, then aged three and two, moved north, with Peter making what trips he could to see his family, while still working and studying in Sydney. When he qualified, Peter was sent to the Health Department's laboratory at Lismore, which enabled him to make more frequent trips over the border to visit his family.
The family was reunited when Peter was given relief work in north Queensland (Townsville and Cairns), before the permanent move to Toowoomba in 1947.
Another seven children followed in Toowoomba, resulting in a large family of five sons and four daughters. At one stage, four children were born within five years - a period Joan says was "just a blur". Nevertheless she coped with the immense workload, with considerable support from Peter.
The family's annual holiday at Kirra, on Queensland's Gold Coast, was a much-looked forward to time:
(above) the family on the beach at Kirra in the early 1950s. from left: Peter (jnr), Mary, Joan with Catherine in front, Gerard, Peter.
A portrait taken on Joan and Peter's 25th wedding anniversary in 1968 when they were both aged 46.

In Toowoomba, the family lived in housing provided by Peter's employer, the Commonwealth Department of Health, with the main family home for most of the children's growing-up years being a large fibro house at 350 South Street, Harristown. At that time, Harristown was on the outskirts of Toowoomba, with red dirt roads and cattle driven past the house on the way to the saleyards.
While housework and caring for such a large family was the main focus of Joan's life, for many years she and Peter also found time to work for the Endeavour Foundation, an organisation that was instrumental in helping care for their youngest child Danny, born with Down's Syndrome in 1965. For Joan, this interest centred on weekly voluntary work at the Foundation's Op Shop in Toowoomba.
When Peter retired in 1982, they built a new house (still in Toowoomba), and lived there with Danny. Their life was hit by tragedy soon after, when Danny, aged just 19, died in 1984 after a very short struggle against cancer.
Joan and Peter, in 1985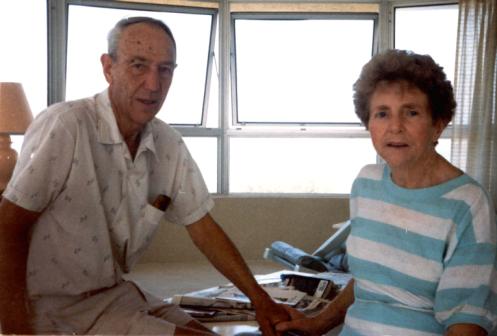 On holidays at Maroochydore, 1988.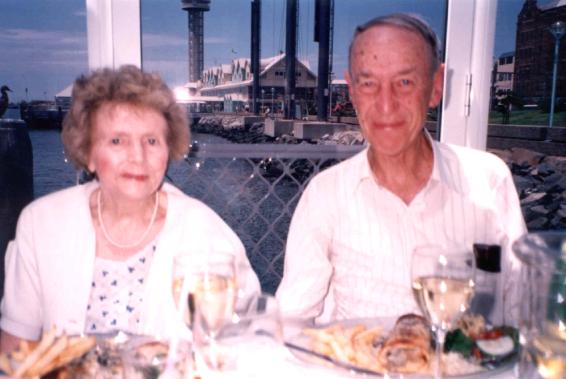 70th birthday lunch on the waterfront in Newcastle, 1991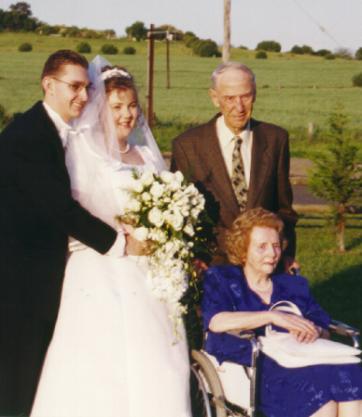 October 1999 – Joan and Peter at the wedding of their granddaughter Laura Magill to Brenden Millard at St. Andrews, Campbelltown. This occasion was the last of Joan's long interstate visits to see her daughters and their families in the southern states.
Joan's children, particularly her daughters, moved far afield. Since one of her main interests was keeping up to date with the activities of her more than 20 grandchildren, this provided the opportunity and incentive for many trips to Sydney, Adelaide, Newcastle and Melbourne.
Joan's life in later years became restricted by health problems, with the onset of severe arthritis, resulting in several operations to replace failing hip and knee joints. The end result of these operations was not entirely successful, and by the age of 75, she needed a walking frame to move around her home. (Nevertheless, she still liked to go shopping). In November 2000, Joan, then suffering from pulmonary fibrosis, fought off a serious bout of pneumonia, an episode that saw her admitted to St. Vincent's Hospital. After only a brief respite from the onset of this illness, her health once again failed, and Joan died, surrounded by all her family, on February 28, 2001.
From the eulogy delivered in St. Patrick's Cathedral Toowoomba, by Joan's eldest son, Peter, at her funeral on March 3, 2001
It's difficult to sum up in a few words today what my mother has meant to me, my brothers and sisters, and most particularly, my father, whose companion she was for nearly 60 years.
She was the heart and soul of our very large family. To each of her nine children, she related in a very special and caring way. I know you'll say this is a common characteristic of mothers, but it was an extra achievement for Mum as she had no role model to learn from, unlike the example she has set her own children.
Mum, who was the eldest of three children, lost her own mother when she was only six years old, a loss she felt deeply all her life. Childhood and adolescence were a struggle for her after that, as she grew up in the 1920s and into the Depression years. Her childhood included a year in an orphanage in Armidale when she was only seven, before she went to school back in Sydney as a boarder.
Sydney was always her home-town, and although she came to appreciate Toowoomba and its people who became her friends, it was always against Sydney she measured all other cities. Sydney was special: for one thing, it was where she met my father, when she was just 19 years old.
Photographs from that time show that Mum was indeed a beautiful young woman – in fact, Dad tells me he couldn't believe his luck when she went out with him. Their courtship resulted in marriage, at the height of World War Two, in Sydney's St. Mary's Cathedral, nearly 58 years ago. I was the first child of that marriage, followed very soon by a sister.
Housing in Sydney during war-time was almost impossible to get, and so Mum and Dad took us two youngsters up to a shack in the Blue Mountains where they didn't have even the most basic amenities including electricity. Dad commuted from there every day to Sydney University where he was studying and working for the Department of Health, leaving Mum to cope with two toddlers in the primitive living conditions at Valley Heights. Mum always said, "at least the bathroom there was air-conditioned", her gentle way of referring to the holes in its galvanised iron walls.
Dad's home state of Queensland appeared to offer better prospects, so after much soul-searching, they made the move north, eventually settling in Toowoomba in the late 1940s. I doubt if Mum ever adjusted to the Toowoomba winters – I remember in bitterly cold seasons, the skin across her knuckles cracking and splitting, from the constant immersion in water, as she did the washing for her ever-increasing number of children. And the red soil of Toowoomba certainly added to her wash-day woes…
Throughout the years, the number of children increased to nine – five boys and four girls. We youngsters marvelled at the planning it took to alternate boy-girl-boy-girl right down through the clan. I think at one stage, Mum and Dad had five children in just over six years. Years later, Mum was asked how she coped during that time, and her realistic answer was "I don't know – it was all a bit of a blur". But cope she certainly did, with much practical help from Dad.
The family was all-important to Mum and Dad – they worked to provide the best education they could for all their children, and to give us a stable, happy home life. That included regular holidays at the then South Coast – still a favourite area for Mum and Dad's holidays into recent years, and such ordinary, happy times as Sunday afternoon drives, after the family bought our first car, an FJ Holden, in the 1950s. I believe Mum had one go at learning to drive the car, but she soon decided that wasn't for her. Instead, she led us in singalongs while Dad did the driving, and that was where we learnt such classic Australian ballads as "Botany Bay".
With hindsight, such ballads were appropriate – we learned in later years that Mum's family had a number of enforced migrants sent out here from Mother England back in the 1790s and early 1800s – a discovery she greeted with some dismay, saying "well, I don't think I'll tell anybody about them". For her generation, such ancestry was not a badge of honour, as it perhaps is today.
What she did enjoy were simple pleasures – and some of these will be symbolised in the offerings we will bring up in the Offertory procession….a game of Scrabble in which no quarter was asked or given, and that more often than not, she won, crossword puzzles with Dad of an afternoon, reading, crochet work and music. In her younger days, her music came out most clearly in a lovely singing voice that unfortunately, I don't think any of us have inherited.
However, in her gentle, quiet way, she was proud of all her children, bringing out the best in each of us, and seeing in each all our special qualities, special at least in her eyes. One big place in her heart was reserved for her youngest child, Danny, who had all the wonderful qualities of children with Down Syndrome. As Danny grew up, Mum became very involved in the work of that superb organisation, the Endeavour Foundation, which did so much to help Danny, and Mum and Dad, with all Danny's day-to-day needs. Despite her own failing health with a particularly crippling form of arthritis, she worked as a volunteer in the Foundation's charity shop for more years than I can remember, continuing long after 19 year old Danny was taken from us by cancer nearly 17 years ago.
For those past 17 years, we have had Mum with us – now it is Danny's turn to look after her, after all her years of pain and suffering, and to welcome her to his side – and Mum, while you're watching from up there with Danny, we promise you we'll look after Dad…