Last night, our restaurant of choice, the Old China Kafe in Chinatown, was in Fawlty Towers mode. Four of our first six menu selections were "unavailable''. Spring rolls were all gone, anything with prawns was a no-no, and even a vegetable dish was off limits. Why no prawn dishes? "Everyone all day wants prawns, prawns, prawns", complained the waiter "All gone". My first choice of Beef Rendang mustn't have been too popular - it was readily available.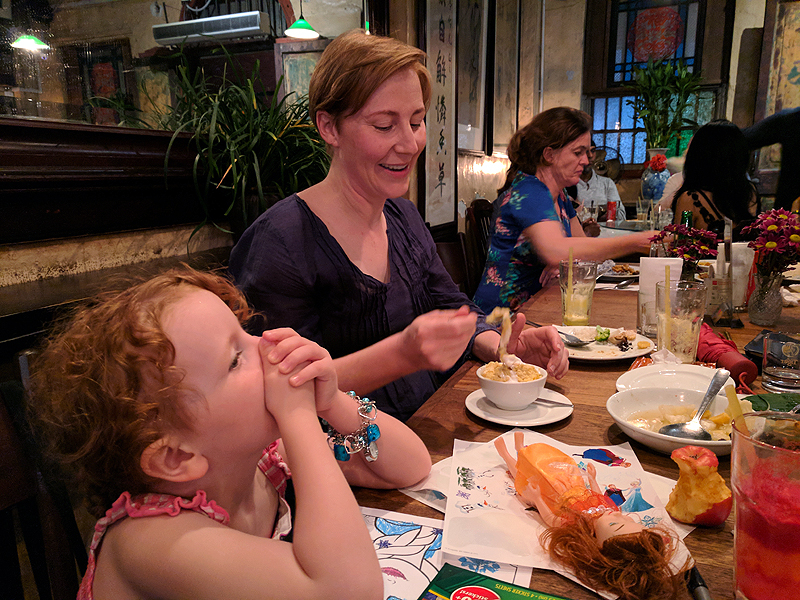 This was the cafe where, three years ago, Ashley tried to sample durian icecream. Now, durian is a fruit loved by Asians, but generally reviled by westerners. Its smell is dreadful (like a sewer, some say), and from my experience, the taste is no better. So when Ashley ordered it back then, the waiter shook his head sadly, declining the request, saying: "No sir, you wouldn't like it" - and no amount of persuasion could make him change his mind.

So I was a little surprised last night when Jenny's request for the durian dessert was just met with a knowing mirk from the waiter, and produced without undue delay. Jenny's first reaction: err, no, I can't eat it, so then Ashley taste-tested it. Ash thought it was not too bad, but I noticed he didn't go too far into the bowl.

Frankie covered her nose with her hands, much to the amusement of the waiter. I agree with Frankie.
We generally enjoy the food at the Old China Kafe, but that's not really the main reason I like to go there. I just like the atmosphere - it's as if it is in Kowloon say 60 or more years ago - not that I know what that would be like, but that's how it is in my imagination.

David met us at the Old China Kafe after an afternoon at The Green Man, spent watching the Formula One race, the last one scheduled for Malaysia, and the NRL Grand final from Sydney. Being a little pushed for time, he opted to try his Uber app here in KL for the first time - ticks all round. All good.

An entertaining ride home in a taxi with a driver who wanted to show us photos on his mobile phone (while driving), of a tourist town near the Cameron Highlands, Bukit Tinggi, in the hope we'd give him a chauffeur job for the day. No time on this trip, unfortunately. But it does look worth exploring at a later date.


First up on the agenda today was purely for Frankie's benefit - the amusement theme park on the 5th level of the Times Square complex (above). That was a good move...

The bad move was a purchase Dave and I made for Frankie - a toy called a Minion (left), which involved a dancing puppet. Unfortunately, the dancing is accompanied by a very, very loud monotonous tune, - and the volume can't be turned down. It didn't sound so loud in the shopping centre, but perhaps the ambient noise there of the theme park blanketed it a bit.

A quick trip a further block to the techno theme park of Low Yat to check out the price of large capacity SD cards, for Ash. I'm not sure what his verdict was on the info we came back with, but I thought they were still a little pricey over here.

Another bit of indulgence came next - spa sessions for Jenny and me in next door's Pacific Regency hotel. The massage was the Thai variety, which meant a lightweight Thai girl walked all over me. Worth the time and money. The Pacific Regency was where Dave and I lived for a year back in 02-03, but it didn't have a spa then. I would have used it regularly. The adjoining gym didn't appeal half as much.