(
later)
We've been carried around KL by hundreds of taxis over the years, some of budget standard, others called 'executif', but if there a class called "decrepit', our conveyance tonight would surely win. How it stayed on the road I don't know. I can only presume there is no registration inspection, or this clapped out Proton would long ago have been sent to the wreckers. . It was the most decrepit taxi I have ever been in. No synchromesh, a steering wheel that was falling apart and barely able to steer, an engine that I doubted would make it up any hill, no meter I could see and a smell of dubious origin. By the time we arrived home, surprisingly in one piece, we were all laughing in disbelief.
Fortunately, it was a short trip back to the hotel from dinner in Cangkat Bukit Bintang [or as I call it, (for obvious reasons) Lygon Street].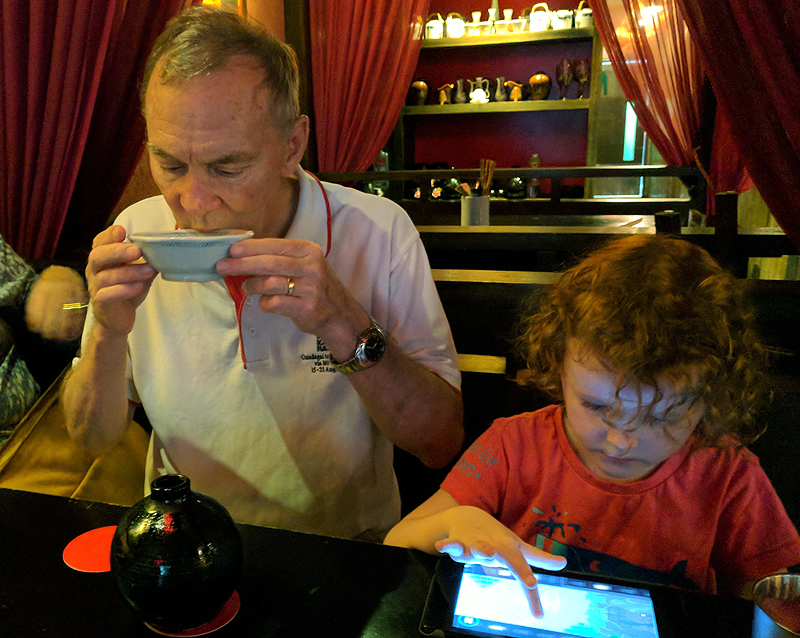 Dinner tonight was the last in Malaysia for Jen and Ash. Jen picked Opium restaurant from recommendations in TripAdvisor, and it would have been quite enjoyable if only Ashley weren't still suffering the result of a fish meal picked up, at a roadside vendor outside our hotel the other day. I think he was just unlucky then: Jen had the veg option, while I had the chicken, both without ill effects, but not so for poor Ash. So, he was unable to fully enjoy tonight's farewell meal.
One funny sidelight was the serving of beer in a small flagon to Dave, to be poured into a bowl. He was assured it was a Chinese custom. Dave played along (left), and decided it was actually a good way to drink the beer...somehow improved the taste, as much as a good wine benefits from good glassware.
Tomorrow: Jen, Ash and Frankie back home, and we head to Ipoh