Hurstpierpoint, Sussex, where Hannah lived most of her adult life.

Birth:

1 April, 1856, Clayton, Sussex

Mother:

Father:

Death:

14 January, 1950, Pouchlands Hospital, Lewes, UK

Children:

Bramwell Joseph Brown ((b. 11 April, 1883, Brighton Workhouse)



Married:

William Martin, 27 September, 1890 East Grinstead, Sussex



Children:

Isabella Jane ("Jennie") Martin, b. 2 December, 1891, Homestall Farm, Ashurst Wood, Sussex.
The life of a girl born into a farm labouring family in the 1850s in Sussex can't have been an easy one. Just a decade or two earlier, the country was hit by the hardships which led to the "Swing Riots" of the 1830s. These protests followed on from the mechanisation of some of the traditional agricultural work, causing widespread unemployment and low wages. Hannah's father, James Brown was one of these people, an agricultural labourer, and although he was able to move around the East Grinstead area of Sussex for work, he at times had to turn his hand to other things, such as being a "toy dealer", or more often, a gardener or a labourer on the roads.
For much of Hannah's childhood, the family lived in the village where she was born - Clayton in East Sussex, the third child (and third daughter) of James and Mary Ann. On the UK census of 1861, Hannah and her older sister Mary are described as "scholars", the word used to describe children, no matter how young, who were going to school. What schooling was available to them would have been limited, but obviously it was enough for the children to learn to read and write. Later, on her marriage certificate, Hannah was able to sign her name, while her much older husband, who wouldn't have had the same educational opportunity, signed with a cross.
By the time of the 1871 UK Census when she was 15, Hannah had left school and was working as a housemaid, but still living at home, along with her younger siblings Joseph and Susan. While two older sisters appear to have left home, another younger sister, Sarah had died in 1859 aged only one month. Hannah's older sister Jane, a dressmaker, married in 1877 when Hannah was 21, and moved to Gloucester. Within a few years, Hannah moved north to join her sister there, where she is recorded in 1881 as being a cook and a domestic servant.
Within the next year, Hannah had met the man who was to father her first child. We have no record of his name, or indeed anything about him, but the result of the liaison was the birth back in Sussex of a son,
Bramwell Joseph
, who was born in April 1883 in the Brighton Workhouse. Hannah gave her address at the time as 35 Hereford Street, Brighton, and her occupation as domestic servant.. Leaving Brighton after Bramwell's birth, she took her son to East Grinstead, 60 kilometres away. By this time, her father had died, and her now widowed mother was living with Hannah's brother Joseph in Burgess Hill, only a short distance from their earlier home at Clayton, but Hannah by-passed both Burgess Hill and Clayton and moved on north to the much larger town of East Grinstead.
There, Hannah met a newly widowed local farmworker, William Martin. William was considerably older than Hannah - 35 years - and had eleven children from his first marriage, six of whom were older than his new bride. William was variously described as a farm labourer or carter, living and working on Homestall Farm, five kilometres from East Grinstead.
above: Hannah and new baby Isabella ("Jennie")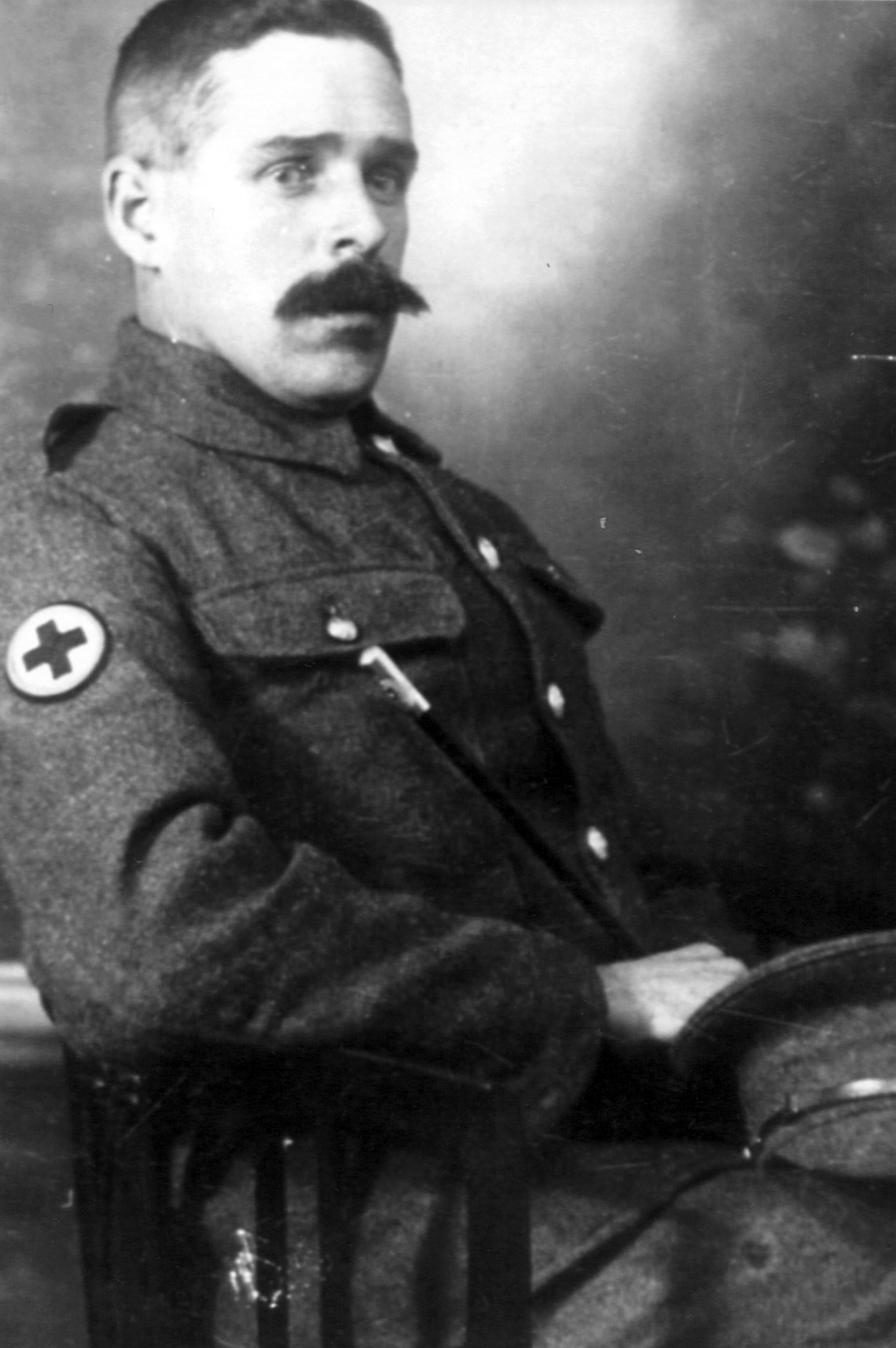 Bramwell Brown, in uniform of the Royal Army Medical Corps
Hannah and William married in September, 1890, and very soon after, her mother Mary Ann came north to live with them. Another arrival in the family was Hannah's first daughter, Isabella Jane, who became known as Jennie.
Within a few years, the marriage ran into strife, and Hannah left, taking Jennie and presumably Bramwell with her. By 1901, Hannah was living and working as a housekeeper at Kents Farm, 20kilometres away, near Hurstpierpoint. When officialdom came asking the questions for the census of that year, Hannah declared she was a widow, which was a little premature. William didn't die until a year later. By then, her mother had moved on again, a bit more permanently, to stay with another married daughter, Susan, also living near Hurstpierpoint.
left:
the farmhouse at Kents Farm, where Jenny worked as a housekeeper. (Photo
©
Simon Carey
(
cc-by-sa/2.0
) The farmhouse is now a Heritage Grade II listed building.)

In her teenage years, Hannah's daughter Jennie's imagination was taken with the idea of travelling to Australia, and when she was 19 years old, Jennie left her mother and her motherland for the first and last time.
In the 1911 census (UK census are taken every 10 years, but not released for public consumption for 100 years), Hannah is a solitary figure in a four-room dwelling, at No. 1 Ribbetts Cottages, just off the main street of Hurstpierpoint. Ribbetts Cottages has been described as " a terrace built for agricultural workers in the early 19th century". At that time, Hannah was still earning a living as a domestic worker, this time as a charwoman. Her early schooling enabled her to read and write, allowing her to keep in touch with Jennie, in far away Australia.

A bigger loss for Hannah came with the tragedies of World War 1. Her son Bramwell served in the British Royal Army Medical Corps (see photo above), and after transferring to the Royal Herefordshire Regiment as a private, was killed in action in July, 1917, in the battle of Ypres at Passchendaele, leaving behind a wife and three children.
Hannah obviously felt settled in Hurspierpoint. Ten years after that 1911 census, she was still living in the same cottage row, but was now working for "Miss Burtenshaws", as a laundry maid in St Georges Laundry, according to the English census taken in June of 1921.
Our next record of Hannah came in World War 2, when the British Government, seeking to assess the country's workforce and preparedness for war, undertook a special register, known as the 1939 Register (a
de facto
census). In that, Hannah was found living in an old people's home, still in Hurstpierpoint.
The Register simply says:

Hannah Martin, widow, old age pensioner born in 1856, occupant of room 7,
St Christopher's Home, Hurstpierpoint.

Left: Hannah, at St Christopher's Home, Christmas, 1938.
below: St Christopher's Home, where Hannah occupied Room 7.
Sometime after 1939, Hannah moved again, to an adjacent care community in Kemps Houses. Hannah was living in Kemps Houses when she fell ill just after Christmas in 1949.
In January 1950, she was admitted to Pouchlands Hospital, East Chiltington (Lewes), where she died suffering from heart disease and senility, aged 93 years.