Pershore has a striking Anglo-Saxon abbey church, now the Anglican parish Church of the Holy Cross. The church that's there today is all that remains of a magnificent structure destroyed in 1539 as a result of the Protestant Reformation. Centuries later, it is still imposing, although it has had a more modern support structure built on one side
So far, we've been unable to find a marriage record for James and Mary Ann Staples from Netheravon in Wiltshire...However, by 1850 the couple were living together in Sussex, where they started their family with the birth of their first child, Jane, in 1950 at Hurstpierpoint, just north of Brighton.
James was a labourer all his working life. In the two censuses which have survived in and which James and his family are recorded, he is described as either a labourer, or a "labourer on the roads", while his death certificate says "farm labourer". He was probably a jack-of-all- trades - on one of Mary's documents, he was described as a gardener, and in another document (the marriage certificate of his daughter Jane in 1877), he is recorded as a "toy dealer", an occupation which was also noted for Mary Ann a short time later in the 1881 census
James and his family lived in various villages and hamlets in Sussex, a fair distance away from James' birthplace of Pershore. Travelling from Worcestershire or Netheravon in Wiltshire (Mary Ann's home town) to Sussex would not have been easy and, since Mary Ann was a servant girl and James a farm labourer, it was probably not undertaken in any degree of comfort.
In Sussex, their lodgings would almost certainly have been conditional on their working arrangements. The Brown family moved around over the years, but always close to Hurstpierpoint and the larger town of East Grinstead. They had six children, but only five survived childhood. Their fourth daughter Sarah, born in 1859, died within a month of her birth.
Of their six children, only one, a son Joseph, was given the distinction of having a second name, William - all the girls had to make do with a single Christian name.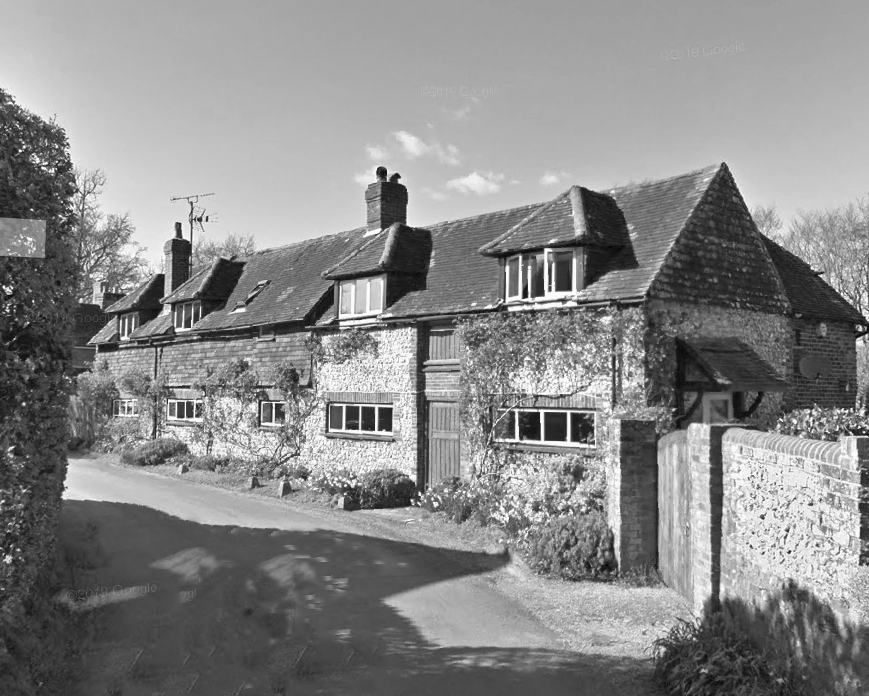 Work for James was probably mainly on the farms around Hurstpierpoint or East Grinstead - the births of the youngest four children were registered in the tiny village of Clayton, which, in the 21st century is really nothing more than a hamlet; but it also has a church of some note, dating back to the Domesday Book.

(right): Clayton village houses

Just a few kilometres away from Clayton is Keymer, which also has records going back to the Domesday era. Keymer is where James lived for the last part of his life before he died from a long term "general debility", and an eight-day bout of bronchitis. From the address on his death certificate, Church Road, Keymer, it seems that he was living in one of the charity houses associated with the local church - but that street no long exists (at least under that name) in Keymer.
back to the
Davidson family tree