NB:
The following account of John Davidson's life has been extracted from
The Davidsons of New England, compiled in 1983 by The Davidsons of New England Association, by Frank Davidson, Bruce Knox, Pam Harvey, Ralph Berman and Ross Davidson, and has been published here with the permission of the Association.

John Davidson & Elizabeth Frizell
John Davidson
Birth:

7 December 1835, Clackmannan, Scotland



Father:

William Davidson (1807-1878)



Mother:

Janet Graham (1808-1848)



Death:

27 June, 1929, Emmaville, NSW
Elizabeth Frizell
Birth/baptism:

11 March, 1840, Wexford, Ireland



Father:

Gustavus Frizell (1809-1881)



Mother:

Frances Biston (1809-1902)



Death:

30 March, 1923, Emmaville, NSW



Marriage:

1857, "Terrible Vale: Salisbury via Uralla, NSW



Children:

William Graham (1859 -1946 )
James Henderson (1861-1932 )
John Richard Biston (1863 -1865)
David Johnstone (1865-1954) m. Sarah Farrell (1865-1901) 9 July 1891, Armidale
Frances Isabella (1857 -1948)
Alfred George Loftus (1869 - 1937)




Lucinda Eleanor (1872-1956 )

Gustavus John Frizell (1876 - 1913)
Archibald Roy (1878 - 1952)
Grace Alice Ann (1882 - 1964)



John, the eldest of William Davidson's children brought his personal Bible with him from Scotland to New South Wales, and used it always. His life was founded on idealistic and strict religious principles, and it was said of him that he could repeat the first sermon he could member hearing as a child.
When the family left Alva, he was a young man of 18. It is quite likely that he took a certain amount of responsibility for the decision to emigrate, for he was adventurous, inventive and determined. He became a man of great integrity, an optimist with a strong sense of individuality and independence.
He was tall, 6'3½" (160cm) in height, with brown hair and the fair skin of all his family. Being well trained by his father, he quickly went ahead to set up a blacksmith's forge of his.
By 1857, when he was 21, he was established in Uralla on the site of what is now the Commercial Hotel. In the same year, he married Elizabeth Frances Frizell, Elizabeth had arrived in Australia some 17 years earlier, when she came as a babe-in-arms with her parents, Gustavus and Frances Frizell, from Ireland. The Frizells had first worked on a property west of Port Macquarie for the Taylor family, before moving in the 1850s to the New England area where Gustavus continued working as a shepherd for the Taylors' at "Terrible Vale" on Salisbury Plains, near Uralla. John and Elizabeth married at the"Terrible Vale" property in the winter of 1857.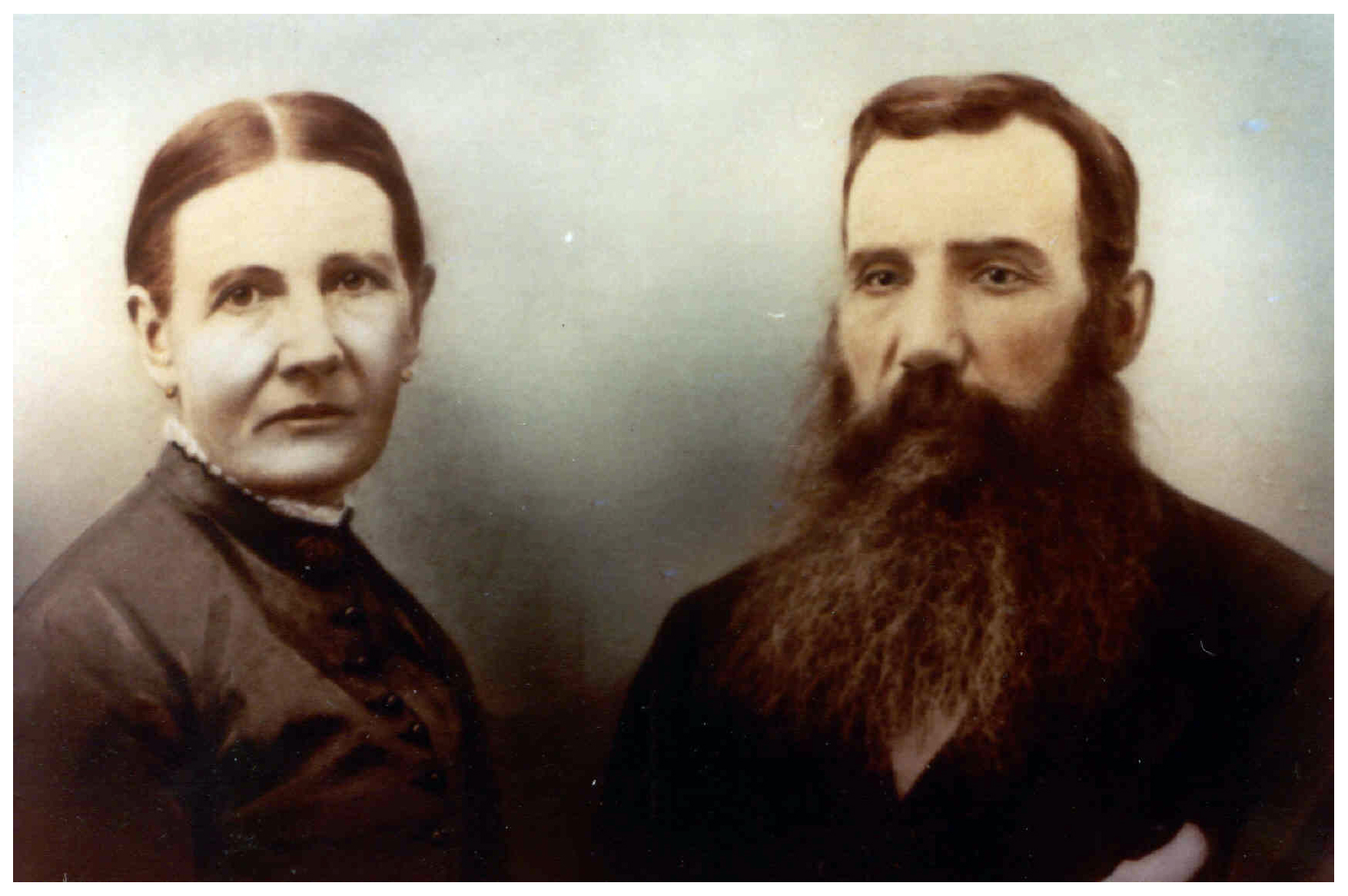 Elizabeth and John Davidson
.....
In 1860, John Davidson bought an acre of land in the middle of the then progressive township of Uralla and opened a new forge on what is now the site of the National Australia Bank. By 1864, he was advertising for two blacksmiths to help him in the business.
John and Elizabeth were enlightened in their view, and forward looking citizens. John donated money to the building funds of both the Roman Catholic and Anglican Churches in Uralla, as well as to the appeal to build St Andrew's Cathedral in Sydney. He also contributed to the Armidale and New England Hospital Establishment Fund, and in Uralla he was on the building committee for the new National School. The young couple were prominent citizens in this then-flourishing little settlement.
One of the main forms of amusement in the New England settlements were race meetings, as they are today. These were the forerunners of the modern Picnic Races, and everyone who had a horse entered it in a race and rode it:
At a meeting to present the prizes after the Uralla Races at Mr Ryan's Kangaroo Inn, the winners are toasted with champagne, then the stweards. Mr Davidson proposed a toast to Mr Hoskings, MP for the Northern Goldfields, then they toasted the host and hostess and retired at 10pm.
John and Elizabeth lived in Uralla for 12 years. Then they moved north. whether it was the tragic death of their third son, John Richard Biston Davidson, who was scalded to death in an accient at the age of two, or perhaps the introduction of large-scale mining techniques which promised interesting engineering developments in the new mineral fields to the north, they decided to quit Uralla. A note in one of John's books read: "Left Uralla 25 April 1869. Arrived in Inverell May7th 1869."
They did not settle in Inverell, but moved on with their family, now totalling five, to Glen Innes, where John's brother Archibald was established. After a time, they settled at Wellington Vale, near Glen Innes, and were there for some years.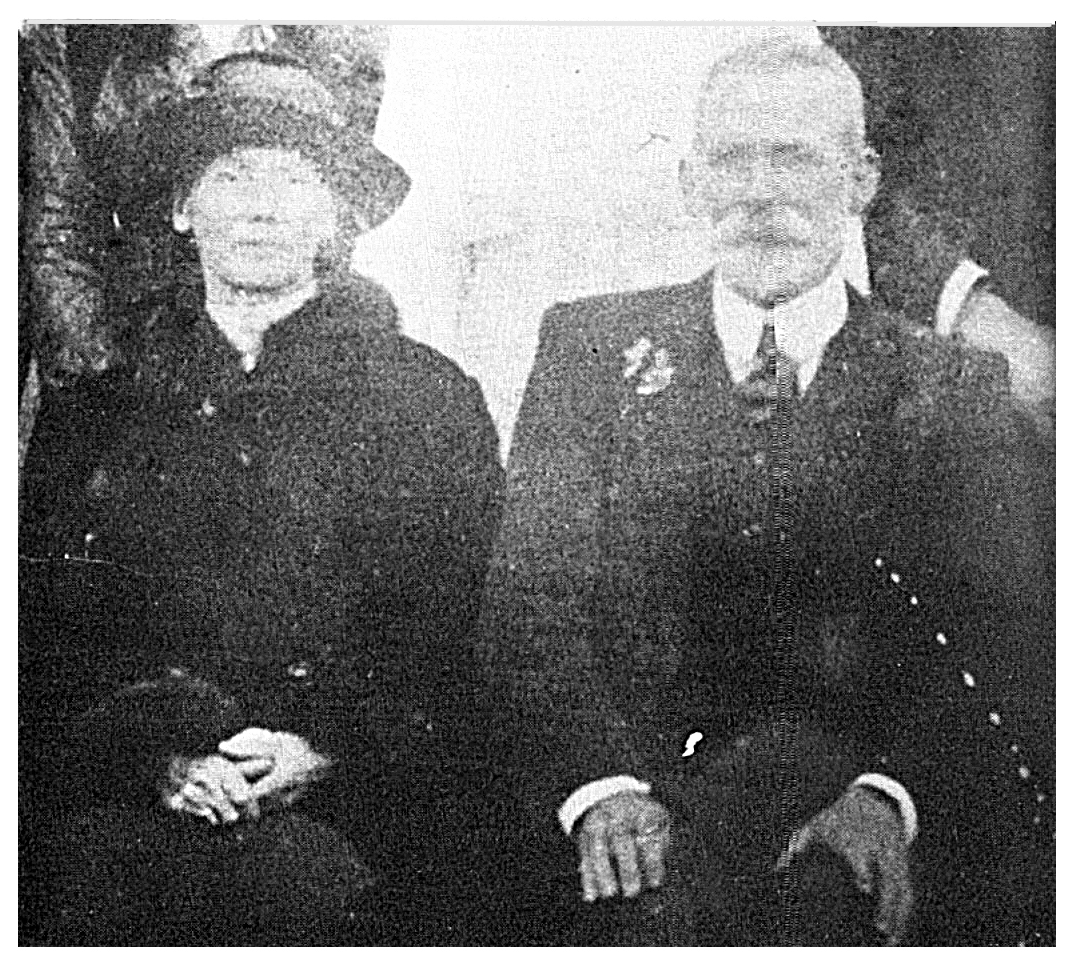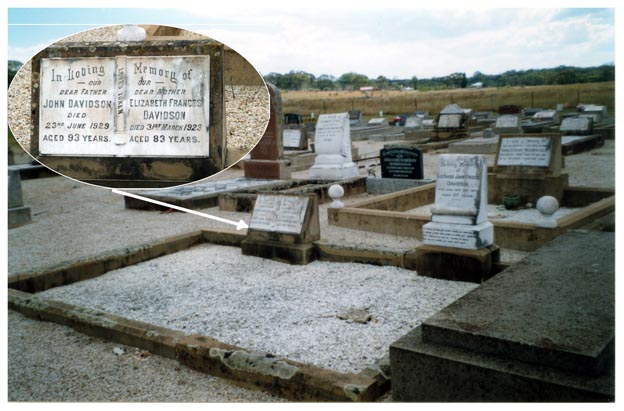 right: Elizabeth and John in 1898
The discovery of tin at Vegetable Creek created a flurry of mining interest in that area, later to be named Emmaville. Following this opportunity, John took his family to Tent Hill, where the large Ottrey tin and arsenic mine was developed. Here the family were centred for 50 years, until Elizabeth died in 1923.
Over the years at Tent Hill, John took up several parcels of pastoral and timber land, but he never developed these. He was an inventive craftsman and engineer, and designed and made an enormous range of tools, household articles and agricultural implements, including iron ploughs and wool-presses. A muzzle-loading gun that he made out of horse-shoe nails is today in the possession of the Museum of Arts and Sciences in Sydney.
John was a humanitarian, as the following incident shows. One day, a mounted trooper rode of to his forge, with a captured bushranger roped on foot in front of his horse. The trooper demanded that the prisoner be fitted with heavy leg-irons, to make him more secure. John refused point-blank to do so, until eventually at gun-point he was forced to carry out this disagreeable task.
John Davidson had a long and respected life, and in his old age was lovingly remember by his young grandchildren who would cluster at his knees to hear his stories. Like all his brothers, he never lost his pride in his Scots origins, and was very deeply aware of the values that his background enabled him to transmit to his family.
He was the longest lived of all the Davidson brothers, retaining all his mental faculties till his death in 1929 at the age of 93 years.
left: The grave of Elizabeth and John, in Emmaville Cemetery. One of their sons, Gustavus, was also buried with them, after his death by a self-inflicted gunshot wound in 1913.
****