LINKS

Day 23
Brescia (Italy) to Nice (France)


I wasn't going to do a blog today as there's no rally to talk about but there are a few things I can report on.

Last night was like it was the end of the rally. It's a week until the rally recommences in the UK, so it's like another rally that will start in Wales in a week's time.
The Belgians were shouting gin and tonics last night. The hotel ran out of gin but the Belgians went and brought their own supply in from a service van. They insisted on big glasses and kept topping them up. I staggered to bed and slept until 6 am. Dead to the world as they say.
Brescia to Nice is only 417km of motorway so we left the motorway to take a shortcut which looked like a major road on the map. It turned out to be very slow and twisty, but looking at old waypoints on the GPS, I noticed we had been there before in the London to Cape Town rally (2012).

The GPS let us down a bit getting through Genova (known to us as Genoa - without the 'v'). A key turn we had to take nearing Genova was immediately after a tunnel, and it takes the GPS a little while to get satellites again after a tunnel.
Having missed a turn, we were then faced with leaving the motorway at the next exit, (12km further on), pay the toll, make U turn, (ie get to motorway on ramp on the other side), rejoin the motorway, take another ticket, drive 12km back, leave motorway, pay another toll.
Then later as we approached Nice, we ran out of Euros to pay tolls and the toll machines were refusing all our credit cards. We stopped before the next toll gates and I went to find someone to negotiate with. While I was doing that, the service truck arrived and gave us €20 to get us through.
After that we missed another exit and again went through thesame tiresome exercise again.
In general, navigation didn't go smoothly today, but it was a day that didn't matter.

BTW, Credit cards were also problem at petrol stations in Croatia. None of our cards would work except for my Amex card which required a signature. At toll booths, none of our cards work.

above: The beach at Nice, near our hotel. I suspect there are better beaches elsewhere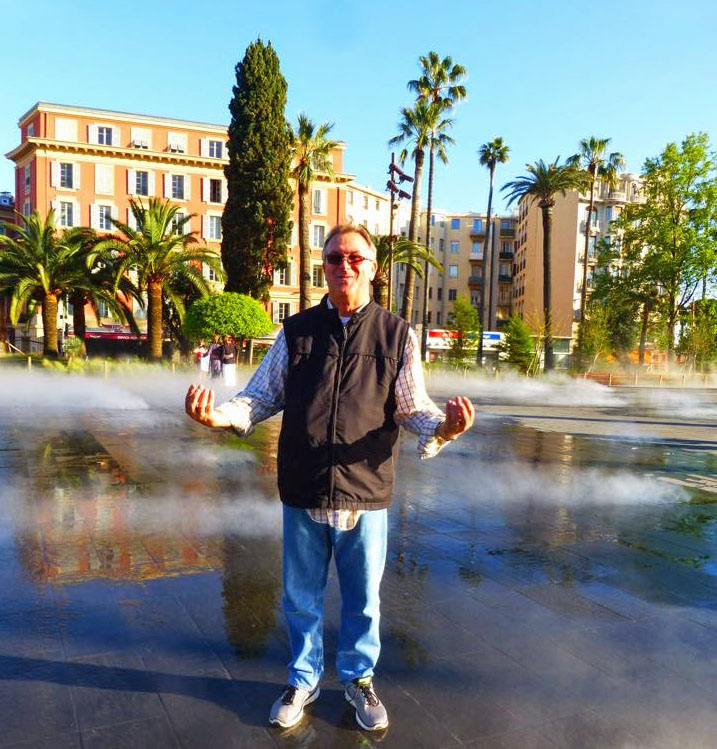 Mark in a releaxed mood in Nice