Lavinia Harvey (1817-1848) 
Birth:

1817, Cookstown, County Tyrone, Ireland 







Father:

John Harvey

Mother:

Elizabeth Weir

Marriage:

to James Gordon, 1837, Ireland

Children:

Henry  (1838-1903)
Frances (1840 - )
Joseph Alfred (1842-1925)

Emily

(1843-1922)
James (1844-1908)
Charles (1846-1912)
Matilda (1848-1932)

Death:

11 August, 1848, Nelson Plains, nr Raymond Terrace, NSW
Cookstown in County Tyrone, in northern Ireland, is a small town with at least one claim to fame. 
Its main street, laid out around c1750, is the longest and widest main street in all of Ireland:  it measures some two kilometres long, and more than 40 metres wide
(right)
.  While to our eyes, two kilometres is not especially noteworthy, the width is certainly impressive.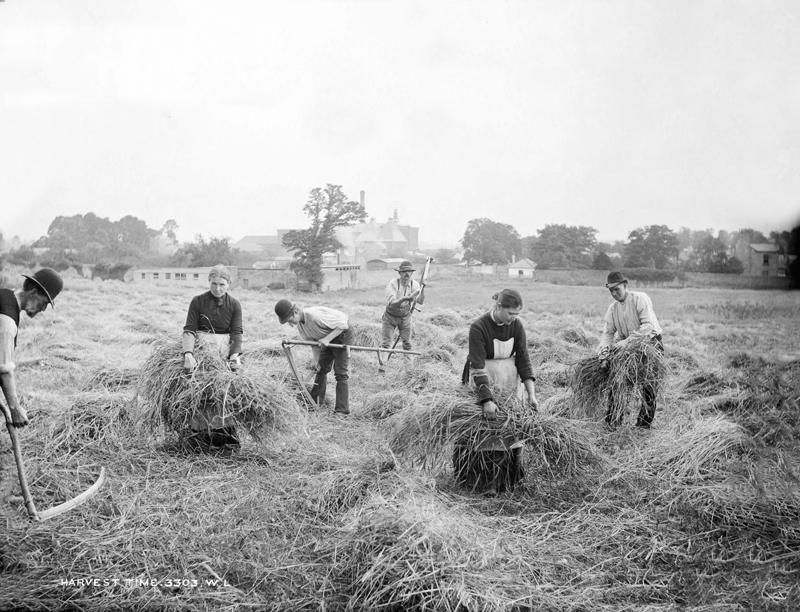 above left: flax growing in the 19th century; above right: a flax spinner with her spinning wheel outside her house
This was  where, in 1818, Lavinia Harvey was born to John Harvey, a farmer and Elizabeth Weir.  Cookstown was a centre of the flax industry, and Lavinia grew up to be involved in spinning the linen which came from the flax plant.  In her late teens, she met James Gordon, a sawyer from the neighbouring county, Armagh,   James, a widower with five children, was considerably older than Lavinia, but the couple married on New Year's Day, 1837, when Lavinia was 20 years old and James 47.  
Within a year of the marriage, Lavinia found herself on board
Mandarin,
a vessel headed from Belfast to Australia, with husband James and her five step children.  She was pregnant with her first child before
Mandarin
set sail, and gave birth to a son Henry a few days before the vessel sailed into Sydney Harbour.  Wth baby Henry only a few weeks old, the family boarded a coastal sailing ship for Newcastle and the Hunter River, where James and family were to be employed by James King.  King had established a vineyard and a pottery just north of the small town of Raymond Terrace at the junction of the Williams and Hunter Rivers (see engraving at the top of this page).  
How long the family lived on
Irrawang,
the King property on the northern outskirts of Raymond Terrace isn't known, but within two years, they had moved across the Williams River to the farming settlement of Nelson Plains. Nelson Plains is a low-lying pocket of land at the junction of the two rivers.While the land there is very fertile, it was also very flood prone until dams were built further upstream decades later. 
        above: the land at Nelsons Plains along the Williams River
Six more children followed in due course, with the youngest, Matilda being born in 1848.  Lavinia lived only three weeks after Matilda's birth, but her actual cause of death isn't recorded.  Lavinia's was one of the early graves in what is now the Raymond Terrace Pioneer cemetery, while a tree and plaque in her memory was dedicated at the adjacent general cemetery more than century later.
below
:The memorial tree planted in Raymond Terrace cemetery, and the plaque to Lavinia: