Thomas Byrnes, with 11 children and more than 50 grandchildren and great-grand-children, was the patriarch of a large family.
He was born in 1883 in Black Gully, in the Wilsonton area of north-west Toowoomba where his mother's family, the Pobars, lived.
Shortly after his birth, Tom was taken to Brisbane, where his father was a compositor with the Government Printing Office. He was educated in Brisbane first at what was called "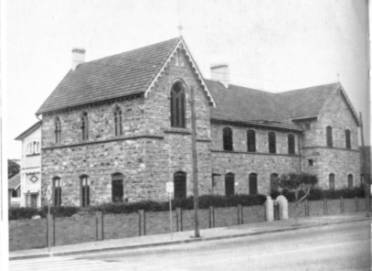 the Normal school", a highly-rated primary school (in inner Brisbane near the intersection of Edward and Adelaide streets), and then to a GPS school, St. Joseph's College at Gregory Terrace, known to all simply as "Gregory Terrace" or simply "Terrace" (left)
In later years, Tom recalled that when he was a boy, living with his parents and young brother James at Kangaroo Point, he was an altar boy in his local parish. The parish extended for a considerable distance, and when a new church was opened many miles away at Balmoral, Tom was called on for the ceremony, and he was invited to accompany the parish priest in his sulky for the occasion. This church became the local church for Tom when he retired to Balmoral, some 60 years later.
In his late teens, Tom continued the family connection with the printing trade, joining his father at the Government Printing Office as a proof reader's assistant, and then working as a "reviser" for the Daily Mail newspaper, in Brisbane, for more than a year. Next, he went to Toowoomba, and worked as a book-keeper in his mother's family's butcher shop. In 1907, 23 year old Tom made yet another career move – this time, one with more long-term prospects. He joined Queensland Railways in Brisbane as a porter and after three years on the platforms, became a train guard, at age 27 the youngest guard in Queensland Railways, according to one newspaper report.[4] For two years, Tom went up and down on the line from Ipswich to Marburg, after the opening of the line in 1911.
In Marburg, a town composed of settlers of mainly German origin, he met Lily Dance, the daughter and granddaughter of Marburg farmers who, coincidentally, also owned and operated a butcher shop. In reminiscences Tom wrote more than 40 years later for a local newspaper, he recalled that
"Marburg was a busy little farming centre. There were two hotels, a butter factory, a police station with a sergeant in charge and a constable, a dance hall, showground and a good brass band."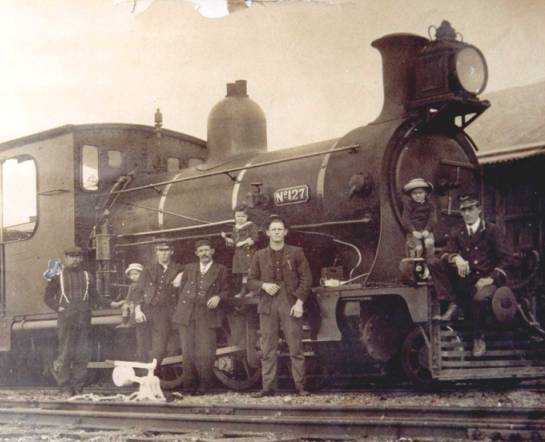 Tom, in his railway guard uniform, sitting on cow catcher (far right) on the first train to Marburg, 18 December 1911.
Photo courtesy: Pat Dugger
These memoirs are quite remarkable – written as they were in 1952, when Tom was nearly 70 years of age. They show an amazing memory for detail of life, work and sport before and after two World Wars.[5] He was paid a total of £3/13/6 for the series of seven articles.
Life must have been busy then – as well as working long hours with many days away from home, courting Lily when the train took him to Marburg, he was elected as a union branch secretary, a position he held for two years before he was transferred to Boonah.
The construction of the Marburg line, which was so instrumental in the courtship of Tom and Lily had been built after a financial guarantee by the farmers of the Marburg district, including presumably Lily's father, Bill Dance, a prominent local farmer and businessman. At that time, the principal cargo for the line was sugar cane; the line was built to connect with a private line to a sugar mill.
In 1913, Tom and Lily married in St. Mary's Church in Ipswich. After the wedding, Tom and Lily lived at Woodend in Ipswich, then moved to the nearby township of Boonah, before settling in the mid 1920s for most of their married life at 19 Kendall Street, East Ipswich. The house was probably bought or built with part of the proceeds of Lily's bequest from her father, who died in 1924, and as a result, the house remained in Lily's name.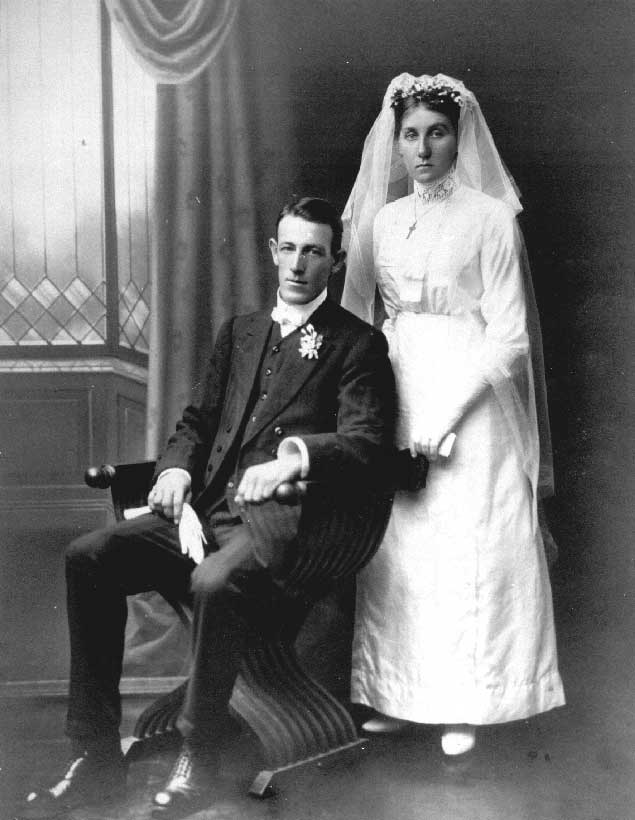 Tom and Lily on their wedding day in 1913.
The life of a train guard was vastly different then, with many days and nights away from home. Tom recalled that the accommodation for railwaymen in Toowoomba was very good, large and well-equipped, near the station. He wrote:
"In the large kitchen were always two stoves burning night and day, and each bedroom had two beds. Those days the men worked in real harmony with one another and some good tales were told while having midnight meals.".
Tom was a very strong man, fond of athletics, and represented Queensland in marathon running and later in long distance walking races. "Dad also liked a bet on the horses, but couldn't afford this until all the children had grown up," his son Peter has said.