Lily was the third child of an English farmer, William Dance, who after his arrival in Australia in the 1880s, married 16-year-old Amalia Retschlag. Amalia was the daughter of a German couple who had migrated in 1864 to settle in the Marburg area of south-east Queensland.
Lily's real name of Amelia came to light when she married, and her birth certificate was called for. One story circulating in the family has it that her father, going to register her birth, forgot what name his wife had wanted for their daughter, and put down his wife's name instead. His wife, however, had decided on Lily, and that is how she became known.
The Marburg State School where Lily was enrolled as a 5 year old in 1896. Lily and all her brothers and sisters attended the Marburg school for their basic education. The school was established in 1879, and extensions and a tennis court were added 10 years later. Lily's father, Bill Dance, was active on the parents' committee of the school, and at one stage was Treasurer.

Much of the household responsibility would have fallen on Lily as she grew up as the eldest daughter of a widowed father. Her mother had had 12 children in 15 years, dying aged only 31, soon after giving birth to a son. Lily was only 12 when her mother died, leaving the young girl with seven younger surviving brothers and sisters to care for, on her father's farm outside Marburg.
The family responsibility continued until Lily was 19, when her father remarried, and two and a half years later, Lily herself married a young train guard. Lily and Thomas Byrnes, from Toowoomba, were married in St. Mary's Church in Ipswich, in March 1913.
The opening of the railway line to Marburg in 1912 was a special occasion, particularly so for 19-year-old Lily Dance. The young guard on this first train was Tom Byrnes, who went on to court and wed Lily within a year.
Her farming background came to the fore when she was raising a family of her own - Lily always kept a Jersey cow in the back yard at 19 Kendall street, East Ipswich to provide fresh milk for her growing family. She was an expert milker, doing the daily task even within a short time of giving birth herself.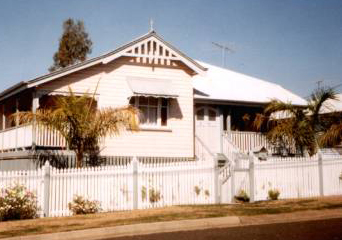 The house at 19 Kendall Street, East Ipswich, home to Lily an
d her family for many years.
(above) Lily and Tom's six eldest children in 1923: (from left) Tom, Grace, Frank, Mary, Peter and Joan
Lily's son Peter described his mother as "the traditional mother of that era".
"She gave her whole life for the rearing of the children and we all have only fond memories of her. She was always ready to listen to all our problems even though she had little time to spare. A competent dressmaker, she made many dresses for all my eight sisters.
"How she managed financially, I don't know, but she had to be very careful with every penny she spent. This was especially so during the years of the Great Depression....."
Her granddaughter Mary Boddy (née Byrnes) remembers her as always being "very tolerant of the grandchildren's banging away discordantly on the piano, a noise which would have tested the patience of a saint".