Father:
Mother:
Birth:
Occupatio:n
Death
Marriage:
Children:
George Dance
Mary Swayne, b. 1808
Abt 1836, Whitchurch, Hampshire
clerk (1864); farmer (1870-93)
May 18, 1893, Andover, Hampshire, U.K.
Martha Amelia BLANDFORD (May 3 1864 in Andover, Hampshire)
George Blandford DANCE (1865-Jun 6 1925)
William Henry DANCE (August 27, 1866-Dec 16 1924) married Amalia Retschlag, 1888 Walloon, Queensland
Frederick Charles DANCE (1868-)
Hetty Amelia DANCE (1870-)
Arthur John DANCE (1872-)
Ernest Robert DANCE (1873-)
Edwin Evan DANCE (1875-)
Francis Herbert DANCE (1876-)
Mary Anna DANCE (1877-)
Lilian Jane DANCE (1880-)
Harriet Eliza DANCE (1882-_
Archibald Snelling DANCE (1886-)
Family legend has it that the Dance name was originally "Danz" and the families of that name lived in Amsterdam, before migrating at some stage to Britain, possibly first to Wales, before settling in southern England. One other story concerns a possible connection with a noted English architect of the 18th century, George Dance, the youngest son of George Dance the Elder, who was clerk of works to the City of London from 1735 to 1768. Another links the family to an unspecified Scandanavian royal family. However, such stories have no so-far-discovered documentary basis, and are merely interesting matters for speculation.
In the Hampshire village of Whitchurch we have found our earliest records of our Dance forebears.
In the 1881 census of Great Britain, the then 44-year-old George Dance, the son of a farm bailiff, is recorded as having been born in Whitchurch. George was one of 11 children born to a farming couple. Whitchurch may have been where George grew up, but it may not have been where he was born, according to an earlier, and possibly more accurate (in this case), census, that of 1851. At that time, a 14-year-old George Dance, living apart from his family a (comparatively) short distance away in New Alresford, was working as a farm labourer. Young George's birthplace is given as Froxfield, possibly the village in Wiltshire, although there is also a Froxfield, further east in Hampshire.
Another George Dance (this one 13yo, also born in Froxfield) is named as a pupil at a school in Tichborne in the 1851 census.
Sometime after 1851, the Dance family moved from Whitchurch to the larger nearby town of Andover, and from there, young George went further afield. By 1864, the 27-year-old was working as a government clerk in Plymouth in Devon. In that year, back in Andover, he married Martha Blandford, of Martin, (then a village in Wiltshire), the daughter of a carpenter. George and the 21 year old Martha returned to Devon, where George Blandford Dance, the first of their 13 children, was born a year later in Plympton St Mary, a town east of Plymouth.
George obviously had yearnings to exchange his Government office work for the rural life - within two years, the young family had moved again, this time to Tamerton Foliot, a small community north of Plymouth (now part of that city's spreading urban area), where George worked as a contractor. There they stayed for another six children and eight years, before moving further north-east, to the village of Meavy on the edge of Dartmoor.
At Meavy, another six children were born, while George worked a property of nearly 100 acres, Brisworthy Farm. At Brisworthy Farm, George and Martha raised their large family; while George and the older boys worked the farm, Martha had at least one general servant to help around the house.[2]
.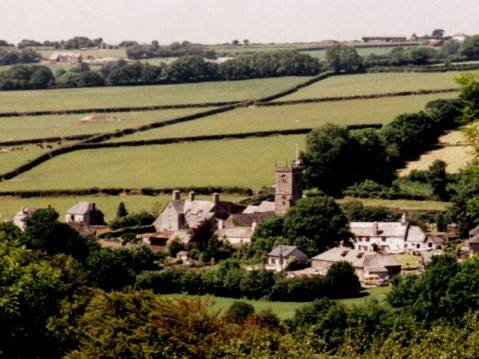 (above) The village of Meavy, in Devon, five kilometres northwest of Brisworthy Farm, the family home of the Dance family in the 1880s
(right) A prehistoric stone circle in Devon, just 400 metres from Brisworthy Farm. At the time the Dance family lived there, possibly only three stones were standing – the circle of 24 stones (survivors of an original 42), was reconstructed in 1909.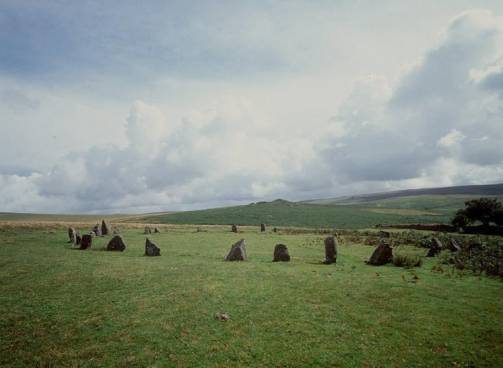 All George and Martha's children went to school, probably up until the age of 12 - after that, they were expected to help on the farm or around the house (although according to a letter Martha wrote, at least one son, Archie ,the youngest, went to the local Grammar school until he was 15). In the 1881 Census, the occupation of George's two eldest sons, George, then 16 and William, 14, was listed as "Farmer's sons", while the younger children were all described as "scholars", the term used to denote school age children.
In the mid 1880s, George lost the services of his older sons, young George and William, who set off for Queensland, where they in turn became farmers. Still, another five sons remained to help with Brisworthy Farm; another Dance, grandson Robert (son of Ernest) , at a later stage unsuccessfully attempted to emulate his uncles and settle Down Under.
The departure of the boys may have signified greater disruption for George and Martha, for, by 1891, the Dance family was no longer living in Devon. Brisworthy Farm had been taken over by Jack and Amy Baskwell and their family, while George and Martha went back to Andover. In Andover, they farmed a property known as "New Street Farm" near where his widowed mother Mary was living.
In 1893, Martha was herself left a widow when George died of pneumonia, aged only 56. On the day he died, George made a will in which he left his estate (valued at £854/1/6) to Martha. George obviously had had a good relationship with his in-laws – he named his brother-law-John Robert Blandford as his executor along with Martha, and the will itself was witnessed by his father-in-law, John Snelling Blandford.
(right): Dances Close, Andover, just off New Street, said to have been named for George's son Archibald