In early December 1884, as an 18-year-old, he set sail for Queensland[5] to start his adult life in a new country. It's possible he was following in the footsteps of his older brother George, (no record of George's arrival in Queensland has yet been found). After a short stay in Brisbane, William set out for Toowoomba, to gain experience in agriculture, Australian style. Within two years however, he had bought land in the Marburg district,[6] an area west of Brisbane, settled mainly by farmers of German stock.
William and his brother George were followed to Queensland some years later, by a third Dance - their nephew, Robert. Robert, eldest son of William's brother Ernest Robert, aimed to settle with his family in Australia, but tragedy struck - after their arrival, his wife died in childbirth, and Robert lost the drive needed to succeed in the new country. Although one of his sons stayed on to marry an Australian and settle in the colonies, Robert took the rest of his children and returned to England.[7] )
George was the first of the two brothers to marry. In February 1888, he wed Wilhelmine Schmidchen, and a short time later, William also married into a German family. William had started working in the butcher shop of another immigrant, a German farmer, Christian Retschlag, and there met 16-year-old Amalia Retschlag, daughter of Christian and his wife Emelie. In June 1888, the young couple (left) married in the Lutheran Church, in nearby Walloon.[8]
The young couple's first child was a girl, Mary Emelie, born in December 1888, but the baby did not survive even four months.
William and Amalia (or Emily, as she was known) continued their farming life on a 100 acre dairy property at Kirkheim (now Haigslea) near the Retschlag family property on Linnings Road, and in 1891, William was still bringing in extra money as a butcher. He was given a helping hand financially by his father-in-law (in his will, Christian Retschlag went so far as to forgive the debt of £200 owed to him by William).
William was something of an entrepreneur, building a block of shops in the town of Marburg. He became a prominent citizen in the Marburg Valley, a staunch supporter of the Rosewood Masonic Lodge, and a keen horse-breeder as a sideline to his farming enterprises.[9]
William has been described as "a big man, hard but honest and well respected".[10 George Wilson, William's grandson, tells the story of an escapade he and his cousins embarked on as teenagers – they took a horse up the front steps of "Devon" the family home, onto the top-floor verandah, when, unfortunately, their grandfather was seen coming home. In the haste to get the horse down, the animal panicked, and leaped through the handrail on the landing of the stairs, taking the more direct route back to earth. Understandably, their grandfather was not too happy.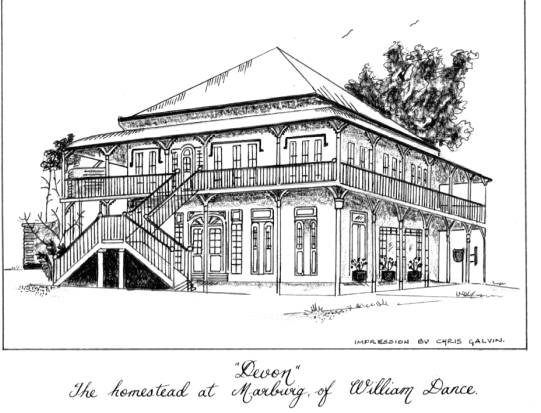 An artist's impression of "Devon" the homestead built by William Dance at 4 Retschlag Road, Kirkheim (now Haigslea) near Marburg. Although he never made a trip home to England, William never forgot his roots, naming any property he owned "Devon".
The house had 11 rooms: five bedrooms and a sitting room upstairs, with an office, double dining room, sewing room, store room and a small bedroom downstairs. The kitchen was on the left, adjoining the lower level. Unfortunately, the house no longer exists, and this drawing, from a photocopy may be the only surviving record. Some artistic license has been taken with the ground floor front doors and windows, as the photocopy was not sufficiently detailed for a reliable reconstruction. The house was demolished in the 1930s, and another house, "Heathmore" was built by new owners, the family of William Freeze, using materials from the original homestead.
Early in his farming days, Bill Dance made use of "kanakas", Pacific Islanders enticed to Queensland as cheap labour by recruiters of somewhat dubious repute, known as "blackbirders". This practice was discontinued in the early 1900s by the newly-created Commonwealth of Australia, which tried to ensure the young nation was peopled almost solely by white British stock.
Among his many interests were the organisation and participation in agricultural shows. He was president of the Marburg Agricultural and Industrial Association, and also a trustee of its grounds. William's sense of civic responsibility extended to local government - he was a member of the Walloon Shire Council up to the time it was abolished, and he then represented the Marburg division on the Rosewood Shire council for a number of years, during which time he was elected Chairman. As well, William was active on the committee of the Marburg school, and was treasurer at the time of his death.
William and Emily had a family of 12 children, two of whom died in infancy. His second and eldest surviving daughter, Amelie Annie, grew up to be known as Lily, since William, registering the birth, according to family legend, forgot the name 'Lily' which his wife had selected for the child, and clutched at a name similar to his wife's.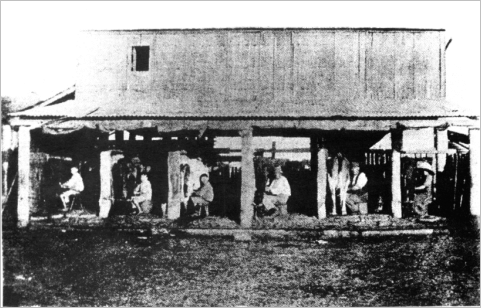 The milking shed on the Dance property, c1908.
Local historians have noted that as usual, there was a large number of milking bails, to make use of the family labour available in the large farming families. The original caption on the photo described those milking as all members of the Dance family. The girl on the right was possibly William's eldest daughter, Lily.
Emily herself did not survive such frequent pregnancies (12 in 15 years) - she died at the young age of 31, just one month after giving birth to her youngest child, a boy, Robert.

Emily's death left William with 11 children to rear, with the eldest only 13.

The infant Robert lived only 10 months before he too died.

William, with the help of his older children, led by 12-year-old Lily, soldiered on for another seven years, when he remarried - this time a widow, Bertha Ruthenberg, by whom he had another three children.
In a letter home to his family in England, William sounds less than enamoured of all the children. After the birth of his daughter Stella in 1914, he wrote:
"...we have been blessed with a little daughter. It is three weeks old: that makes two by this wife, and I trust, the last; it is very expencefis bunsis; & I think I have had quite enough of it" [ Ed: spelling & punctuation do not appear to be William's strong point]
In the same letter, William says he "has just bought another farm: with a brick house on it which belong to an old english farmer" and he says of Queensland: "..the old State is looking prosperous: in fact, I think it the paradise of the world".
William had hoped to return home to England for a visit within twelve months . He wrote the letter detailing his plans in May 1914 - by August that year, Europe was embroiled in World War 1. This catastrophe blocked any thought of travel to England (for the full text of this letter, click here]. Instead, he focused on expanding his business interests, and by the end of the War, had branched out with building a block of shops, the Dance Buildings, on the main intersection in Marburg.[11]. Among his tenants were a doctor, a solicitor, a draper, the Post Office, a café and Bielefelds' store.[12] Soon after, when he was only 52, William decided the time had come for him to retire, and enjoy some of the proceeds of his years of hard work.
The Marburg Butter Factory – a fire that destroyed it in the 1920s is blamed in part for the ill-health which led to Bill Dance's death. Bill was knocked unconscious by an exploding can of ammonia while fighting the fire.
However, a fire at the Marburg butter factory may have interfered with his plans. The fire was blamed in part for ill health leading to William's death. According to the Queensland Times, he was among those who fought the fire, trying to prevent the blaze spreading. Some ammonia exploded, and William was knocked unconscious.[13]
In December, 1924, when he was only 58, William died at Marburg. He left a substantial estate. His wife Bertha inherited one third of William's property, and the remaining two thirds was divided (a little unequally) between his 13 surviving children, nine of whom received £500 each, the other four £100 less, still a considerable sum in those days.[14]
Bertha's daughter in law, Ellie Dance (widow of Frank) says there was some family bitterness over the terms of the will and that William's second family was treated badly. She believes Bertha's share was only the family home ("and you can't live on that"), and afterwards his widow had to take in boarders to make ends meet. Frank, 12 years old at the time of his father's death, went to work on the roads to help his mother financially. In later years, Frank borrowed money to buy the Dance bakery established by his older half-brother Archie, considered the businessman of the family.
---
[1] British 1881 Census
[2] as above.
[3] William & Amalia's Queensland marriage certificate.
[4] Neville Eveans, Retschlag Descendants in Australia, p 84, and William's own death certificate
[5] He travelled on the New Guinea, of 2000 tons, which sailed from London on December 4, arriving in Brisbane on February 8, 1885.
[6] Queensland Times, Ipswich, Wednesday December 17, 1924, p9
[7] Recollections of William's grandson, George Wilson of Toowoomba (January 2000); and of William's grand-nephew, Ian Dance, son of Robert and Florence Dance.
[8] This church was demolished early in the 20th century.
[9] Personal recollections in February 2000 of William Dance's grandson, (Henry) George Wilson (son of William's daughter Elsie). George also recalled the tales of the kanaka workforce
[11] Marburg 1879-1988 (author and publisher details not recorded).
[12] The Dance Buildings were gutted by fire in 1927, two years after William died.
[13] Queensland Times, December 17, 1924
[14] Recollections of William's grandson, Peter Byrnes, confirmed in part by William's will