Then in their late twenties, Christian and Emilie took passage on the Susanne Godeffroy from Hamburg in 1863, arriving in Moreton Bay, Queensland on January 15, 1864. This was the Susanne Godeffroy's maiden voyage, after it had been built at Lubeck in Germany.
It was probably a fairly comfortable voyage, and most of the migrants arrived at Moreton Bay in good health. The Ship's Health Officer, Dr. Hobbs recommended that as there was no serious epidemic on board, it was not necessary for the ship or its passengers to be placed in quarantine
The Susanne Godeffroy, 1863-1880.

Seventeen years after her maiden voyage, on which the young Retschlags emigrated to Australia, the Susanne Godeffroy fell on hard times.

Evidence at a Marine Board of Inquiry showed that by 1880, the vessel was "totally unfit to handle even the most ordinary perils of the sea", and this was the prime cause of her shipwreck, just north of Newcastle.]

The lure that brought the Retschlags to Queensland was the settlement scheme devised by the fledgling state government that offered, under the Land Act of 1860, £18 to newly arrived settlers for the purchase of Crown Lands.

To start with, Christian and Emilie didn't venture far from the German colony, known as "German Station", which had sprung up towards the mouth of Brisbane River, near the present-day suburb of Nundah.

At Nundah, the couple's attempts to start a family were ill-fated - another three babies died, including twins - only one child from this period, a son Frederick, survived.

In 1868, the state government passed another Land Act, this time opening the Rosewood Scrub area west of Ipswich, to selectors. So, five years after their arrival, Christian and Emilie ventured on to the land west of Ipswich, to their first selection at Vernor, near Lowood. This move was swiftly cancelled in favour of another block, of 106 acres at Fernvale. This, too, Christian also amended, finally on March 31, 1870, applying for 80 acres in the Walloon Scrub, near the embryonic village of Marburg. The area later became known as Kirchheim, before it lost its Germanic name in the hysteria of World War 1 to become the more patriotic Haigslea.

In contrast to its pleasant rolling hills and valleys of the early 21st century, the Scrub, described by explorer Allan Cunningham as "impervious brushes", was still virtually a rugged frontier land within just 50 kilometres of Brisbane.

The German pioneers have been largely given the credit for recognizing the potential of the soil in the vine-entangled Rosewood Scrub, after the more accessible areas had been picked up by settlers from the British Isles.[3] By 1870, the aborigines of the area had largely disappeared from the open country; the Rosewood Scrub was the last refuge of a race reduced by disease, loss of tribal lands,[4] and conflicts with the newcomers, so Christian and Emilie may well have had some contact with the original inhabitants, at least during their first years in the Scrub.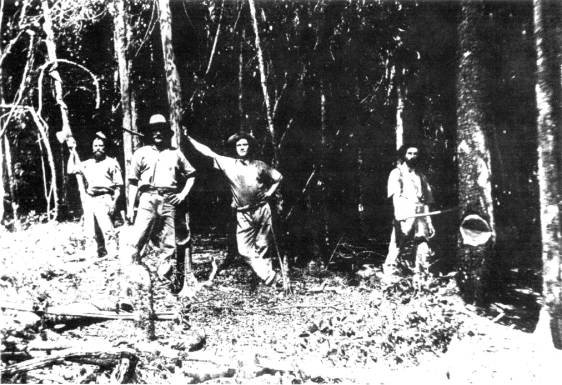 Clearing the Rosewood Scrub in the 1870s
from German Settlement in the Rosewood Scrub: A Pictorial History, compiled by Frank Snar Rosewood Scrub Historical Society, 1997
During the 1870s, Christian leased the land at Haigslea for £3 a year for 10 years, developing it into a productive farm and pastoral property, and built a house and kitchen of sawn hardwood. In 1871, he had also selected another nearby homestead block of a similar size, and by 1880, was able to buy the two blocks outright. By that time, his first selection consisted of 20 acres of agricultural land where he grew corn, oats, lucerne, pumpkins, potatoes and cotton, and 60 acres of pastoral land, on which he grazed cattle.
The years on their farm saw the family grow with another three children surviving, although four more died in childhood. Of Christian and Emilie's 13 children, only four, including Amalia Christina, were to grow to adulthood. When she was only 16, Amalia married a young Englishman, William Dance, who had gone to work for her father in a butcher shop in Marburg,[5] before William himself took up a farm in the district. Christian gave his son-in-law a helping hand along the way to financial success in the Colony (Christian's will shows that a debt owed to him by William was to be forgiven.)
Christian's experience in Australia must have encouraged his widowed mother, and brother and sister back home in Germany. His mother Dorothea, sister Ernestine and her husband Wilhelm Grunow and one year old daughter Anna, all made the voyage south on the Herschel in 1872. Christian sponsored the immigration of his mother, then aged 58. They were followed by Christian and Ernestine's young brother Wilhelm Frederick Carl, who brought out his family in 1878, on a later voyage of the Herschel. Christian himself died in March 1908 of exhaustion and heart failure, nine months before Emilie- they are buried together in the Marburg Lutheran cemetery.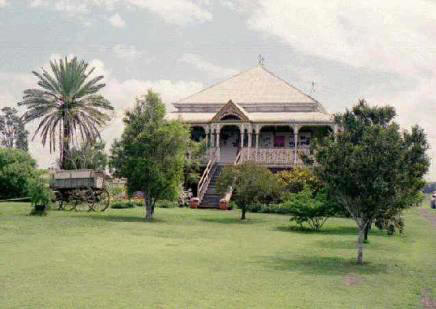 The Retschlag homestead at Haigslea.
This gracious home was built in 1908 by Christian's eldest surviving son, William, on the site of an earlier structure erected by Christian. William's grandson Earle Retschlag (son of William's youngest son Leslie) and his wife Frances live in the homestead (2000).
(NB: Much of this information was obtained by other Retschlag researchers including Neville Eveans in his research into the Retschlag family and its descendants in Australia [6] and Catherine Retschlag, wife of Noel Retschlag, one of Christian's direct descendants. The research of members of the Rosewood Scrub Historical Society, gathered by Frank Snar, was a major source of many details of the Germanic settlement of the Marburg area.)