Birth:
Marriage:
Death:
Father:
Mother:
Children:
4 January, 1853, Southstoke, Somersetshire, UK
Sarah Blackburn, 31 January 1876, Ramsgate, Kent
24 January, 1913, Perkins Street, Newcastle (NSW)
(Catherine Mary) "Katie" (1876-1958)
Alfred Charles (1879-1968)
(Lottie) May (1881-1966)
(Mildred) Ethel (1883-1963)
Arthur Sutton (1893-1980)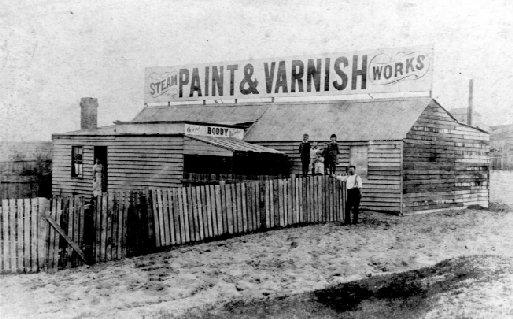 As the 19th century boomed along, so did the fortunes of those European settlers who made the move south, to the land Down Under. Among them was the Boddy family - first, in 1883, came Charles Boddy, the 28 year old son of tax official George Boddy, along with his wife Eleanor, and Samuel, one of Charles' four brothers. Samuel, an upholsterer, settled at Five Dock in Sydney, while Charles and Eleanor went north, to the Newcastle area, where Charles started one of the Hunter's early small factories, Charles Boddy's Steam, Paint and Varnishing Works at Violet Town, south of Newcastle city (left).

This was probably similar to the work the family was familiar with in London. Although George had moved the family around in the 1850s-1870s through his work as a tax inspector, by the late 1870s, they were settled in the London suburb of Woolwich, operating a hardware shop. Alfred, the third of George's sons, was described in the 1881 UK Census as an"oilman" living next door to the hardware shop he operated.

The reports back to Charles' family in London must have been positive - by 1888, Alfred, his wife Caroline and four children had decided to join Charles and Samuel, packed up their belongings and along with Alfred's widowed father George, headed for New South Wales.

Once in Newcastle, they settled first in a cottage at the Glebe (today's area around The Junction) and this was followed by periods in suburbs such as Waratah where the family was living in York Street (now part of Mayfield) when Alfred and Sarah's youngest son, Arthur was born in 1893. Alfred set up as a shopkeeper in Lambton Road, Adamstown - and this was the business which came crashing down when the Depression of the 1890s swept across the land.

The impact was devastating::

During the 1890s, Australia was hit hard by an economic depression that left its banking system in ruins. ... Within three years the recession was global and had caused the total collapse of Australia's economy. Widespread unemployment set in, and many Australians faced homelessness and hunger.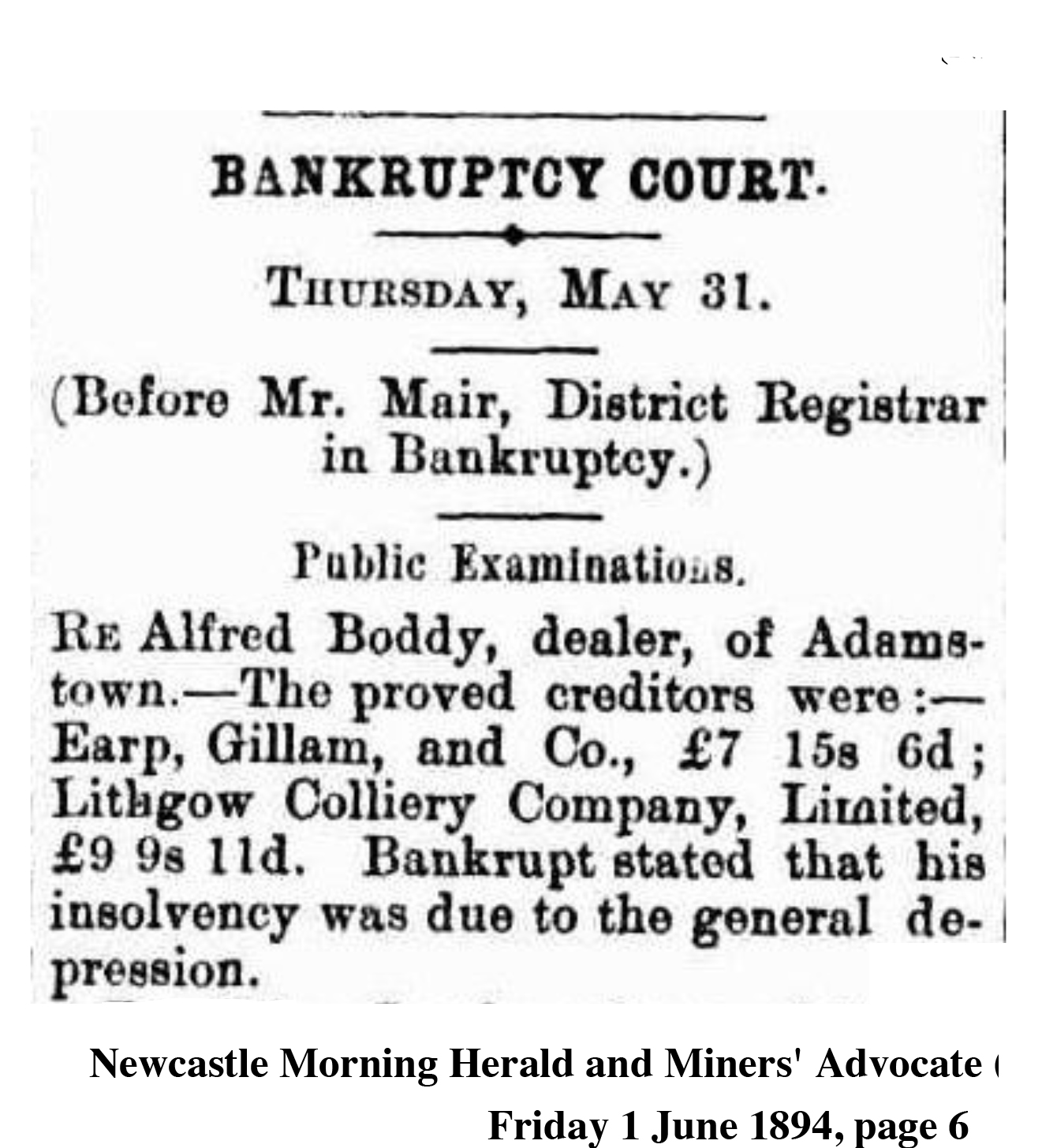 In 1894, Alfred declared his bankruptcy, with the court proceedings outlining debts of less than £20.
In heartbreaking testimony, Alfred told the court how the economic collapse had devastated his family.
I have only earned for the past twelve months twenty pounds, out of which I had to support a wife and five children. On many occasions during the last twelve months, myself, wife and family have had to exist on bread and water… I am compelled to sequestrate my estate, otherwise my creditors will never be done harassing me.
Alfred and Sarah picked themselves up after this setback, rented a house at Smedmore (now the inner Newcastle suburb of Wickham-Maryville), somehow acquired a camera and a buggy, and set out earning a living as itinerant photographers.
Alfred and family appear to have recovered fairly quickly from their economic woes - early in 1897, in the local paper, The Newcastle Morning Herald and Miners' Advocate, the family advertised for a "Useful GIRL", at their then home, Dartford, in Beaumont Street, Hamilton.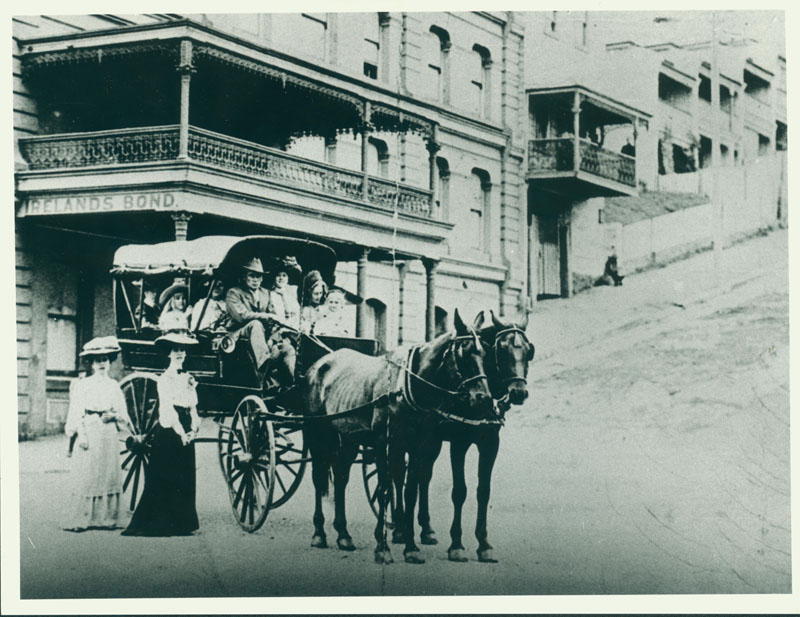 The photography business, with studios at Wolfe & Hunter Streets, was possibly the first in Newcastle. Alfred and Sarah travelled by buggy to for clients throughout the Hunter Valley and as far away as Taree. Alfred also travelled out on the pilot boat to photograph vessels waiting to enter the port of Newcastle
As they became more established, the family moved to 25½ Perkins street, in the Newcastle CBD and conducted their studio (known as Imperial Studios) there for many years under the name of S.A Boddy (presumably Sarah and Alfred - neither Sarah nor Alfred had been given a second name at birth).
left: The corner of King and Perkins street, in Newcastle in the early 1900s. The Boddy family home and studio is at 25½ Perkins street - the building just up from the corner with a small balcony overhanging the footpath. The identity of the people in the carriage is unknown.
(Photo from the Hunter History Collection, courtesy Newcastle Region Library)
When Alfred died in 1913, the business was taken over by his daughters (Lottie) May and (Mildred) Ethel and the business became known as May & E. Boddy Photographers.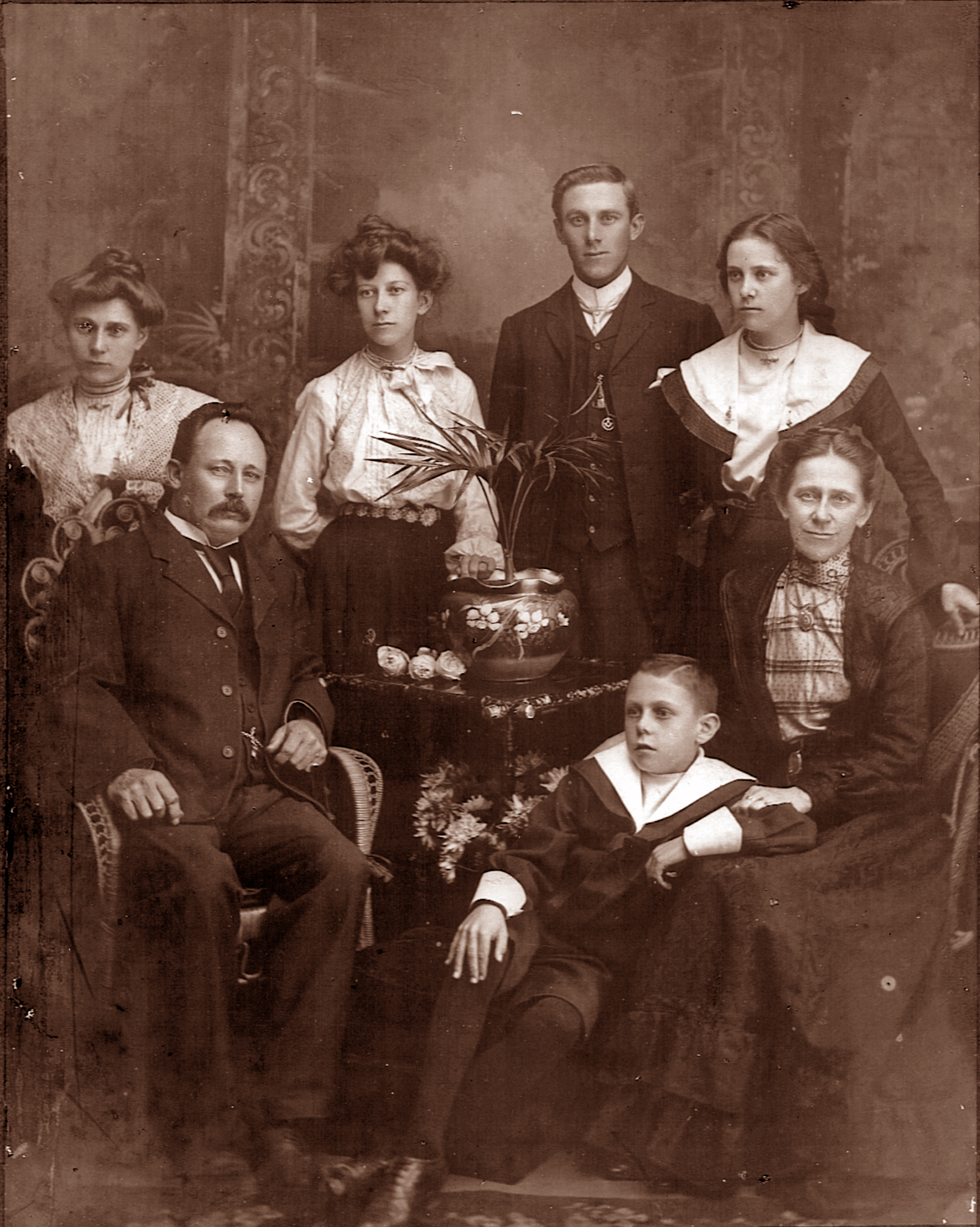 The family of Alfred & Sarah Boddy, c1903
Standing (L to R): Catherine, May, Alfred Charles, and Ethel Boddy
Sitting: Alfred & Sarah Boddy with their youngest, Arthur Sutton Boddy seating between them.