John Boddy
George Boddy
Alfred Boddy

Alfred Charles Boddy

Geoffrey Alfred Boddy
return to the
Boddy Family Tree
Alfred Charles Boddy
Although he was born on the southern banks of the River Thames in London, Alfred Boddy often claimed to be a Cockney - much to the chagrin of his older sisters, who always pointed out to him that he was born on the wrong side of the river and therefore couldn't be a Cockney. But, Alfred would tease his sisters, saying he "could hear the sound of the Bow Bells" from the south side of the river and that anyone born within the sound of the Bow Bells was a Cockney. That was a family argument which Alfred delighted in continuing over the years of the family's life in Australia.
For a nine year old boy from Lambeth in London, the six week voyage to the far-flung southern hemisphere was a time of excitement.. For the adults accompanying him, there may well have been a sense of nervousness about what their future in Australia would bring, but for young Alfred, he thought the world of the
SS Austral
was one big adventure and a time of learning about ships that used both steam and sail. His grandson David recalled that many years later, his grandfather could name all the sails and their uses learned on board
Austral (right)
.
below:
Newcastle Harbour as it was in 1890, two years after the arrival of the Boddy family.
SS Austral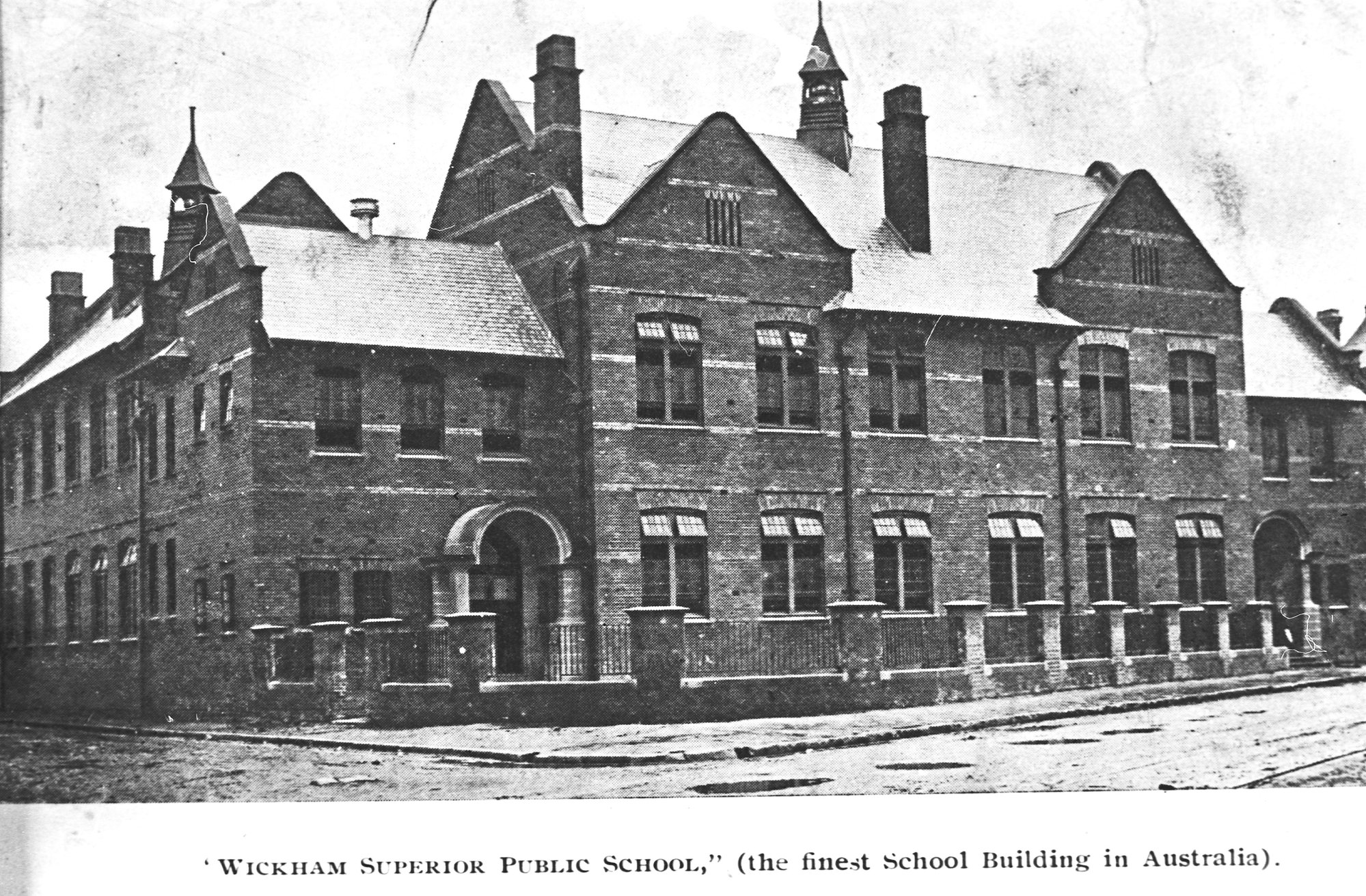 Although the Boddy family struggled as the1890s depression hit, and the family shop was forced to close and his father declared bankruptcy, young Alfred was still able to go to school. His school was the highly regarded Wickham Superior Public School. Apparently it was dubbed a "Superior" school because of the size of its enrolment.
Alfred was still a pupil at Wickham in 1892, with his name listed in the Newcastle Morning Herald and Miners' Advocate, passing school exams when he would have been 13 years old.
Alfred's eldest daughter, Mildred, in family notes she wrote in the 1980s, said:
About this time (1890s) they lived in Smedmore (now Maryville) and were very poor. Our Dad only in his teens and worked in a baker's cart (I suppose before school) and was given a loaf of bread for his trouble which gave the family food for breakfast.
When he left school, Alfred found work as a grocer's assistant. He went onto spend most of his working life in the grocery shop sector, including stints managing branches of the Stockton Co-operative stores at Stockton and Denison Street, Hamilton.

Before that, Alfred became active in the Baptist Church, focusing on attendance firstly at the Laman street church, and then the Islington Baptist church. Presumably, it was through church membership he met his future wife, Lily May Gordon - both of these young people were involved with the Baptist Tabernacle Sunday School, where Alfred was the Treasurer and Lily a teacher.

The Tabernacle Minister, Rev. Seth Jones conducted their wedding ceremony in June 1903 , at the Tighes Hill home of Lily's stepfather, Edward Reavley.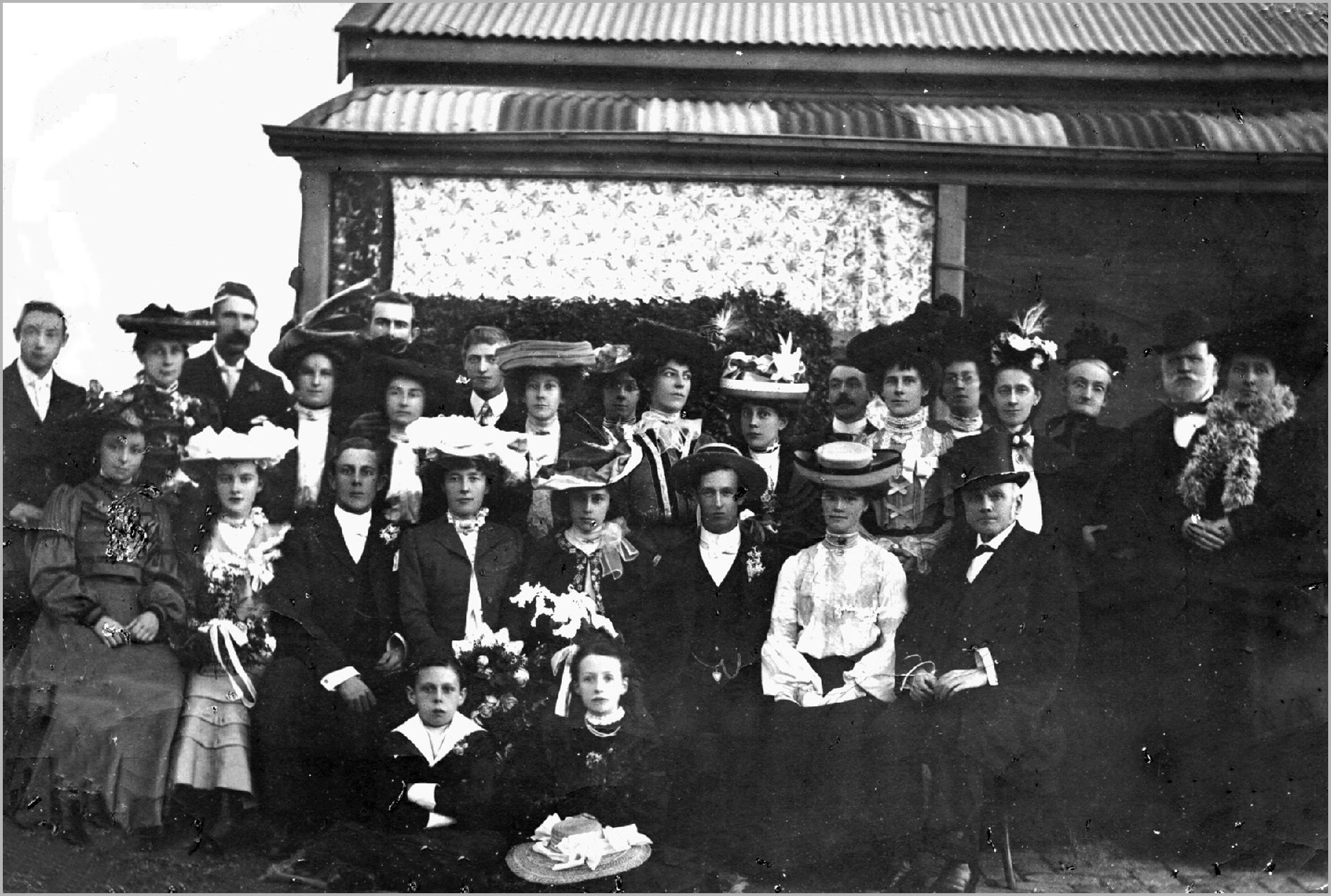 above: the wedding party and guests outside the Reavley home in Henry Street, Tighes Hill. Alfred is seated, third from left, with Lily May on his left. The minister, Seth Jones is seated at the far right. We have the names of only some of other guests: one of Alfred's sisters, Catherine (Katie) is on Lily's left, Lily's mother and step father, Emily and Edward Reavley are standing, second and third from right,with Alfred's mother Sarah on Emily's right.  Alfred's 10 year old brother Arthur is in front of the bridal couple, Sadie Reavley Lily's half sister is on Alfred's right,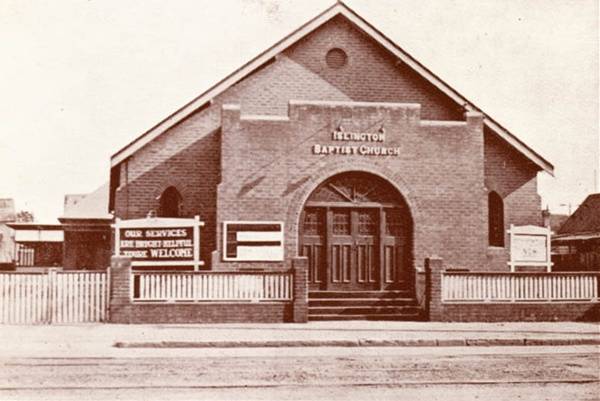 above
: Islington Baptist church in 1936  (Newcastle Herald photograph)
The Baptist church was very important in Alfred's life. The family moved from worshipping at the Laman street tabernacle to the Islington Baptist in Maitland road, where in the years to come, Alfred became a Senior Elder, a role he was honoured to maintain all through his life.


left: Tabernacle, in Laman street, Newcastle
To start their family life, Alfred, with the help of his brother-in-law Joe Taylor (husband of Lily's older sister Ada), built a house in Thomas street, Mayfield.

Coincidentally, nearly a century later, it was this very same house that Alfred's great-granddaughter Jenny was called on to house-sit for friends while they were on holiday. The friends were renovating the timber cottage when they found the original deeds for the house, and noted the name of the first owner - the same family name as their friend Jenny.
left: 21 Thomas Street Mayfield (in 2018).
While Alfred and Lily lived at Mayfield (at the time known as Waratah North), they started their family. Tragedy struck early, with the death of their first child, Allan, only two days after he was born in 1904; but less than a year later, Lily gave birth to another son, Eric George. Their first daughter, Mildred May, followed two years later.
Although Alfred continued to own the Mayfield property, by 1908 he and Lily had moved back into town, to what their daughter Mildred later described as a "convict-built house", in Wolfe street, just behind the Boddy home and studio in Perkins street, where his father, mother and sisters still lived and worked.

The stay in the convict built house didn't last too long.... Alfred's work as a grocer with promotions in the Stockton Co-operative Society led the family to shift house a number of times, and the birth of his second daughter, Dorothy May, in 1911, came when the young Boddys were living in Mitchell Street, Stockton across the harbour from the Newcastle CBD.


above:
  The Stockton Co-operative Society store as it was in 1915, just a few years after Alfred worked there.
Mildred recalled a few memories of their time in Mitchell Street:
In the park near our home was a place for babies to sit. It was a peculiar four-square box at a height. A parent would put the baby in, one who could sit up, then fasten in the baby so that it could not fall. Then the baby would be pushed around, quite safely.

Someone, probably grandfather, brought a magic lantern and showed us pictures in an upstairs room which was probably an attic.
The next move was to manage the co-op branch at the inner Newcastle suburb of Hamilton, in Denison street, where the family lived next door to the shop. The store was on the corner of Beaumont and Denison street (the site which later became the Hamilton Uniting Church). and the family lived around the corner in Denison Street. This is where Alfred and Lily's youngest son, Geoffrey Alfred, was born in 1912. Mildred saw a downside to this move:
After Stockton we moved to Denison Street, Hamilton. My father was in charge of a shop. There was a small patch of green grass between the shop and the house. Dad had horses in a paddock behind the shop and house. The toilet was in a corner of this paddock. Unfortunately for me, I was frightened of the horses and hated to have to go to the toilet.
Another move - this time in 1917, back to the Mayfield house in Thomas street, when Alfred changed employers to work for Gittens and Eastman's at nearby Wickham.
When the family lived at Mayfield, Alfred took a chance to rent land at Lake Macquarie. Mildred remembered those idyllic days in her memoir:
Around the time we were living in Mayfield, Dad rented a block of land at Pelican, on the channel leading from the lake to Swansea and the ocean. I think he paid one pound (twenty shillings) per year for this. He built one shed, with home-made double bunks for beds, an open fire with oven at the side. Later on, he added a lean-to shed to provide more space.

Weekends at the Lake often involved visits to a cottage at Pelican. In this photo, Alfred is standing at the back, and youngest son Geoff is in the cane side-car.
In the 1920s, Alfred and Lily bought a block of land at Coal Point [on the western side of Lake Macquarie). It too had a water frontage and went back about 900ft to the road, where the family built a cottage (below).  This was often used for family gatherings and weekend visits while the couple continued to work in the grocery store in town.
For Alfred, the next move came when he and Lily decided to move into business for themselves. In 1920, they rented premises at 66 Beaumont Street, back in Hamilton, and operated it as a grocery store. As was usual at the time, the family lived above the shop, which was next door to one of Hamilton's renowned stores, Gow's Drapery, on the corner of Beaumont and Cleary streets. The elegant building housing Gow and Co no longer exists, but back in 1930s, the then owner, Walter Gow wanted to extend his business into the site occupied by the Boddy's store. In return, he converted two two-storied houses he owned at 59 Lindsay Street into a shop, across the road from his own home of Fettercairn, and the Boddys moved into the Lindsay street store.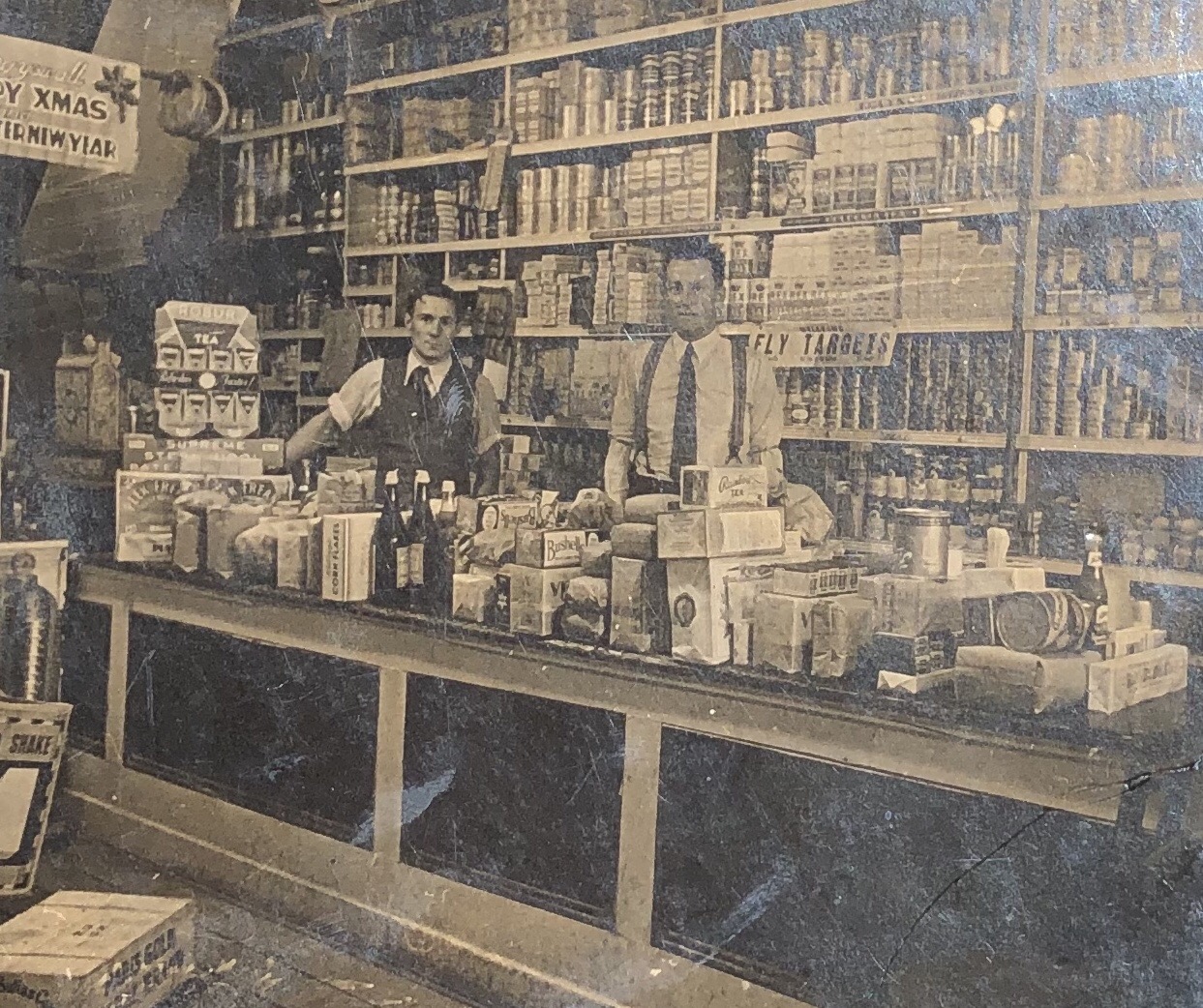 Alfred's sons, Geoffrey (left) and Eric, behind the counter of the Lindsay street store at Christmas time, 1926.

Alfred's younger daughter, Dorothy described their Lindsay street home this way: "Three bedrooms and bathroom and a large lounge room were upstairs, a dining room, the kitchen (up 2 steps) and laundry were downstairs behind the shop."

Around 1920, Alfred bought a T-Model Ford. His eldest son Eric later told his own family about the acquisition:
Alfred Charles was one of the first people in Newcastle to buy a Ford Model T, around 1920. The chassis had a tray body on the back and was used for home deliveries. It replaced their horse and cart. The Ford car was much more economical to run than the hungry horse, but the horse had the advantage of knowing the route and where to stop outside each of the customers' houses.

Presumably, the Model T Ford was the car used on various family trips undertaken from Newcastle to the northern tablelands, the North Coast and Sydney. Alfred sometimes kept records of distances travelled, and food and fuel (which he called "benzine") bought. .These were the entries for one such family trip at Christmas in 1925 from Newcastle to Armidale, through the mountains down to the coast to Kempsey, then onto Port Macquaire, Taree and back home via Gloucester: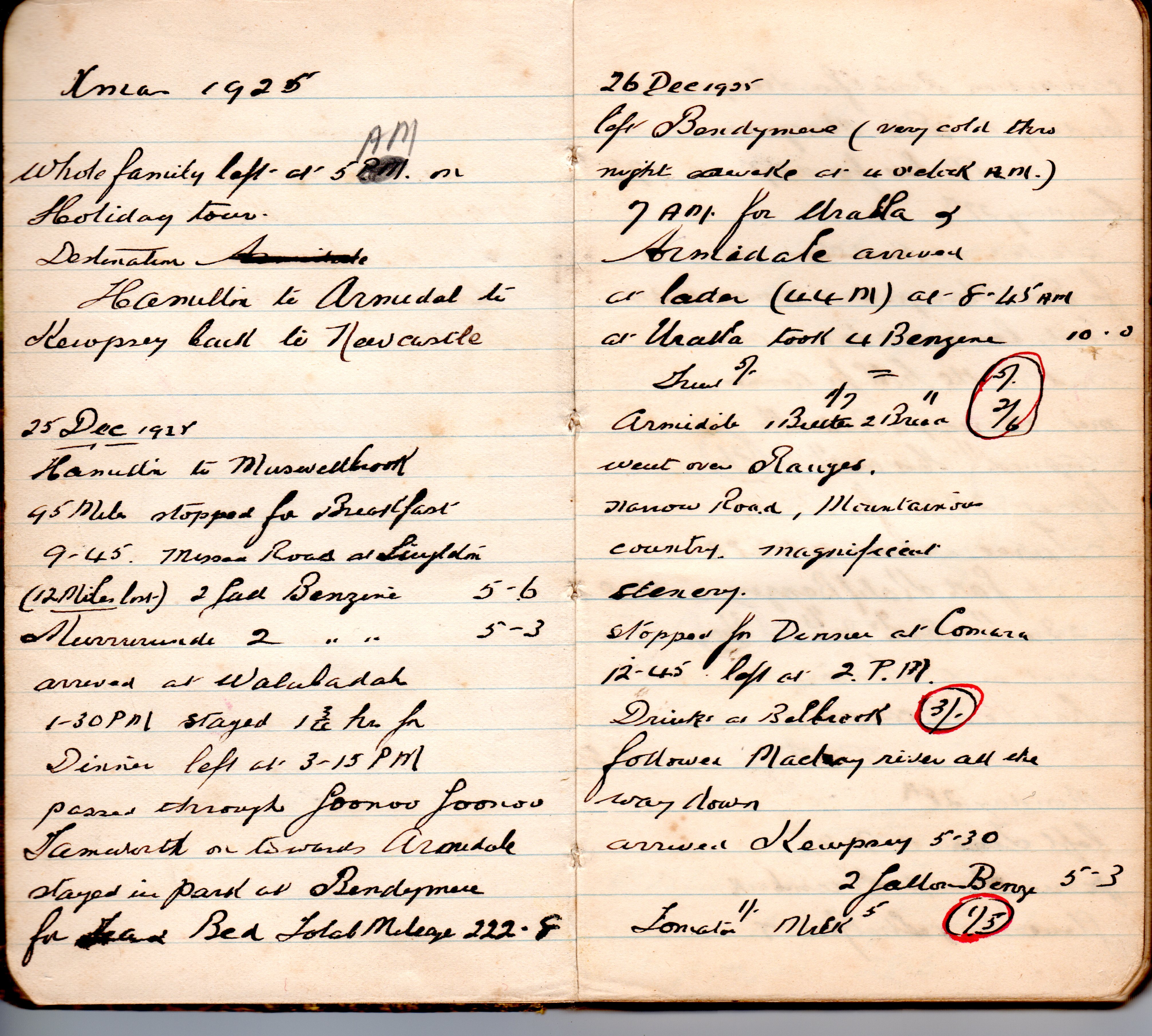 Alfred (right) with the family car (thought to be a 1928 Chrysler) and family: (from left) his sisters, May and Ethel, son Eric and his wife Ann (inside the car) and his mother Sarah (nee Blackburn) sitting on the running board. c1930.
right: Alfred's first born grandson, Geoffrey Neil in a box cart made for him for his grandfather
The family were still living in Lindsay street in the 1930s when all four of Alfred and Lily's adult children left home to marry. The couple stayed in Hamilton for another 10 years before yet another move, this time to Adamstown, where Alfred and Lily built a house in King street. This is the house (left) that was in later years, the long-time home of daughter Dorothy and her sons.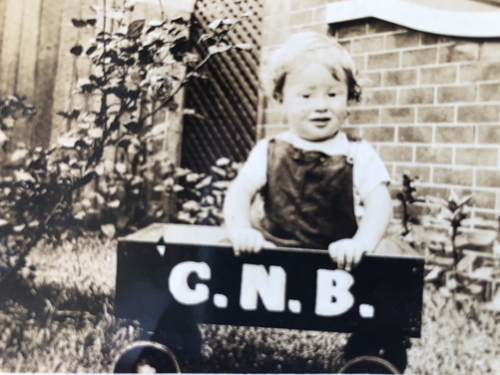 Come the years of World War II and around this time, Alfred's two unmarried sisters, photographers May and Ethel, finally closed their studio and headed out to the shores of Lake Macquarie. The family had always been familiar with the Lake, often weekending out there or fishing on its waters, and after his sisters moved to the Lake, Alfred and Lily bought a block of land in Elizabeth street, Fennell Bay, just a short distance from May and Ethel. Alfred had plans to build a small house at the Lake, but the war and its shortages posed almost insurmountable problems. Time after time, he was refused permission to build the cottage, because he was deemed to already have a house he could live in, in Adamstown. Nevertheless, he didn't give up and correspondence flowed back and forth between him and the various authorities, often with the backing of his local parliamentarian..
One of his letters (sent from a time when Alfred was staying with his eldest daughter Mildred Davey at her Sydney home in Lakemba)  reached the office of the Prime Minister of the time, Ben Chifley:
.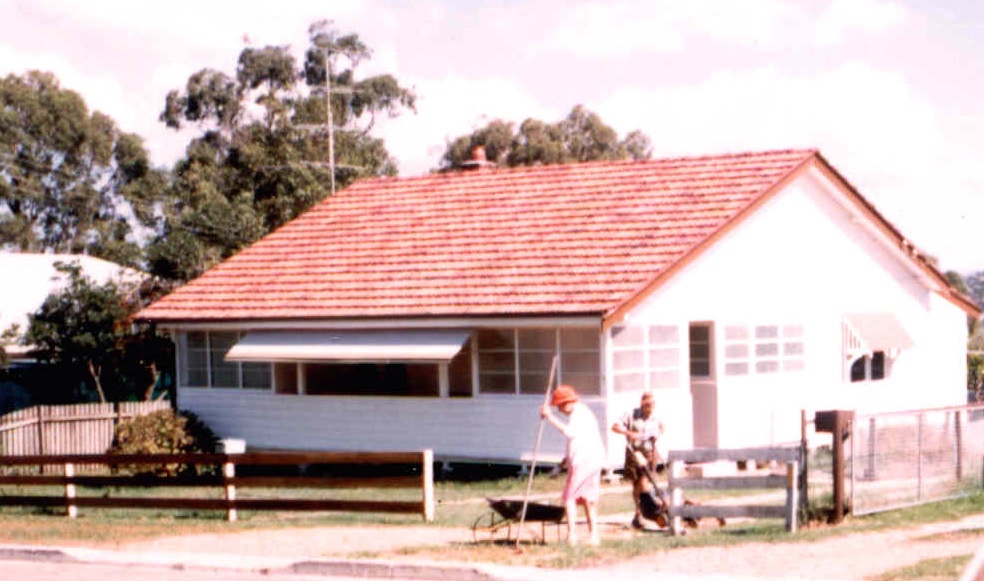 Eventually the house project went ahead
(right)
, but the couple didn't get to enjoy the fruits of Alfred's persistence. In 1946, Lily died, of cancer.
The end of the war brought other changes... The marriage of his youngest son Geoff failed, and in June, 1947, Geoff married again.. He brought his new bride, Helen Davidson, from her home near Glen Innes, to the weatherboard cottage, and Alfred lived there with Geoff and Helen and their family of two young sons.
Death hadn't finished with Alfred and his family - in 1953, daughter-in-law Helen died, followed within two years, by Allan, his five year old grandson. So the household of grandfather Alfred, son Geoff and surviving grandson David James, became an all-male household, with Alfred doing much of the day-to-day domestic matters and child caring, while Geoff went off to work on the railways.
below: some of the extended Boddy clan c1950, with Alfred (centre) and his grandson David on his knee.
back row, from left:

Ethel Boddy, Geoff Boddy (son of Eric), Eric Boddy, Leslie Sheldon, Kenneth Boddy,

in front of Ethel:

Raymond Sheldon

seated:

Anne Boddy (wife of Eric), Mildred Davey (with Frank Davey), Alfred Charles Boddy (with David Boddy),
Helen Boddy, Dorothy Sheldon

in front:

David Sheldon, Barbara Davey
Here, it's time for Alfred's grandson, David, to take over the story of his grandfather::
Alfred Charles Boddy as remembered by David Boddy (written in 2018).

(My wife) Mary has asked me to write my memories of Granddad many times but is probably good that I have resisted. It's only now that I have approached a similar age to the age he was when I knew him, that I have a much greater appreciation for what did and what he was.

Granddad was a people person. He loved meeting people (who seemed like strangers to me) and telling them all about himself (and me) and learning about them. He was proud of how well he carried his age. He was always keen to share his knowledge of his early days in Newcastle, his work, his schooling. As a kid, for me, it went in one ear and out the other. I so wish I had taken more notice of the stories he told. I will try and recall some, but later.

I should first set the scene of life with Granddad at Fennell Bay. In early childhood I lost my mother to polio and not long after my younger brother to leukemia. Thus Granddad, who had lost his wife Lily, was living with Dad and me at 15 Elizabeth Street Fennell Bay. So Grandad was in his 70s when I first remember him and as I grew to be a teenager, he was aging into his 80s.

Fennell Bay didn't have that many houses back in 1952. You could walk across the paddock to the post office or to where the Aunties lived in Lake Road. (The Aunties were Granddad's unmarried sisters, Ethel and May Boddy, who were retired photographers). In fact, Dad, or maybe it was Grandad, owned the land thru to Lake Road where the Aunties lived. Fennell Bay grew with new roads and many Housing Commission houses being built, and our land was sub-divided and sold.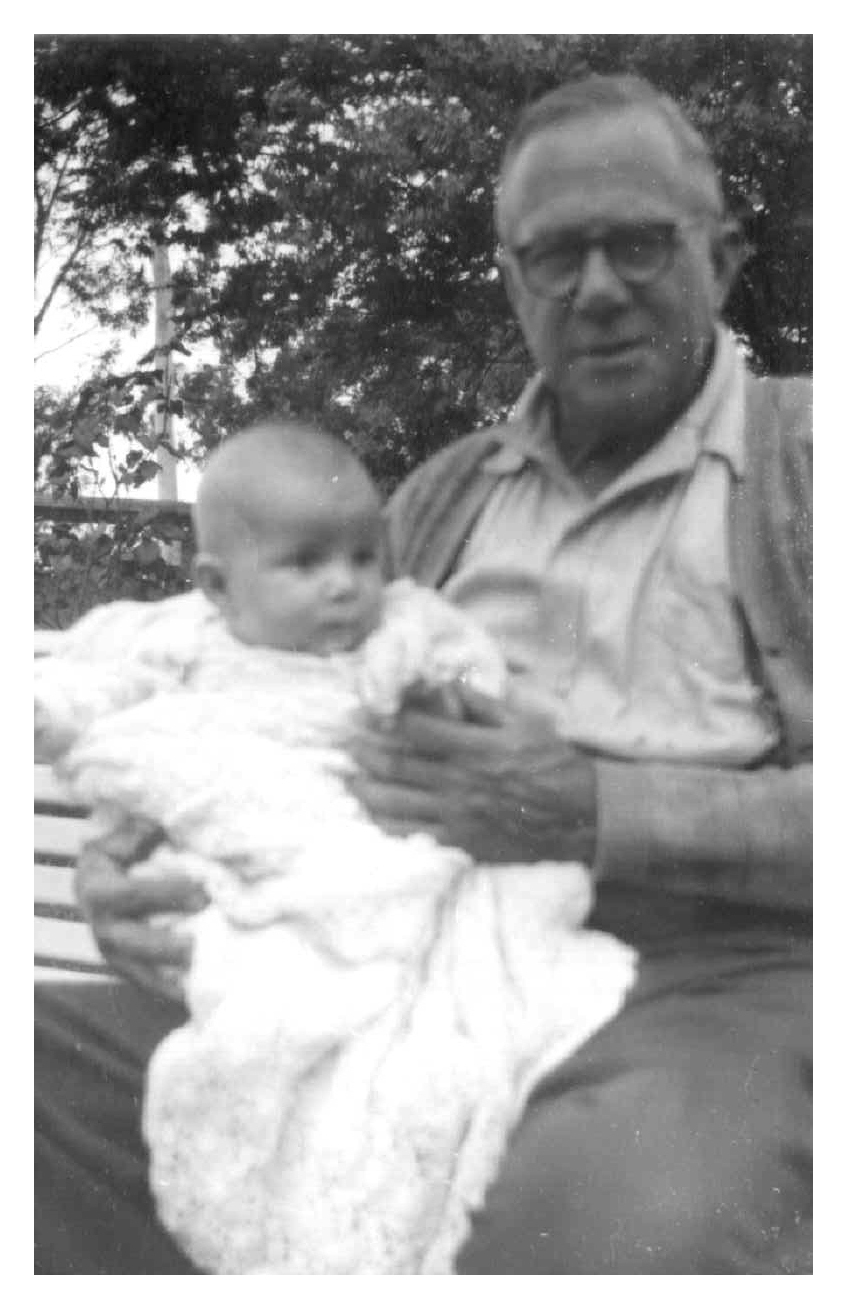 left: Alfred with an infant grandson David

In the early 1950s, milk was still delivered by a small milk tanker that put the milk into billy cans left out for the milk. The iceman delivered blocks of ice for ice chests (pre-refrigerators). Sewerage didn't exist. The Sano man came weekly to take away the cans. The streets were gravel (no tar) with open drains.

I can remember as probably a 5-year-old, sitting on the front veranda in the evenings with Granddad, watching lightning storms come across the Lake. Grandad had a rocking chair on the front veranda and he would sit and cuddle me as we watched the lightning and listened for the thunder. I appreciate this even more now I am a grandfather and can look and feel affection for my grandchildren which he clearly displayed to me.

Granddad would tell anyone who would listen that he had 12 Grandchildren. He seemed to know everyone's birthday and he used to send 10 shillings to every one on their birthday. Ten shillings was significant in the early 1950s, less so as the years went by.
Granddad was apparently once a Freemason
(right).
He had a funny apron in one of his cupboards which I didn't understand. He once went to a lodge meeting with a neighbour, Jack Bush, and took his funny apron.
Granddad cooked all our meals. He preferred to use a Primus and a pressure cooker on the back veranda rather than the oven and hot plates in the kitchen, which I think annoyed my Dad. He went to great efforts to cook things I liked but looking back, I was difficult. I can remember him sorting through a stew to remove the things I didn't like. (I think it was carrots at the time).
Granddad was deeply religious, reading the bible daily and saying prayers. He was proud of his status at Maitland Road Baptist church. He was the Senior Elder there and while he attended the newly formed Baptist church at Toronto, he was reluctant to give up his status at Maitland Road Baptist. He eventually did when travelling to town became difficult.
Granddad loved train travel, especially taking the Flyer to Sydney where we would visit his eldest daughter, Aunty Mildred. We used to have booked seats and we would check the luggage in with the porter who would return it at the other end.
I can remember standing in the street with many others waiting to spot the first Russian satellite (Sputnik) travelling across the sky. Grandad marvelled that in his lifetime, things had gone from the Wright Brothers' first flight to things orbiting the earth. Horses to cars. He told me stories about delivering bread with a horse and cart and the intelligence and personality of the horse that he worked with.
Granddad could drive a car, no problem, but as he got into his 80s he probably should not have been driving. He had a few little scrapes but Dad always dismissed that as "not a problem".
Granddad on many occasions tried to give me his treasure/keepsakes (his gold watch, his wedding ring, his binoculars), but I always refused them. He was trying to make the point that he would not be there forever but I always refused. I expected he would live to be over 100. There was nothing wrong with him!!
It was ultimately strokes that got him. He battled quite a few in my memory. Early strokes robbed him of movement of his right arm. He then set out to teach himself to write with his left hand after the first stroke. He did very well considering everything. His left-handed writing after a stroke is better than my current handwriting. Granddad used to exchange letters with Mildred pretty much every week and in later years I used to have to read them to him. Granddad was very much the historian. He could talk at length about tall ships in Newcastle. He knew varieties of ship – schooners, clippers, yawls – and each sail on a specific mast had a name. He knew where the railway used to run and where the various pits and collieries were around Newcastle.
I can never remember him losing his temper or saying a harsh word about anyone. The most frustrated I ever saw him was when I was supposed to hold onto an asbestos strip while he nailed it in place. I let it go for some reason and it snapped in half. Granddad's strongest word was "botheration".

He was proud of the fact that his father (Alfred Boddy, one of Newcastle very early photographers) had gone out on a rescue boat after the ship the Adolphe had run aground on the bar at Newcastle Harbour. His Dad's photographs were key to a later court case about salvage rights and his Dad's pic showed that someone had been the first to attach a rope for salvage purposes. Granddad had a couple of items salvaged from the Adolphe that he was very proud of -a chest of drawers and a deck bench (like a park bench). Granddad always spoke fondly of Lily his wife whom I never knew. He used to torment Aunty May and Aunty Ethel by mispronouncing some words which had been an in-joke between him and Lily. He used to share that with me after his sisters had left. (Picturesque was pronounced picture-skew ). He knew lots of poetry and ditties, none of which I can remember today.

In the late 50s, TV arrived and we spent many hours watching a lot of trashy rubbish (probably because that's what I wanted to watch). We loved World Championship Wrestling!!

Granddad believed Sunday was sacred, in that church should be attended and business was a no-no. I can remember the paper lady trying to collect on a Sunday and Grandad telling her to come back during the week.

Granddad was always so proud of anything I did.

Looking back now, he declined very quickly. As he became less able to look after himself, Dad and I got nursing help to look after him but I clearly remember the day when the nurse told Dad and me that he needed care we weren't able to give him. Granddad went first to Carey Bay Nursing Home and later to Booragul Aged Care.

He died there in 1968 aged 89.