The 1881 Census (above) shows George and Caroline, with their youngest daughter Annie, and George's brother Henry, at 1 Dundas Terrace in Woolwich. Dundas Terrace is/was a row of terrace houses at 43-50 Brookhill Road: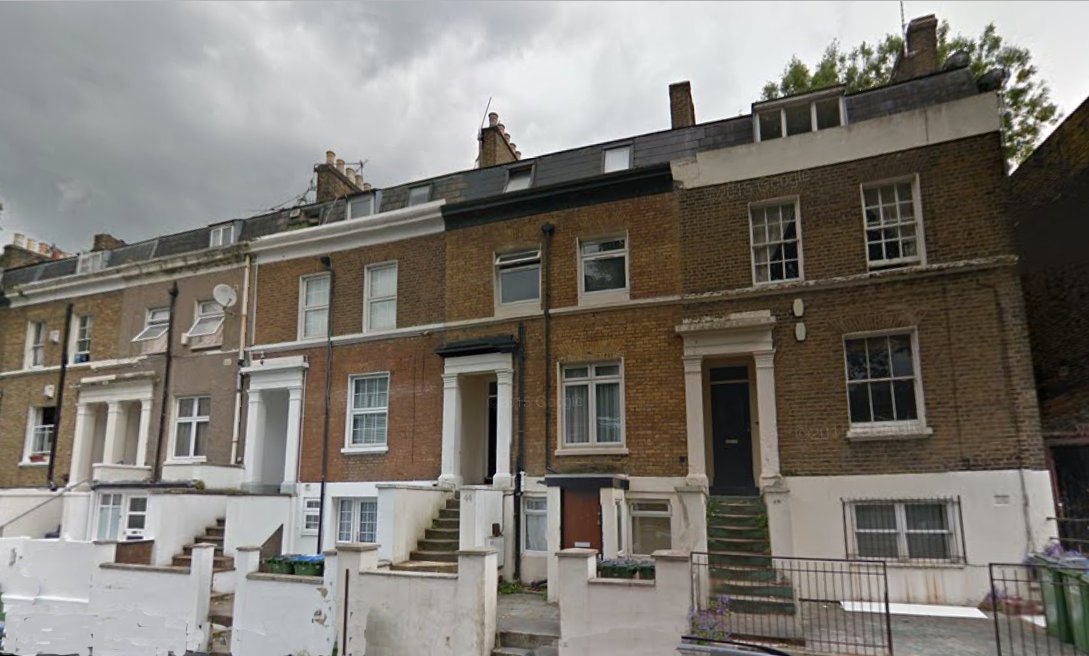 The Boddys were still living in Dundas Terrace when 65 year old Caroline fell ill with cirrhosis of the liver, dying on Boxing Day 1887.
Her death may have prompted George to join with son Alfred and his family in Alfred's plans to migrate to Australia, where two of George's sons and a daughter were already living. Samuel, Charles and Catherine ("Kitty") had established new roots in Sydney and Newcastle, and had probably sent back glowing reports to the Motherland of life under the Southern Cross. George's three other children, George jnr, William and Annie elected to remain in England - but that changed within just a few years.
George's youngest child, daughter Annie, had married Charles Richards, the son of a publican. Although the young couple had a son, the marriage soon disintegrated, and Annie fell on hard times. "Annie Richards" is a common enough name, so we can't be sure that any reports of misbehaviour, vagrancy and drunkeness (including a stint in Holloway prison) were actually of George's Annie, but within three years of the family's arrival in Australia, George heard about Annie's fall from grace and headed back home to London, presumably to rescue Annie from her misbehaviour.
He planned to return to Australia with Annie and one of his grandchildren, Samuel, son of his oldest son, George jnr, on the ship Port Douglas in 1892. Port Douglas was an almost new ship, having only recently made its maiden voyage from Australia to the UK carrying one of the colony's early shipments of frozen mutton to the UK.
The voyage back to Australia didn't go as planned. Port Douglas ran aground on a reef off the French colony at Dakar, Senegal in West Africa where a re-fuelling had been scheduled. After what must have been a terrifying night, when passengers were held in the ship's lifeboats as they dangled on the davits over the side of the grounded Port Douglas, all passengers were rescued by the locals when their plight was seen at daylight. (One passenger later told the tale of the wreck of the Port Douglas in graphic detail. Click here for that report).
Although the passengers were all saved, it was another matter for their belongings, and most had only the clothes they were wearing to live in for the next two weeks, waiting for the arrival of another vessel to pick them up. Eventually, the New Zealand steamer Kaikoura arrived, and brought them all onto Hobart. From there, the Boddy trio made their way north to Newcastle and George's new home.
Sad to report, George's rescue mission, to restore Annie to a more harmonious and law-abiding lifestyle, failed - but that's another story, told in more detail here..
Back in Newcastle, while son Alfred and family struggled at times (Alfred going through bankruptcy in the Depression of the 1890s), George settled into the seaside suburb of Merewether, with addresses at Ridge street and Robert street registered to him. He became active in local church affairs, as secretary of the Merewether Church of Christ, and wrote occasional Letters to the Editor of the Newcastle Morning and Miners' Herald, at one time complaining of the state of the gutters in Robert Street.
In August of 1901, in the year of the federation of the Australian colonies, George fell ill, probably brought on by a stroke, dying at the Broadmeadow home of his son Charles a month later.
George was buried in an unmarked grave at Newcastle's Sandgate Cemetery. Why it's unmarked is a mystery, since the family thought enough of his passing to have it recorded in the Newcastle Morning and Miners' Herald of the day, with the amusing, if wildly exaggerated, claim that George's father John had been private secretary to one-time British PM, Sir Robert Peel. (However, John may well have been a parliamentary messenger in Sir Robert's Department).