Reflecting on Kent navigation (I'm a bit scarred from this) here is my list of excuses: ::
..It was pouring rain, the Datsun low beam is dreadful (there were penalties for using high beam).

..The inside of the windscreen was so fogged up we couldn't see a thing.

..The power steering wasn't working and to turn around was a 5 minute exercise at best.

..

I notice some of the cars that did it well had special lights sitting in front of the mirrors for swivelling around to find intersections.

..The route to take was very clear. We just couldn't find the intersections.

..The forest sections in England were also a bit peculiar. One of them had us stop on six occasions between markers (a motorkhana garage) and a lollypop man (like in a GP) would lift the lolly pop when we were allowed to go. Another one had a short loop and a long loop starting and finishing at the same point. There were places where you had to split and places where you had to merge. ..There were passage controls where you had to merge. We actually drove towards oncoming traffic to an intersection where we turn left and the car coming towards us turns right and we use the same road. Not the sort of rallying I'm used to!!
But as I said Day 2 of Greece was OK and I think the rally will start in earnest day 2 of Egypt. Looks to me like the first stage is just a drive down a river bed with multiple GPS coordinates for a guide.
Rest day on the ferry was really good. We went to bed at a reasonable hour, expecting the boa
t to dock at 7:30 am. So out of bed at 5:45, we then learned that the ETA was now 8:30.
right: I have washing hanging all around our cabin
Tomorrow is a drive (no competition) from Alexandria to Ain Sokana on the Red Sea. We need to try and get a tyre mended and obtain a wiper blade if we can.
We have been warned that officialdom at border crossings will be painful.
The pilot boat coming our to meet us to navigate our car ferry through the wreck-littered Alexandria harbour
After docking, there was an announcement that we should all stay onboard at the bar, and Egypt's immigration officials would come to us. That worked OK, but it did take 2 hours.
After that we all drove off the ferry on to the wharf for customs inspection. They have decided that we don't need a carnet for Egypt.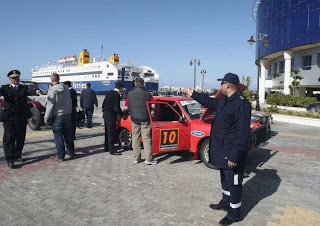 They had sniffer dogs running around and mirrors to look under the cars. They checked all engine and chassis numbers. The man did this by putting a pieces of paper over the number and rubbing with a pencil so he had an image of the number. He then put this next to the documentation he had to see if the images looked the same.
Bags had to be taken into a hall to get x-rayed. The funny part of this is we only took a token bag in to be x-rayed. The rest stayed in the car. We then waited and waited for word that we could go. Holdups included
1. They wanted to put Egyptian plates on the cars. We didn't.
2. They wanted us to travel in convoy. We didn't.
3. Some people had over $10,000 in cash and this caused them some concern.
Finally about 2:30 we were led out in groups by officials on motor bikes and into the chaos that is Alexandria traffic.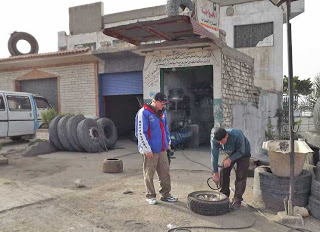 We were soon separated from the others and we were able to find a small roadside workshop that fixed tyres. The problem with the tyre was as I suspected that the tube had gone flat inside the tyre. There is a concern here that these tyres aren't meant to have tubes. The inside surface of the tyre is very rough and that probably caused the problem. We have bought 6 more valves for tubeless tyres to fix any further flats we get from this cause.

 

Driving from Alexandria to Cairo and on to Ain Sukhna was hectic. Egypt traffic has to be seen to be believed. Roads are choked with cars and there is always room for an extra lane. Two lane roads are really three lane roads.

Despite the number of cars, traffic does seem to keep moving. Cars simply merge without any anger or drama. Many driver toot the horn to ensure you know they are there. It all moves slowly and smoothly. No one ever makes sudden moves.

The Movenpick hotel look pretty good. I wish we had seen it in daylight. We are now in 7th place and have to leave at 7:44 am tomorrow. There are 3 desert stages tomorrow.

PS: we didn't see the Pyramids - too late, too dark.

 Next: a big day in the sand