Day 21 Arusha to Dodoma to Mbeya (Tanzania)
The last few days have been a bit hectic, rally-wise. Yesterday was disaster day, and I think we are in 13th place now [official results say 12th]. There is no way of catching up any of this up, except to wait for others to have problems
Today, after 20 days of putting us in order of results they decided to seed us based on speed. They have put Joost in the Porsche at the front (they did this in Nairobi when they hit him with the 1 hr penalty for his canister shocks) and we have been given 2nd on the road as we are usually 2ndquickest even with the dust and slower cars in front. We did run into a car in the dust the other day and this probably influenced the decision. However, today we didn't feel like going that quick after yesterday's events, so we annoyed the guys behind us who have had it so good for the last 20 days.
We are on the way to Mbeya as I write this. Tomorrow morning is into Zambia.
Tanzania is interesting. Definitely a better living standard than Ethiopia but still with lots of villages built of mud bricks, crops of corn, sunflower, beans and things I didn't recognise.
I got to walk thru one yesterday in search of fan belts. The locals were prepared to take belts off the little machinery they had, if they had fitted.
The men who towed us 160 km didn't want any payment for it. We insisted on giving them $10 each.
More on yesterday's drama....
Did I mention that they were village policeman and one told us proudly he was a sharp shooter? They had a carcass in the back of the ute and stopped at various control point to hack off pieces of carcass for the people on the checkpoint.
It was a very long hard drive. The road was pretty rough, we had no lights and it was a short rope (see photo). All we could do was try and keep the slack out of the rope and try to stay behind the ute.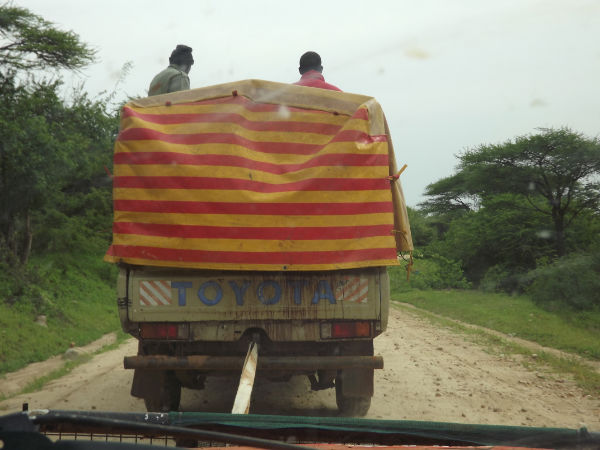 The dust was thick and would settle on the windscreen blocking out vision.
About 2km out of Dodoma, they handed us over to another police ute that towed us to the motel.
Another competitor arrived not long after us and he had a collection of fan belts. We have borrowed one that's still a bit short but stretched it on and it has stayed on today. We have put new bolts in the alternator brackets.
We were incredibly filthy when we arrived last night. There was no food available and the shower wasn't hot. The water also very hard. My hair felt dirtier after a shower than it was before.