It's sometimes said that the eldest child in a family is often the most serious in demeanour, a consequence of the responsibilities that sometimes go with that position. Such was the fate of Eric George Boddy, born in the early years of the 20th century, in Newcastle, an industrial city some 100 miles north of the capital, Sydney. It wasn't planned that way - Eric should have had an older brother, Allan, but Allan died just two days after coming into the world in August, 1904.
Less than a year after Allan's brief life, his parents Alfred and Lily Boddy, welcomed another son. Eric was born in the main bedroom of his parents home at 21 Thomas Street, Mayfield, an inner suburb of Newcastle.
Eric grew to become a robust and handsome child in a family of three other children. His sister, Mildred May arrived in 1907. Then, after a gap of four years, another sister Dorothy Mavis was born, and finally, a brother, Geoffrey Alfred in 1912.
right: Eric as a young child
Eric attended several schools as his father moved the family around between houses in various Newcastle suburbs in pursuit of work and business opportunities. Despite Eric's considerable intellect and personal drive, he was not destined for academic achievements. He left school after his 12th birthday in 1917, to work in his parents' grocery store on the corner of Denison and Beaumont Streets, Hamilton (diagonally opposite the Exchange Hotel).
His first job was to make home deliveries using a horse and cart. "Nugget" knew the route around Hamilton and would stop without prompting at the customers' houses, so that Eric could drop off each day's provisions and collect orders for the following day.
As Eric grew older, his younger siblings took over the task of deliveries while Eric joined his father behind the counter of the grocery store. In this way, he learned the grocery business of wholesale purchasing and retail mark ups. Throughout his life, he maintained a network of connections so that he never paid more than trade price for anything his family needed; from food and clothes to hardware and paint, Eric always knew where to get the best price.
Working long hours, he got into a habit of quickly gulping down his meals so he'd be available to serve waiting customers. Later in his life, his grandchildren would be amazed how he could demolish a sandwich in two bites and drink a mug of tea to the bottom without pausing to draw breath.

Eric said that his father Alfred Charles was one of the first people in Newcastle to buy a Ford Model T. The chassis had a tray body on the back and was used for home deliveries, replacing the horse and cart. He said the Ford car (the two words went together as one!) was much more economical to run than the hungry horse.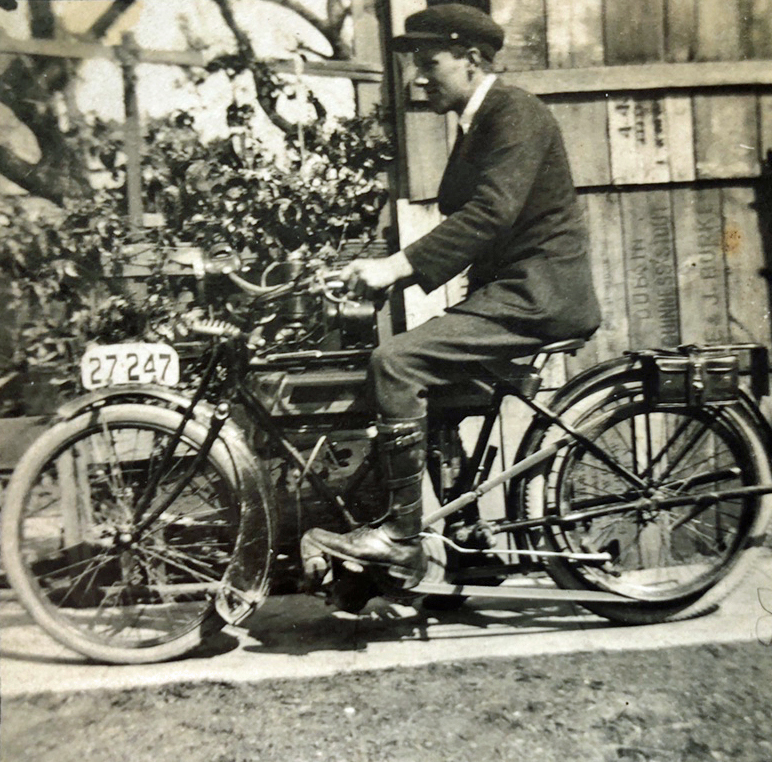 When he turned 16 in 1921, Eric bought a second-hand belt-drive, single-gear Triumph motorcycle (right) to ride as his own personal transport. One day, his pride and joy was stolen. Eric was bereft, but could do little about it until a few weeks later when he saw a stranger riding the stolen bike. Eric challenged him and the thief ran off. Eric had his motorcycle back, none the worse for wear.
left: By 1923, at the age of 18, Eric had saved enough to buy a brand-new Harley-Davidson 1000 V-twin from Bennett & Wood at 363 Hunter Street Newcastle. (The building still stands (in 2021), with its AD 1906 signage intact.)
Eric thoroughly enjoyed motorcycling and he was the first of the Boddy family to travel by road from Newcastle to Sydney, before the Pacific Highway and any of its bridges existed. He rode his Harley from home in Hamilton to visit his uncle, Arthur Sutton Boddy in the Sydney suburb of Enfield. He mapped out a route on the gravel roads via Wollombi and the old convict road to cross the Hawkesbury River at Wiseman's Ferry. He rang the big brass bell to alert the ferrymaster, who lived on the south bank. The ferry was then hand-cranked across the river and back, with Eric and his Harley on board. The rest of the journey followed The Old Northern Road through Dural to Five Dock.
left: Eric playing the violin as a teenager. It's not known for long Eric learnt the violin, but he obviously didn't pursue it in adulthood - his grand children can't remember him playing it at all!
Eric met Annie Hammon when she was an 18-year old shop assistant at Scotts Department Store in Hunter Street (on the corner of Perkins Street). She liked to be known as Ann and was the second daughter of William Hammon,
the operator of Adamstown brickworks. William had been a timber cutter near Taree but he now supplied oven-fired bricks to local building works. William didn't much approve of the Boddy family because they were Baptist, whereas the Hammon family was Presbyterian. Because of this family opposition, the young couple had to wait until Ann had turned 21. Eric was 24 when they married on 4 January, 1930, at Islington Baptist Church.
right: Anne Hammon, in a studio portrait c1930. This portrait is one probably colourised by Eric's sister, Dorothy, who did this work in the studios of May and E Boddy, in Newcastle.
The newlyweds' honeymoon involved a touring holiday: driving in Eric's Chrysler down the NSW south coast on the Princes Highway to Gippsland area of Victoria and subsequently all the way to Melbourne. It took them a couple of weeks and posed many challenges. The road was a narrow dusty gravel track for most of the journey. At one stage, Eric had to use an axe to chop up a tree that had fallen across their path. The summer heat and flies meant that Ann never recalled her honeymoon with great fondness.
left: Annie on their honeymoon.
The young couple moved into a new house, planned and built in advance by Eric at 3 Dorothy Street, Hamilton North
(right)
. It still stands (in 2021), about a mile from Alfred Charles Boddy's later store at 59-61 Lindsay Street, where Eric worked. The business prospered throughout the economic depression of the 1930s.
The couple's first child, Geoffrey Neil, was born on 8 July, 1932. Young Geoff was an active boy but his parents were alarmed to find that he enjoyed playing on the tracks of the main northern railway line that ran behind their new house! In 1937, just after the family moved to a newly-built house at 273 Beaumont Street, Hamilton, a second son, Kenneth Eric, was born.
Two photos taken after the birth of Eric's eldest son, Geoffrey Neil: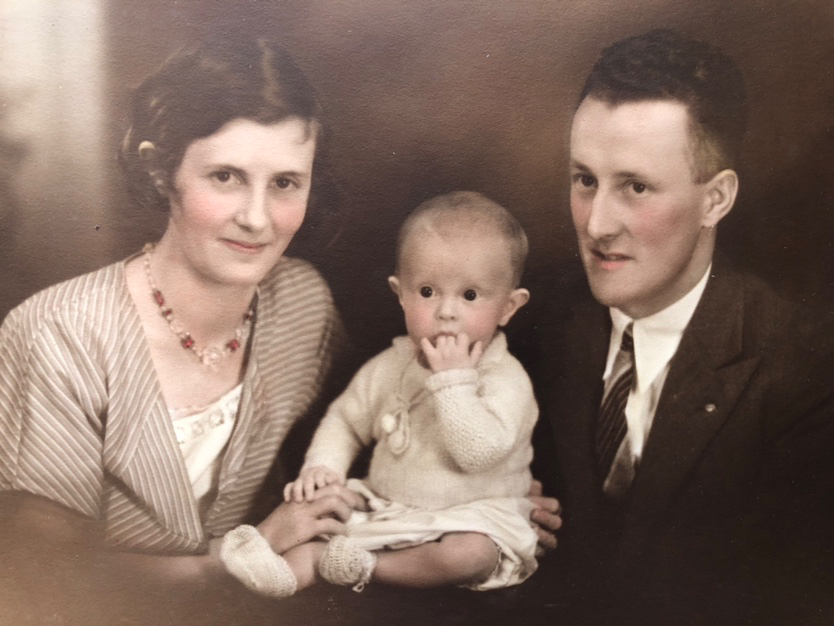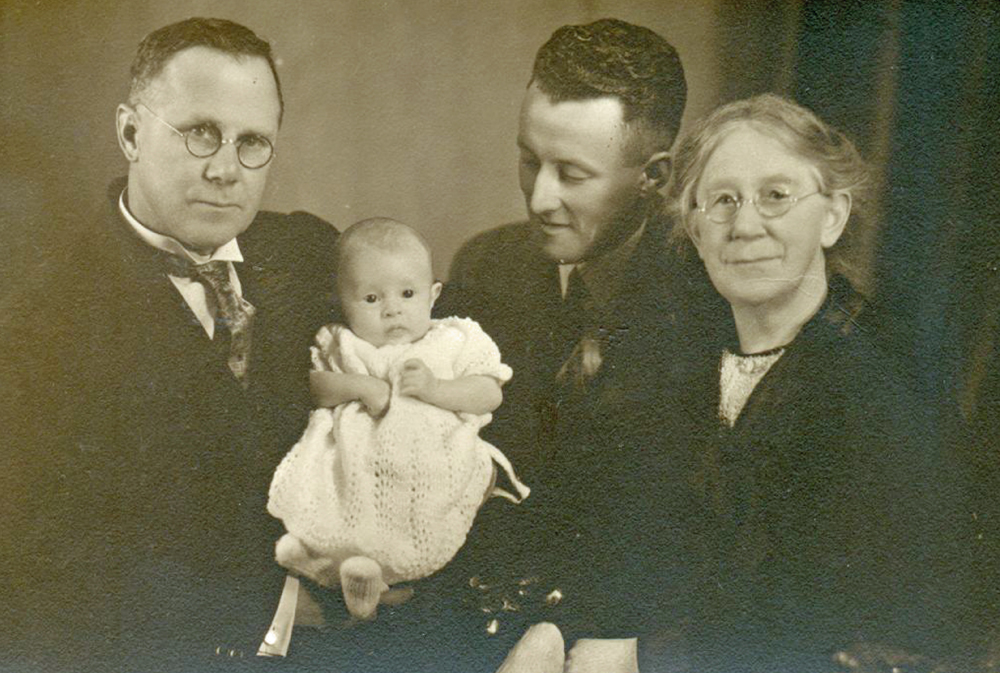 (above left) Wife Ann (nee Hammon), baby Geoffrey and Eric and (right) Four generatuons of Eric's family, with his father Alfred, grandmother Sarah, and Geoffrey
As the war clouds gathered in the 1930s, Eric continued to work at the Lindsay Street store, and also continued his part-time volunteer role as a member of the NSW Light Horse regiment, which he joined in his twenties. He was seen as serious, sensible man who was well dressed, well organised and could handle responsibility. In 1942, at age 37, he was commissioned as an officer in the Australian Army and posted as Quartermaster to the strategic inland railway hub of Werris Creek.
Ann and the boys, aged ten and five, joined him in a rented house at 115 Single Street at the far southern end of town.
Also posted to Werris Creek were Ann's older brother William and Eric's younger brother Geoff. William Hammon loved being in the Army; Geoff not so much. William enjoyed the travel and comradeship arising from Army life. He trained as an Army cook and also became a competent amateur boxer. Eric's brother, on the other hand, frequently questioned authority and occasionally ignored orders, much to Eric's frustration and consternation!
By the end of the war, Eric's father Alfred had retired and the Lindsay Street store had been sold. Eric returned to Newcastle and went to work managing branches of the Owens family grocery store chain until an opportunity arose to become the manager of the British Paints warehouse at 9 Arnolds Lane, Waratah.
In 1962, Eric began to make plans for his future in retirement. He and Ann bought a waterfront block of land at 371 Coal Point Road, right next door to the property which his parents had owned in the 1920s. Eric built a modern new home with an elevated view to the south (left).
At the waterfront, he built a boat shed with holiday accommodation for friends and family. Son Geoffrey helped him to build a jetty and to lay railway tracks so Eric could launch and berth an enclosed cabin cruiser. This provided the family with years of happy boating, fishing and swimming all over Lake Macquarie. Eric and Ann were generous hosts and welcomed visitors at weekends and every school holidays.
At 65 in 1970. he retired from British Paints. He later worked part-time at T.C.Frith's menswear store at Boolaroo, where he could once again exercise his sales skills and benefit from staff discount!
As they aged, Eric and Ann found that maintenance of their huge block of land at Coal Point had become tiring, so they sold it toward the end of the 1970s and moved to a beach-side house at 84 Watkins Street, Merewether. This proved to be a mistake. The house was ravaged by sea salt and the garden was sand-blasted by the south-easterly winds. They stayed only a few years. A developer later knocked the house down and built a pair of two-storey houses on the long, narrow block.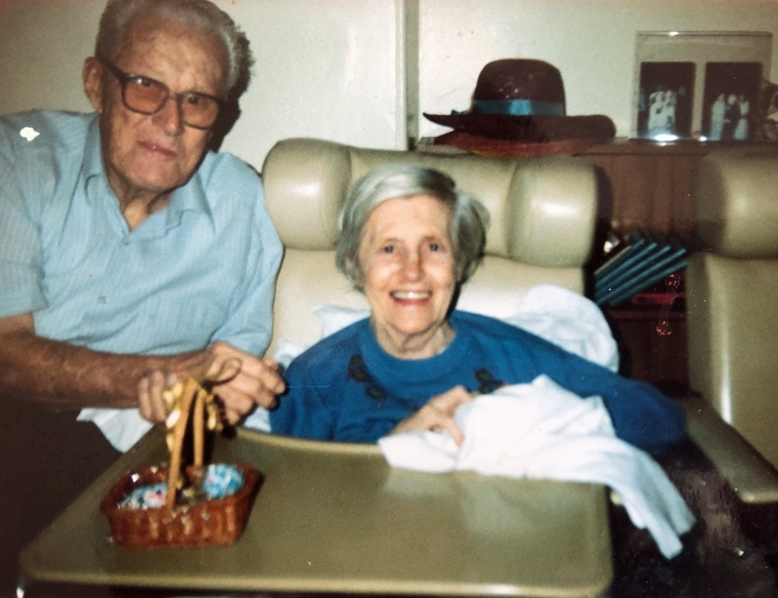 Eric and Ann then moved to a two bedroom town house at 4/2 Harvard Close, Jesmond. They were happy there during the 1980s, together in their old age, nurturing roses, enjoying each other's company and receiving visitors.

Ann began to show signs of dementia when she reached her 80s. Eric looked after her at home for several years as her condition worsened. Eventually, he moved her to Hamilton Aged Care Facility at 24 Samdon Street. Co-incidentally, this was the same location where she had given birth to their second son Ken in 1938, when it operated as a maternity hospital.




Eric was lonely at home, so every morning he would drive to Hamilton to spend the day with Ann. After he failed his age-related driving test, he decided to sell the Jesmond house and move in with Ann at Hamilton (left).

After several strokes in her final years, Ann died on 2 September 1998, aged 89. Eric stayed on at Hamilton and died there on 24 September 2001, aged 96. The couple's cremated remains are interred together at Newcastle Memorial Park, Beresfield.

Contributed by Anthony Boddy (Grandson)

back to the Boddy Family tree