Mildred Boddy (1907-2000)
Mildred and older brother Eric c1910
Line of Descent
to
Mildred May Boddy
John Boddy
George Boddy
Alfred Boddy
Alfred Charles Boddy
Mldred May Boddy
return to the Boddy Family Tree


Birth:

22 July, 1907, 21 Thomas Street, Mayfield, NSW



Father:

Alfred Charles Boddy (1879-1968)



Mother:

Lily May Gordon (1874-1946)



Marriage:

Stanley E H Davey, 1937, NSW



Children:

Allan (1938-1938)
Son (b. 1939)
Son (b.1942)
Daughter (b. 1944)
Son (b. 1949)



Death:

20 August, 2000, Perth, WA






From World War 1 schooldays in Newcastle, to driving long distances on gravel roads to teach at a bush school at Warialda in the northwest of New South Wales, then becoming a deputy school principal in a Sydney suburb, all before crossing the continent in the 1960s to allow her school teacher husband to achieve his dream of being a farmer - that's a brief summary of the life of Mildred Boddy. Add into that five children born before, during and after World War 2 while her husband was often away serving in the Army - life was both busy and challenging for her.
We have details of Mildred's early life in her own words - in the 1990s (when she was well into her 80s), she wrote a memoir of those days, recalling her early friendships, and life in Newcastle as the daughter of a grocer whose family moved several times around the city suburbs following the demands of the retail trade.
Mildred herself was born in Thomas Street, in the Newcastle suburb of Mayfield (then called Waratah North), but she had no early memories of the Boddys time there.
(left) Mildred's birthplace, 21 Thomas Street, Mayfield.
Mayfield was followed by a brief interlude in inner city Newcastle, near the home of her photographer grandfather Alfred and his wife Sarah:
When I was quite young, we moved into a convict-built house in Noster Place, Wolfe Street. ... I have a vague impression in my mind of walking down a slope with big ferns growing at the side, with steps down to my grandparents' house in Perkins Street, Newcastle.
Her next memories came with the family's move to Stockton on the north side of Newcastle Harbour, where her father was the manager of a co-operative grocery store in Mitchell street, the main street of the seaside suburb.
The most important event to me was that on a certain day, my grandparents walked up the road, pushing a pram. Yes, it was for me for my fourth birthday, and I loved it. I already had a few dolls to put in it.
From Stockton, it was back over the harbour to the inner suburb of Hamilton in 1912, where the family operated a grocery store at the corner of Beaumont and Dennison streets. Mildred had more memories of this period in her life, not all of them good ones. The family home next to the store had an outside toilet which, unfortunately for Mildred, was across the other side of the small grassed paddock where their horses lived.
The toilet was in a corner of the paddock. I was frightened of the horses, and hated to have to go to the toilet.
When Mildred was about 10, the family moved again, this time back to their old home in Mayfield. She recalled an idyllic place to live:
Here we enjoyed an outdoor life as we had a big paddock next to the house. There was a large pepper tree and a big chook yard, a vegie garden, then a big paddock for the horse, Nugget, which Dad bought at this time. We used to drive down to church in the sulky, one seat plus a small seat where the children sat with their backs to the horse.
While the family was living at Mayfield, Alfred and Lily took the opportunity to rent a block of land at Pelican, south of Newcastle on the shores of Lake Macquarie.
Each school holiday we would go to the Lake and enjoy the water and free spacious living in the outdoors. Dad would stay in town and return each week-end with supplies in the sulky. If we ran out of food before he returned, Mum would cook fried scones which we would eat with Golden Syrup which we'd take out in 7lb tins. While Dad was there he would be fishing, all day sometimes. Then Mum would cook the fish, though we got tired of eating fish.
We had lots of visitors at the Lake and stayed there till 1921, when Dad bought a block of land at Coal Point [on the western side of Lake Macquarie). It had a water frontage too and went back about 900ft to the road. At first we had two sheds on the waterfront level but later Dad, Uncle Joe Taylor and Arthur Gardner, my cousin, Emily Taylor's husband, built a cottage.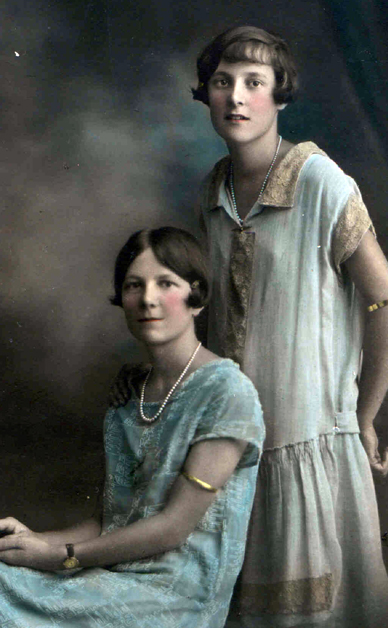 right: Mildred (seated), with her sister Dorothy, c1925


There had been a young man she was friendly with during Teachers College and the relationship was renewed once she was back in Newcastle. His name was Stan Davey and eventually Mildred and Stan married in 1937 with Stan's sister May as one of her bridesmaids. They moved to Sydney, continued working as teachers and bought a house in Dreadnought St, Lakemba. Both of them were fond of playing tennis and they kept playing tennis together on a social basis for many years.

The first child Allan arrived in 1938, but the infant lived only for a day. The young couple persevered and went on to have four more children, with their second son arriving a year later.

At this point, World War II arrived, and Stan volunteered to serve - apparently without consulting his wife! Mildred was said to have been more than a trifle annoyed at this unilateral decision. Stan's Army service as a truck driver on convoys to Darwin kept him on the Australian mainland, and out of more dangerous war zones (although Darwin itself underwent several Japanese bombing raids).

Two children, another son and a daughter, were born during those war years and the little family grew larger with the birth of the youngest son in 1949. At this point, Mildred and Stan realised their little house in Lakemba probably wasn't big enough for their growing family, and in 1953, moved to Noble Avenue in Punchbowl. Over the years, the family's car had to also be upgraded several times, each time getting a bigger car to fit the growing children.

above left: The family's 1952 Ford Customline, and (above right) a Ford Zephyr, with Mildred standing behind the passenger side.
By this stage, Mildred was able to resume her teaching career, firstly at Lakemba, then as Deputy Head at Greenacre. In the meantime, Stan had also returned to teaching, eventually becoming first a Headmaster, and Principal of the new Penshurst West school, where he was heavily involved in getting the new school up and running.

Mildred tailored her working life around her family. She left for school each day on the 8.40am bus, returning in the afternoon at 3.40pm. She is said not to have let her school responsibilities intrude on the family, working through her lunch hour each day to complete her deputy head teacher duties.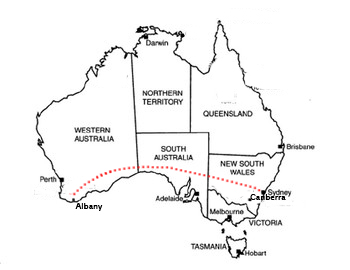 In the 1960s came the big upheaval in Mildred's life. Stan had started his teaching career in the rural NSW northcoast town of Nimbin, and as a young man, had fallen in love with farming life there. Since that time, he'd always had the desire to be a farmer, and little desire to leave the Penshurst school for a larger, established school. His chance came with a WA government scheme offering land grants in Western Australia. Stan, having served in the Army, was eligible for a 'Conditional Purchase Allotment'. The condition was he had to pay a deposit, then had to clear a set number of acres and sow them to pasture before he could complete the purchase.

So, Stan took early retirement from teaching, and in January, 1961 set out on the massive cross-country drive (4,000 kms, of which half was over gravel roads) with his eldest son to check out the land they had been allocated near Albany in the State's southwest. He had chosen this area because it received 40 inches (1000ml) of rain annually The land was native, untouched bush, but nevertheless, Stan decided to go ahead, and organised for a house to be built on the block. He had enough capital put by to pay a local contractor to do all the initial labouring work,while he rented a house in Albany to oversee the construction of the new family home.

In 1963, the family, minus one son who elected to stay on in NSW, made the big move west, travelling by ship to Albany. Their new home was 30kilometres or so outside Albany, on Hunwick North Road, a dirt road west of Albany. Mildred was nervous about the move, and apprehensive about being so far away from her Newcastle-Sydney family and friends. So, she threw herself into her church activities - the family started going to the local Methodist church . Once again, Mildred's musical abilities came into play, and they created a new band of friends in the church where they joined a musical theatre group giving performances in the church hall. Her reservations about leaving Sydney and moving to remote Albany were overcome when she saw how well her family adapted to living and working there.

By 1967, the farm was cleared and sown to pasture, with a herd of Angus cattle running on it. By the mid 1970s, Stan's urge to be a farmer had waned somewhat. Probably to Mildred's relief, they left the farm in the hands of one of their sons, and moved into Albany itself, where they had only a house and a garden to look afte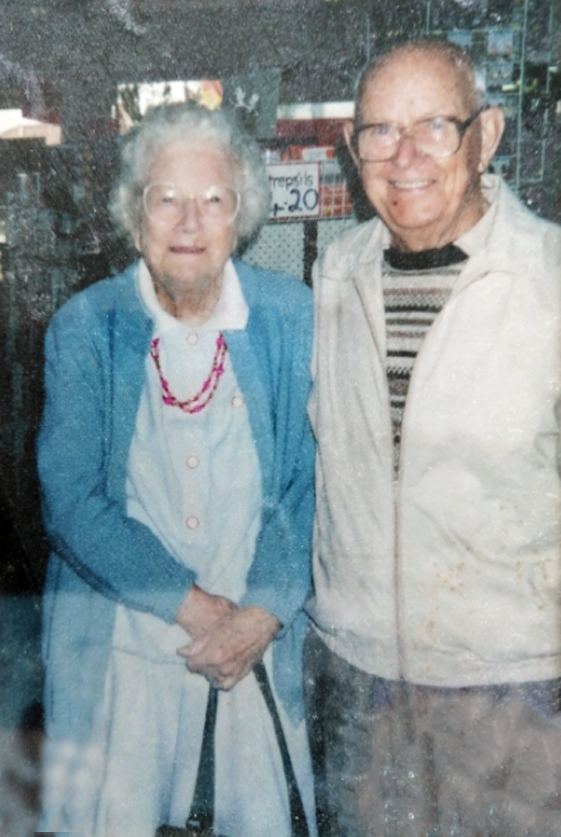 r. This move also gave them the opportunity to travel both within Australia and overseas, including to China, a rare tourist destination at that time.
In the early 1980s came another change for Mildred and Stan - they left Albany to move into a retirement village in Perth, with their apartment looking out over the Canning River. This move had another benefit - they were only a short distance away from the home of their only daughter.

By 1993, Stan's health was giving cause for concern, and he went to hospital for tests - but it still came as a major shock when he died overnight in his sleep on his second night in hospital. After 50 years of marriage, Mildred found life without Stan difficult. She began to show signs of dementia, and eventually moved into Rowethorpe Nursing Home, an aged care complex more suited to people suffering from this disease.

During the last years of the 20th century, her health continued to deteriorate, and on 20 August, 2000, Mildred died. Stan's sister May, who had been very close to Mildred, was also in failing health, and when told of Mildred's death said : "Well, I may as well go too". May died the following week on 29 August, 2000.
Information contributed by Peter Davey with extracts from Mildred's own memoirs.

return to the Boddy Family Tree