John Body & Mary Badcock
&
the Boddy Family of Crediton, Devon
John Body and his wife Mary Badcock were the last of our direct Boddy ancestors to spend their whole lives in Crediton, in Devon.
The baptisms, marriages and burials - those flagposts in the lives of generations - go back hundreds of years for the family in the market town near Exeter in south western England. Our earliest Boddy/Body record under that name - that we've so far found - is that of John's great grandfather William Boddy. William, who died in 1710 is believed by researchers to have been the William Bodley who was baptised in Crediton in 1677, one of three children born to George Bodley and his wife Hannah. The name 'Bodley' appears to have changed around this time to the 'Boddy' or 'Body' variation - but consistency in spelling for a mainly illiterate people was not regarded as essential then, or for the next few hundred years, and often depended on the vagaries of the various curates who entered the details in the baptism registers.
In 1704, William married 22 year old R
uth Burridg (another traditional Crediton family name) in Crediton's Holy Cross church - but that marriage lasted for only six years, during which time two sons, William and John, were born. William snr died in 1710 - but burial registers of that time, unlike today's death certificates, don't record a cause of death.
Three generations later, William's great grandson John Body was born in 1762 in the same little town. In 1786, John married another local, Mary Badcock, whose family had also lived in Crediton for generations. John and Mary lived there until the mid 19th century dying around 1840, although members of the extended Boddy family lived on in Crediton for decades more - in fact, the Boddy name is still there into the 2020s. ( Note: At the time of the first full census of England in 1841, there were 26 people carrying the name of "Boddy" or "Body" in Crediton.
For centuries, the production of woollen cloth was a thriving home industry in Crediton and it's probable that the Boddys were involved in it. In Devon, sheep were bred to meet the needs of the local wool trade, and so all sides of the rural economy because totally interdependent. By 1800, there were known to be at least a quarter of a million hand looms in Britain, and most of these were thought to be in Devon or Yorkshire
.
For these domestic workers in Crediton, the work didn't end at the cottage door. The product had to be taken to the market in nearby big centre of Exeter and there was often no alternative for the women to walk the 25kilometre return trip and back in a day.
By the end of the 18th century and into the 19th, Crediton was losing some of its importance as a centre of the woollen industry. Mechanisation throughout the industrial world meant that by that time, there were many more competitors - both in England and internationally - for their product. Until then, much of the work had been done in the domestic arena by women such as Mary, with spinners and weavers carrying out their craft on home turf. The production of woollen cloth was often on a family basis with the carding and spinning undertaken by the wife and children. In fact, author Daniel Defoe wrote that even the youngest in the family would be involved, saying "anyone above four years old works".
As machines took over much of the production, the number of people working the weaving trade declined, while the interest in other skills such as boot and shoemaking increased. and they were equally divided between those working in the fabric trade, and those involved in shoe and bootmaking. John and Mary's youngest daughter, another Mary, also became a serge weaver, according to the 1841 census. There was one exception to the dominance of the wool and bootmaking trades on that early census - the couple's eldest son, William (1788-1870) became a store keeper who appears to be have been a successful businessman in the town. Later registers show the various Boddy families also ventured into such enterprises as bakeries - but during John and Mary's lifetime, the main employment was in wool and associated areas.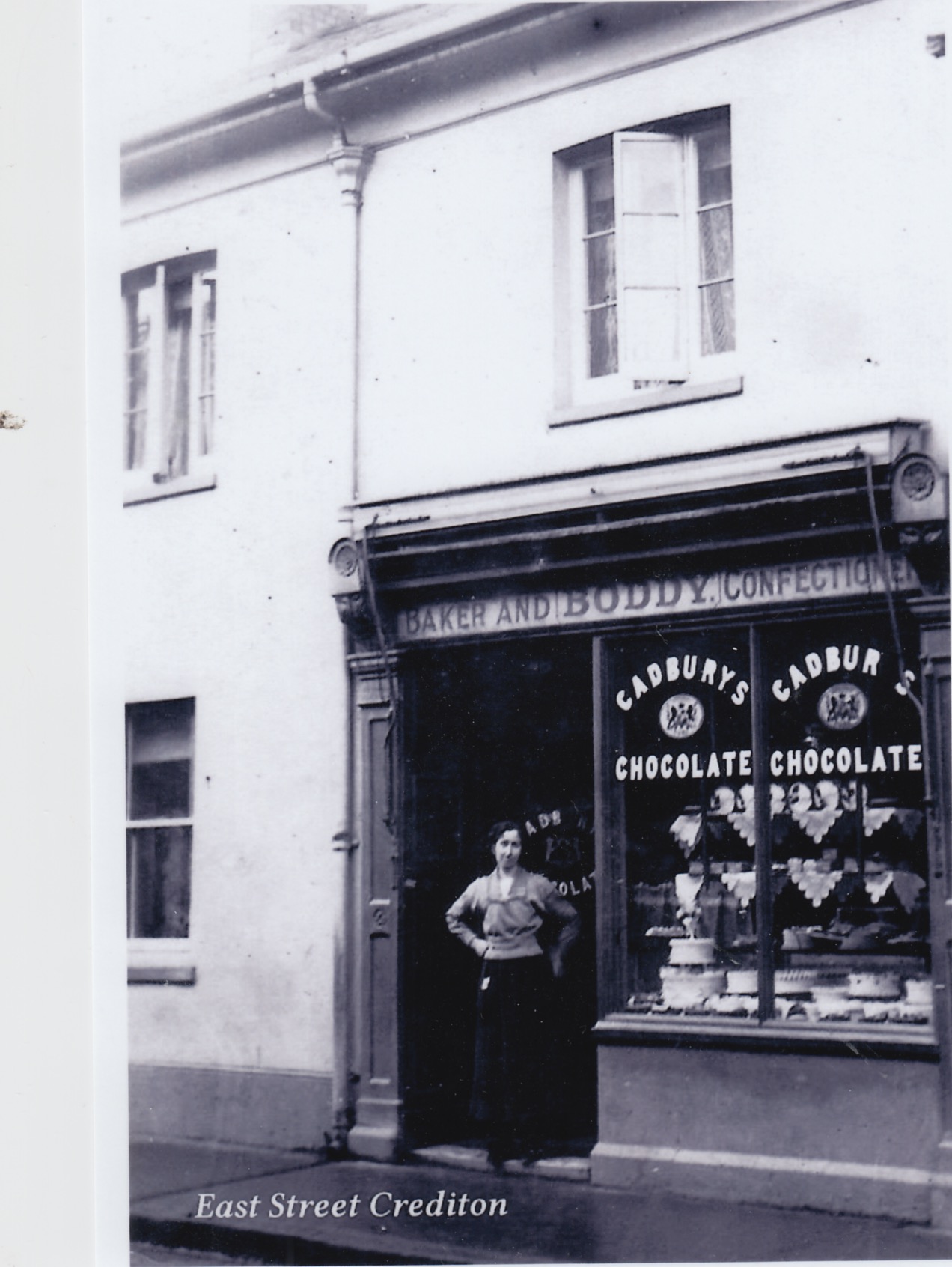 left: A baker and confectioners' shop operated by a later generation of the Boddy family in East Street, Crediton.
Our details on John Body are few and far between - we know his parents and his year of birth (or at least, when he was baptised), his marriage and his death - but that's as far as our confirmed knowledge goes. However, by the time Mary his wife died, death registration had been introduced, and if she is the Mary Boddy who died in 1839, her occupation was listed on her death certificate as "weaver" - and it's possible/probable John was also involved in the trade, either domestically or in one of the local mills. If, however, Mary was the Mary Boddy who died in 1846, John was probably a labourer, as that Mary was described as "widow of John Boddy, a labourer". It's actually a little difficult to work out who the various Mary Boddys were - John and three of his brothers had all married women called "Mary", leading to some confusion when only married surnames were used.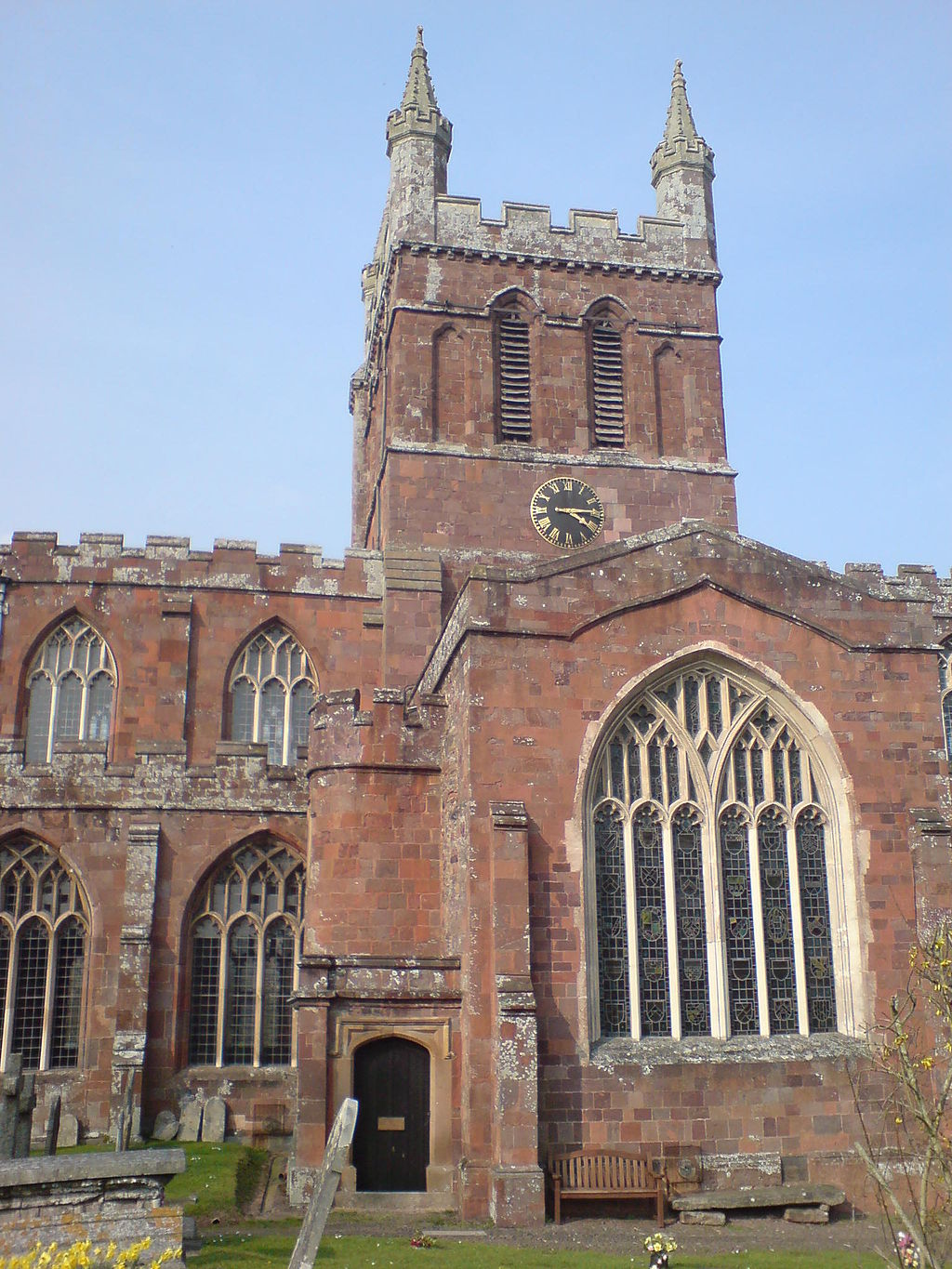 left: Crediton's cathedral-like Church of the Holy Cross, which dates back to the 12th century. The milestones of Boddy baptisms, marriage and death were all carried out in the impressive local church, and the baptisms of all their children, all seven of them, were all recorded there.
Six of Mary and John's children stayed in the community of Crediton, the exception being our ancestor, his father's namesake, John junior. Young John deserted Crediton for the excitement of the capital, where he was a messenger in the Treasury Department of Parliament - so presumably John, unlike his parents, could read and write, as could probably the rest of his brothers and sisters. And it was this branch of the family - young John's descendants, who made the big decision to leave England and head for Australia in the late 19th century.