Edenbridge, as seen by artist Michael Gage
William Nicholson (1782 - 1864) & Catherine Saxby (1782-1863)



William Nicholson & Catherine Saxby


Caroline Nicholson m. George Boddy

Alfred Boddy

Alfred Charles Boddy

Geoffrey Alfred Boddy
return to the Boddy Family Tree


William
Birth:

1782 or 1783, Edenbridge, Kent, England



Death:

19 July, 1864, in Edenbridge
Catherine
Birth/Baptism:

29 August, 1782, Edenbridge



Parents:

William Saxby & Sarah Wells



Death:

January, 1863 Edenbridge



Marriage:

28 February, 1802, Edenbridge, Kent



Children:

William (b. 1802)
Sarah (b.1803)
John (b. 1804)
David (b.1806)
Harriet (b. 1808)
Mary (b. 1810)
Lucy (b 1812)
Catherine (b. 1814)
George (b. 1816)
Ann (b. 1819)
Caroline Augusta (1822-1887) married George Boddy 1847, London.
Joseph (b.1825)
Samuel (b. 1827)
Aptitude for a craft or a trade doesn't always go hand in hand with business acumen, an observation that could be applied to William Nicholson, an ancestor of ours in Kent in the 19th century.
In the 1851 UK census noted that William was a "master shoemaker, employing 6 men" in Edenbridge, in Kent. Alas, something went wrong between that census and the end of the decade. In November 1859, William was called before a judge, as an "insolvent debtor", and told to reappear later that month. What happened later that month doesn't appear to have been reported, at least not in the newspapers so far digitised by the
British Newspaper Archive
.
William obviously soldiered on... he was still recording "shoemaker" as his occupation two years later, in the 1861 Census although he was nearing 80 at that time.
The
Book of Old-Time Trades and Tools
, compiled by Anonymous, written during the mid-Victorian era as a career guide for schoolboys, says the pretty market town of Edenbridge was noted for shoemakers who produced "strong, coarse hob-nailed shoes ...which are so much worn by waggoners and others". William, one of many such shoemakers, was father of Caroline who met and married tax inspector George Boddy in London in 1847. The trade of shoemaking ran the family - Censuses conducted in the UK from 1841 onwards show that his eldest son William and his grandson Egbert were both shoemakers.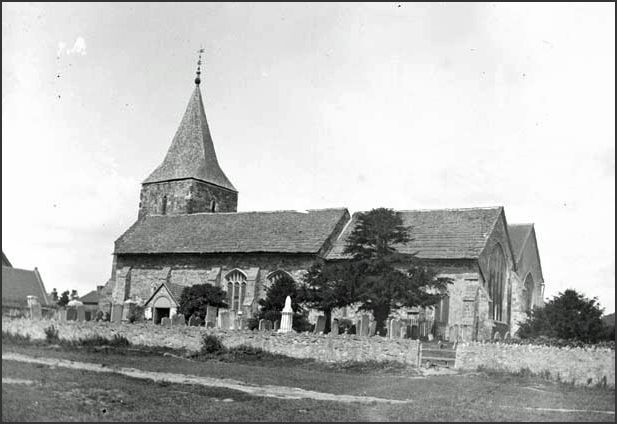 At 19 years of age, William married an equally young woman from his own town - Catherine Saxby.
right: The Anglican church of Sts Peter and Paul, where William and Catherine married in 1802
Together, the couple had 13 children over a 24 year period, according to entries in the local Edenbridge parish register. One unusual aspect from the registers is that nine of his 10 eldest children were baptised together in in single ceremony in June, 1821. The one exception to the mass ceremony was the eldest son, William, by that time 19 years old, who had been more conventionally baptised soon after his birth in 1802.

William was probably a very religious person - a fellow Edenbridge man left William and three others in charge of a property in the town which the testator decreed had to be used for the religous purposes of "dissenters". (Dissenters were Protestant Christians who separated from the Church of England in the 16th, 17th and 18th centuries). How that "Dissenting" obligation connected with the baptisms of all the children in the local Anglican church isn't clear. And in the only surviving portrait we have (above), William is holding a book, probably the family bible.
In the UK Censuses of 1851 and 1861, the family is listed as living at two different addresses - Edenbridge street (1851), then High Street in 1861, by which time only their unmarried son William is registered as living with them. Edenbridge street no long exists, and so it's possible its name was simply changed to High Street.
Catherine died in January 1863, William a year later, in July 1864.

A bridge over the River Eden