Emma Archer was a mere toddler when she was taken by her parents to a new life on an island in the Indian Ocean. She'd been born less than a year earlier in the Cathedral city of Winchester in Hampshire, where her father, Samuel, a sergeant with the 12th Regiment of Foot, was stationed at the time.
In 1842, her father's regiment was sent to Mauritius, a strategic island colonised by the French, and then by the British after the Napoleonic Wars. Samuel and his family remained in Mauritius for 12 years, with Samuel assigned to various regiments, from 1843 to 1855. Emma's two brothers, Arthur (1848) and Frederick (1850) were born in the island's capital of Port Louis.
It's more than likely that Emma was in her early teens when her mother died, and in 1856, Sgt Archer left the army and took his young family to a new life in Australia. Fourteen-year-old Emma, her young brothers and their father arrived in Melbourne in May 1856 on the Marchioness, the only passengers on board the ship.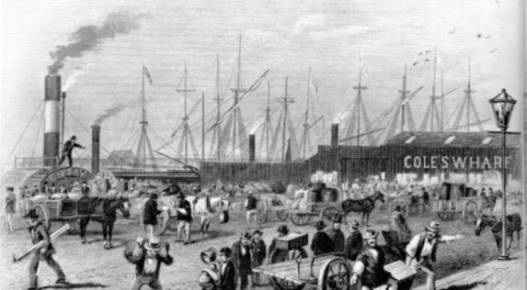 Queen's Wharf (then Cole's Wharf) Melbourne as it was in 1856, when Emma Archer arrived in Victoria with her father and brothers
(from James Grant & Geoffrey Searle's The Melbourne Scene 1803-1956,
Melbourne University Press, 1957)
The family, along with hundreds of thousands of other immigrants, soon found its way to the Victorian goldfields. In the case of the Archers, they lived for a time at Strathfillan, a pastoral property west of Bendigo near the small town of St. Arnaud, where gold was found in the late 1850s. There, in 1858, the 16-year-old Emma married a 24-year-old Austrian prospector, Felice Pobar. The marriage ceremony was carried out in a tent, which was the family's home while Samuel worked as a shepherd.
One son, Felice Franciscus (known later as Felix, as was his father), was born in 1859 to Emma and Felice while they were on the goldfields, by this time at Ararat, west of Ballarat. Soon after, the young family, with Emma's brothers and her father, set out for Queensland with all their belongings on a dray, to settle on the Darling Downs. They first worked and lived on a property, Jinghi Jinghi, near Jandowae, where Emma's eldest daughter Sarah Johanna (known as Grace) was born in 1862.
Young Felix and Grace were followed by another six children born to the family in Queensland. The family moved closer to the main Darling Downs centre of Toowoomba where younger generations went into the butchery business (A century later, butcher shops in Toowoomba and on the Downs in the 1990s still bore the name of Pobar).
Emma died in Toowoomba in October 1911, aged 68.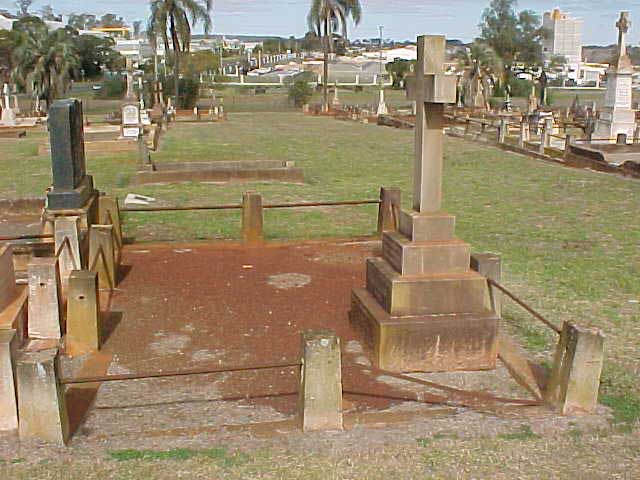 (above): Emma Archer's imposing grave in Toowoomba Cemetery – Her husband Felice Pobar is also buried there, and their daughter Emma Mary Pobar, who died in 1951. Emma's gravestone says she was from Warwickshire – this is probably a reference to the original family home in England, rather than Emma's actual birthplace of Hampshire.
(photo courtesy Pat Pobar)