Wednesday 20 April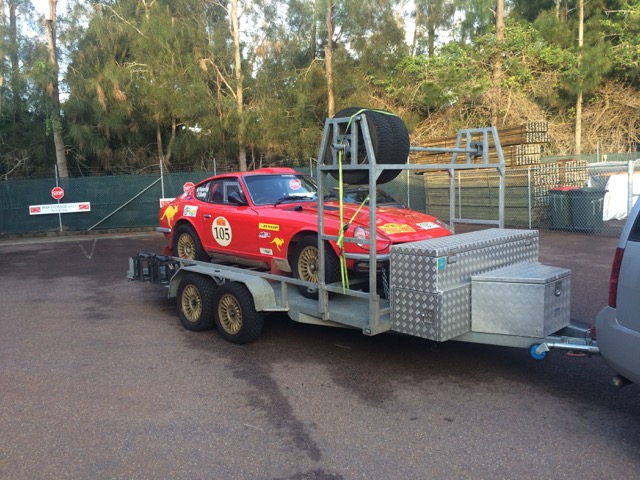 On Monday, Mark delivered the car to the shippers in Botany.
The staff were a bit indifferent until he fired up the Z, then people came from all directions.
They were already busy loading a large yacht into a container, which blocked access to the compulsory car wash, so the burly Maori fork lift driver said "follow me".
Mark and the car were then led through a warehouse, in between stacks of pallets barely wide enough to fit through, all the while the exhaust note bouncing off the warehouse walls.
Now the staff were all smiles and cheering.
Thursday 21 April
We've now received confirmation that the car is in the container, sealed by Customs and is due to sail on Saturday

In the meantime, we've had a bit of fun/worry with paperwork.....
Thanks to fellow competitors, Rob Garnsworthy and Max Stephenson, who alerted us that we don't need a Carnet (the passport for a car). Both 2014 Sydney to London and 2012 London to Cape Town events did, and I assumed wrongly that all overseas travel needed one. Wrong.
Onto visas - The Chinese one was done in the promised time (one week), and Mary picked it up as scheduled in Sydney.
She then scooted over to the Russian Consulate to lodge our application to enter Russia. They said they would be dispatched in two weeks, and so, two weeks later, we were waiting for delivery in Queensland, where we were visiting.



We waited for four more days past the due date, worrying all the time because the tracking number didn't appear on the Aust Post website. Much worrying. And then, last Saturday morning, we had to leave Mary's father's place Toowoomba, but without the passports, I was a bit stressed, since we didn't know where
they were.

By Monday, we were wandering around the northern rivers district in NSW heading for home and Newcastle, when a phone call came to say the passports had arrived in Toowoomba - but I had to provide ID and take delivery in person!



So, we turned around and drove a few hundred extra kilometres that day, but it was good to actually have the passports back in my hands.
Next morning, we sent them off again, this time with the application for Mongolian visas. Fingers crossed that all that goes to plan.
After that, the only visa we actually need
before
time is Belarus. After Belarus, crossing into Poland should be OK, as it appears to be a "visa on arrival" place, and then once we're in Europe, it should be all plain sailing crossing the various borders.
The other important bit of paperwork, the Vehicle Importation Approva
l has also arrived so we will be allowed to bring the car back home after the rally
!!!!
Next: tracking the ship, and its cargo, across the ocean